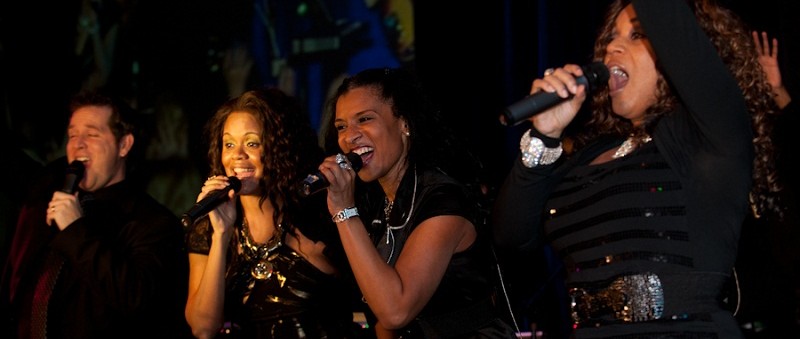 Entertainment Exchange
Maryland
Entertainment Exchange
Entertainment Exchange is highly regarded among event professionals for being producers of the best bands in the Washington DC and Baltimore region. Look at a few reviews by some major regional and national publications and we are sure that you will agree.
Our bands are experts in special events and understand that their performance is only part of the job. Their proficiency and flexibility in working with other vendors will make your event run smoother and provide an overall better experience. Of course, we do not neglect the music either. When it comes to performance, Entertainment Exchange bands are unmatched.
Through our network of cooperative agencies and independently managed bands, the Entertainment Exchange is able to provide you access to virtually all the major dance bands in the Washington DC and Baltimore regions that are well-suited to performing for social and corporate functions. We also offer a wide range of nationally-known recording and performing artists available for larger special events. If you prefer, we can provide many choices in specialty music. Whether it's reggae, rock, 50s, country or a specific type of ethnic music, you can count on the Entertainment Exchange to provide the right band for your event.
Reviews
I want to thank Vickie at Entertainment Exchange for helping my husband and I selected Round Midnight for our wedding! I am beyond grateful for everything Tim and the band did for us. They were the highlight of our special day! Tim was wonderful to work with. We stayed in touch throughout the whole year of planning. He made things very easy for us! The band was absolutely amazing. We had the best time dancing and singing with all of the members. I had the privilege to dance with some of the girls in the band, it was so much fun!! We even got on stage to sing with them. Round Midnight brought so much energy to our wedding. Tim assured us that the band would help make our wedding a successful event and indeed it was. The wedding was the best day of our lives thanks to Round Midnight. We enjoyed all of the music and fun! I highly recommend Round Midnight. They are the nicest group of people and they make one heck of a party. Thank you for all of the memories!
We absolutely LOVED the performance by DC Synergy at our wedding. They listened to our requests, played our song perfectly, and had the crowd on the dance floor all night. They even played an encore song because guests were so disappointed the set was over! So many guests asked the name of this band and said they would love to have them at future events. We were impressed with their professionalism and their outstanding talent and will absolutely recommend them to others in the future.
Contact Person
Vickie Preston
Address
9 Nantucket Garth, Phoenix, MD 21131
Location
Baltimore and Washington DC Region