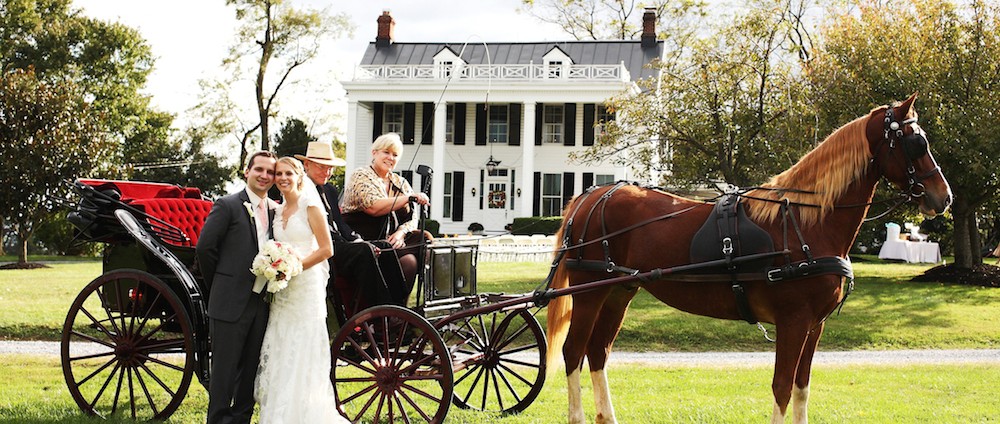 Harwood Farm
Harwood Farm
Harwood Farm has meticulously manicured grounds which provide a unique rustic wedding venue in Howard County for elegant outdoor celebrations.  It is also an ideal location for corporate events, mitzvahs, birthdays, retirement parties, family picnics, and philanthropic and other charitable and community sponsored-events benefitting organizations.

Twenty-five outdoor events with a maximum of 150 guests can be held year-round with complimentary consultations with vendors and on-site creative planning. Plan your wedding or event at Harwood Farm with beauty and grace from beginning to end. Attention is paid to all of the details to make every event truly memorable.

Harwood Farm is one of the most scenic farms in Howard County. Enjoy the finest of hospitality and gracious service in a spectacular country setting. We invite you to visit Harwood to see for yourself!

-----
History of Harwood Farm - Circa 1840

Harwood Farm faces north on the south side of Jennings Chapel Road, two miles west of its intersection with Route 97. It sits on a hill overlooking corn and soybean fields and features a three-acre pond northwest of the house. Agriculturally, this land has been and continues to be under cultivation of some sort for over a hundred years. The plat of 1857 indicates orchards northeast and southwest of the house and there is evidence indicating that perhaps tobacco was once grown on the property.

Harwood is a good example of nineteenth-century frame vernacular architecture in Howard County, Maryland with German siding. The history of the property can be traced back to the Warfield family, a family whose members have served in both Annapolis and Howard County in positions of trust and authority.

This property once consisted of some 635 acres of land, called "Warfield's Connection Enlarged," then owned by Charles Warfield and his wife, Catherine. They had six children, all of whom are mentioned in an 1857 equity legal dispute between Mortimer Dorsey and Kitty Warfield. They were: Presley Warfield, Felder Warfield, Rachel Warfield, Kitty Warfield, Amelia Warfield and Eleanor Warfield. The equity action cited a series of events and their consequences and due to the complicated nature of the proceedings, the case in equity was initiated by Mortimer Dorsey.

The result was a division made of the 635-acre tract of land. Lot 2 (226 ¼ acres of that tract, comprising the house and its outbuildings) was sold to Mortimer Dorsey. He died and left six children, the youngest, Rebecca, married Horatio Griffith. Together, they had held with her father, Mortimer, the land and premises, along with other real estate as tenants in common, subject to the right of dower to Ann, widow of Mortimer.

Rebecca Griffith held this property until 1900 when she sold it to W. Harvey and Anne E. Davis. It was acquired 20 years later by Joshua N. Warfield, Jr. and after several transactions became the property of Edwin Warfield, Jr., in 1927, and in 1951 the property of Edwin Warfield III. In 1966, Mr. and Mrs. Edward Harlow acquired 146 acres of the original Lot No. 1 from the 1857 equity settlement, and named the property "Harwood Farm."

-----
Pricing

All pricing includes providing the venue for the rehearsal the day before the wedding, and if available, a complimentary horse-drawn carriage ride for the bride to enter the ceremony, as well as assistance with planning, meeting with vendors, and providing parking attendants.


We are not responsible for any expenditure for tent(s), tables and chairs, restroom trailer, and other associated items.
Contact Person
Maxine Walker
Address
3666 Jennings Chapel Road, Woodbine, 21797
Is your facility handicapped accessible
Yes
Is kosher catering available
Yes
Is outside kosher catering permitted?
Yes
Is the facility indoor only, outdoor only, or both?
Outdoor Only
Does your facility have guest rooms
No
Does your facility have air conditioning
No
Maximum capacity with dancing
1280
Maximum capacity without dancing
1230