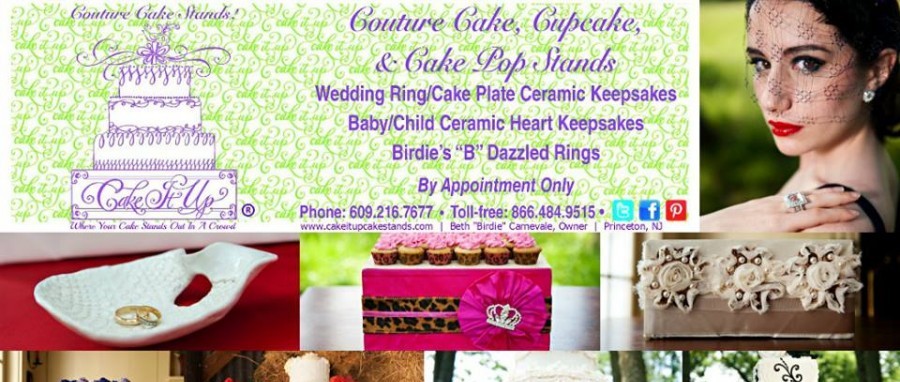 Closed: Cake It Up
This venue has closed, this page is provided for historical reference only.
Pennsylvania
Cake It Up
We are committed to transforming our clients vision into reality and believe every cake no matter the size deserves to be put on a pedestal. We design each custom Couture Cake Stand to compliment your personal style while enhancing the overall ambiance that makes your cake stand out in a crowd." Beth Company Overview

Our Couture Cake Stands are never "standard." Our design and accents elevate your cake's look. Whether you want to incorporate an heirloom, one of our exclusive monograms personalized just for you, a vintage, a nostalgic, or a modern vibe, we can create the perfect unique cake stand that will make your next occasion unforgettable. Your business is the "Icing On Our Cake Stand!"
Reviews
Cake It Up and Birdie designed me the most beautiful cake stand! I am so excited to put it on display at my wedding and the people who have seen it say its a wonderful addition to the cake table. Birdie also helped me through picking out jewelry for my bridesmaids. She was so professional and caring and had great insight on what would work well with my theme and color scheme. I would recommend Cake It Up's service to any bride who is looking for that something special for their big day!
Cake it Up actually took the theme from our event and designed a couture cupcake display to house over 700 cupcakes! It easily became one of the highlights and must-sees of the evening! All I did was ask for something to hold this amount of cupcakes and Cake it Up went above-and-beyond exceeding all expectations as they created a 5 piece stage if-you-will for the cupcakes to present themselves. It was SO unique and SO incredible. It made me feel proud! I highly recommend Cake it Up for their fabulous attention to detail, uniqueness, and very high-end-looking displays!
Contact Person
Beth "Birdie" Carnevale, Owner