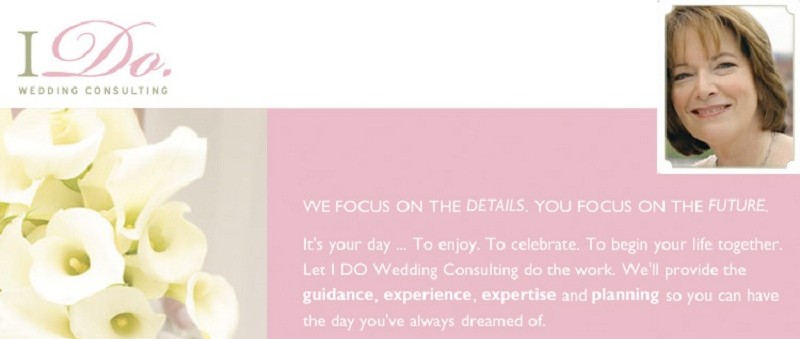 I DO Wedding Consulting
Pennsylvania
I DO Wedding Consulting
We Focus on the Details. You Focus on the Future.

Getting married will be one of the most exciting times in your life. It also can be one of the most stressful. Let I Do manage the stress for you.

I Do Wedding Consulting works with you to navigate the complexities and challenges of planning your big day. We'll provide the reassurance and guidance that are so important to the bride-to-be, the groom, and their families.

By getting to know each couple, we'll keep the focus on you and create the custom wedding celebration you dreamed of.
I DO handles all aspects with care. Along the way, I DO manages the process, including:
INITIAL CONSULTATION
Getting to Know You Your Day. Your Way.
Advice and Insight Insight on Tradition and Etiquette
Location Options Ideas on a Range of Philadelphia Wedding Venues
MANAGING THE PROCESS
Creativity and Inspiration Ideas on Trends/Style/Unique Touches
Wedding Professionals Meetings/Negotiations/Timelines
Planning and Coordination Selecting and Managing Philadelphia Wedding Vendors/Logistics
IMPLEMENTING THE PLAN
RehearsalCoordinating Wedding Party/Site/Officiant
Wedding WeekendOrchestrating Complete Wedding Day and Reception/Developing Bridal Party Timeline, Overseeing Ceremony/Coordinating Vendors
Reviews
WOW!! The best person I ever worked with. Lynda Barness made our daughter's wedding the best it could be. Her planning down to the last detail made wedding day as relaxing and as stress free as possible. We were able to enjoy every minute of this wonderful family occasion. The best choice we made was having Lynda and I Do Wedding Consulting working with us for this very special day in our family.
We hired Lynda to handle the day of the wedding. We hired a professional and came away with a friend. Lynda was great! She worked with us with all the pre-planning, timelines (which made the wedding day run so smooth!) and all the wedding day activities. From the girls getting hair and make-up, guys getting ready, pictures being taken, working with The Crystal Tea Room (Miguel) to ensure everything happened when it was supposed to, she took so much of the wedding day pressures off of us. The day could not have gone better, and I really don't know how we would have orchestrated all the details without her. While I was reluctant to hire a wedding planner at first, it was a great decision to have her assist us. Being our first wedding for our kids, we really had no idea of all the little things that happen that day. Lynda was an incredible asset to us. I highly recommend Lynda! The day ran so smooth and it was her 'quarterbacking' the wedding party from start to finish that helped to make it a Great Day!
Contact Person
Lynda Barness