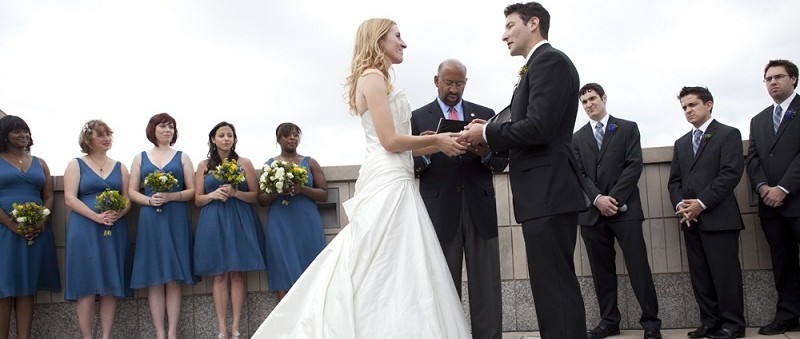 Janice Martin Couture
Pennsylvania
Janice Martin Couture
Janice Martin is a Philadelphia designer who offers her clients the elegance of couture and the luxury of self-expression. Whether you are searching for an original gown of contemporary simplicity or one which showcases the needle arts of a bygone era, Ms. Martin's studio is a "must visit" on your itinerary.

Janice Martin Couture produces custom weddings gowns for private clients and has done so for over twenty-five years. Janice Martin personally works in collaboration with brides throughout the greater Philadelphia area, Southern New Jersey, New York, Delaware, Ohio and beyond.

Couture bridal gowns are one-of-a-kind dresses featuring hand-finished details, superior fits and the most flattering silhouettes. They can be fashion forward, traditional, "alternative", romantic, revealing, sexy or vintage in style. Cost varies according to style and fabric and each gown is as individually priced as is the client's style. Not sure if a couture bridal gown is right for you? Visit our couture process page to find out more about how a custom dress or ensemble is created and visit our testimonials to find out what our clients think of Janice Martin Couture.

Janice Martin Couture works with brides of all ages (from ingénues to grandmothers!) and all sizes to create unique, beautiful gowns. The bridal gown gallery above features ball gowns, sheath dresses, bustier bodices, two-piece gowns and everything in between. Janice works with the highest quality fabrics including Italian silk satin, satin face silk organza, silk crepe back satin and hand-embroidered fabrics. Many of Janice's gowns are constructed with hand-beaded French lace from the same company that created the fabric for Kate Middleton's wedding gown [designed by Sarah Burton for Alexander McQueen].

Contact Janice Martin Couture today to begin creating your couture wedding dress!

To set up an appointment, please call or email [please mention Partyspace.Com]:
610-645-4540
jm@janicemartin.net
Reviews
Unbelievable! That was the first thought I had when I looked in the mirror after I put on my wedding gown. Thank you so much for turning my dream of a wedding gown into an exquisite work of wearable art that made me feel like a queen. It exceeded everything I could have hoped it would be.
My mother looked exquisite for our wedding and I had tears in my eyes when I saw her beautiful suit. Thank you for taking such good care of her and for making her feel so special
The moment I met Janice, I knew I had found THE ONE. As an amateur sewer, I was in awe of the level of craftsmanship that I saw in the bridal gowns, suits and evening dresses hanging in her adorable peach and coral studio. I felt so beautiful on my wedding day. I had a dress that was absolutely me with a unique twist that fit and flattered my body. Who could ask for anything more?
Contact Person
Janice Martin
Address
41 Cricket Avenue, Ardmore, PA 19003