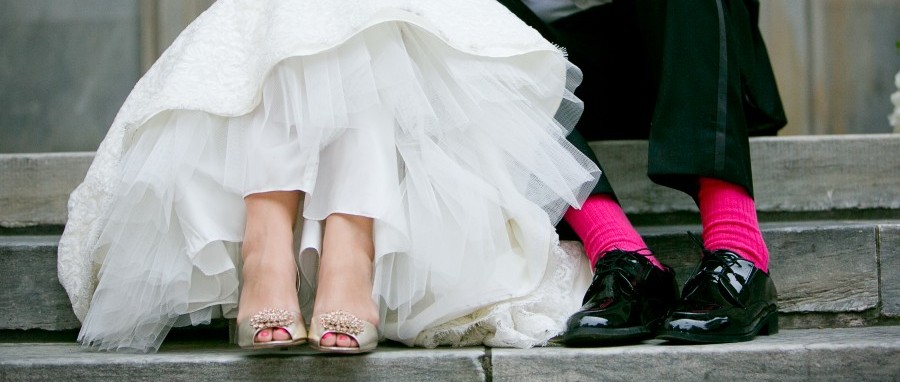 Lindsay Docherty Photography
Pennsylvania
Lindsay Docherty Photography
Incredible Philadelphia wedding photography without the cheese. Artistic, not artsy-fartsy or traditional. You'll get vibrant, emotional, hilarious, and genuine images that will make you stop and say, "whoa!". Just as important, you will have an upbeat, slightly type-A professional who will keep you happy, beautiful, and utterly confident in your wedding imagery. An engagement session with Lindsay is included in collections so that you have a friend, not a stranger, taking care of you on your wedding day.

So many happy clients:

"I heart Lindsay! Lindsay is freaking amazing. Just book her (if you can) and don't worry about a thing after that. She caught every special moment, from the ring bearer stealing the show at our first dance to the kisses at midnight. Lindsay is so much more than a photographer: she's also kept us on time, made sure that in the chaos everyone ate, was the easiest person to work with, shared numerous tips, nailed recommendations for other vendors, and just generally kept us smiling all night.... even between shots. Our wedding was the most fun day of my life and I wouldn't want anyone but Lindsay and her artistic eye to be there to capture it all. She's so talented. Just brilliant!"

..............

"When we were planning our wedding, I knew that photography was important, but I had no idea that the photographer was just as important as the images they would create. You will probably spend more time with this person than any other vendor, and I am so glad we had the opportunity to get to know Lindsay.

She was able to capture our experience of the wedding, as well as all the wonderful moments we missed. We now have all the beautiful photos of the ceremony, formals and first dance, but also a priceless record of all of our friends and family who attended. She was able to do this because not only could she magically "disappear" when needed (she must have teleported around the ceremony), but is also very intuitive and can capture people's personalities."--Anna, Philadelphia, PA

"She was able to capture ours because we were incredibly comfortable around her. We got a vendor crush during the engagement session and liked her more and more.

Lindsay is also great because she takes the photos that you want. She doesn't push you to take photos that are posed and cheesy, but knows better than you might (or I did) that some of the photos you don't think are important she will secretly snap.

What more can I say? This woman is amazing."--Rachel, Philadelphia, PA
Reviews
From our first phone call to our last meeting to design our album, Lindsay was professional, timely, detail-oriented, energetic, thoughtful and engaged. Lindsay isn't just a talented photographer, she is a professional wedding lover and truly enjoys hearing every detail from how you met to how you picked your wedding color scheme - I believe she takes the time to get to know her couples so closely because it enables her to excel on the wedding day. Not only was the planning process painless, the final product surpassed my highest hopes. Our family and friends were unanimously blown away.
We absolutely loved working with Lindsay. She was professional and sweet and personable and responsive from the get-go, and remained that way throughout the process. Her complimentary engagement shoot is so generous and made a huge difference in developing a relationship with her and allowing her to get a sense of how we photographed prior to the wedding. Her process is very thorough and we really appreciated how much time she took to gather all the necessary details and make sure everything was as we wanted. And last but certainly not least, her pictures are beautiful. She did a fabulous job at capturing all the important moments and the overall feeling of our wedding. We can't recommend her enough!
The photography for our wedding, in my mind, was one of the most important decisions we had to make. Above all else for that day, I wanted to make sure we would have beautiful pictures to remember every detail and every emotion. I will never regret choosing LDP. Lindsay is professional, fun, and very talented. Thanks to Lindsay we have gorgeous engagement and wedding photos that we can cherish forever (and that others have told me are the best they have ever seen). We would highly recommend Lindsay for your wedding day, or any other special life event that you want to capture with film.
Show More Reviews
Contact Person
Lindsay Docherty
Address
Based in Philadelphia, PA, and available worldwide
Fees
All packages are custom and start around $4500. Contact for a quote.