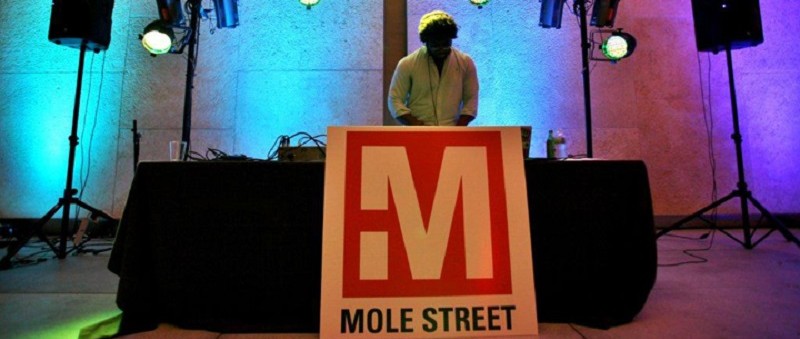 Mole Street
Pennsylvania
Mole Street
Mole Street is a boutique marketing and event-consulting firm that specializes in building brand recognition through creative programming. Mole Street thrives in entrepreneurial niche environments and provides services including talent buying, event consulting, marketing and production. Whether producing an event from concept through execution or consulting on a focused component, Mole Street can facilitate full-scale event management services tailored to fit your needs.
With a unique partner network that can also provide full-scale PR, brand development or event production services, Mole can produce a concert series or music festival right down to managing one small component of a brand re-launch. Mole Street thrives in entrepreneurial niche environments and has provided services from talent buying, logistics support, or promoting a pre-existing event. Our capabilities include providing full-scale production turnkey not excluding sound, staging, lighting: creating professional quality live music experience to fit your needs.
Truly a relationship guided business based in the heart of Center City Philadelphia, Mole Street is a collaboration between partners Brendan Walsh and Brian LaPann, both local musicians and serial entrepreneurs, they formed the company around their love of bringing people together through great live music. Working with other event partners in and around Philadelphia, Mole Street has managed events such as Diner en Blanc Philadelphia, the weekly concert series Friday Nights Under the Stars at The Brandywine Polo Club, Brews and Bowties, a beer tasting and bowtie showoff at the renowned Racquet Club in support of LLS, Molestice, the long-standing Mole Street festival and Mole Fest for Magee, a fundraiser for Mole Street's neighbor, Magee Rehabilitation Hospital. Along with countless other fundraisers including the Philadelphia Cup Charity polo match and special events for local business groups such as the Swedish American Chamber of Commerce-Philadelphia.
If you need a music component added to your event or want to build your brand by tying it to relevant and up-and-coming acts, Mole Street can help make it happen. Mole Street provides management of all the logistics for a music component to your special event as well as marketing and promotions campaigns to accompany events that require ticket sales. Mole Street can also manage and assist in bringing catering along with bar staffing and management or other special needs to your event.
With collaboration at the heart of our philosophy, Mole Street is accustomed to working with a wide range of clients and partners and is completely committed to making your event a success.
Contact Person
Brendan Walsh
Location
Serving the Phila. Metropolitan Area