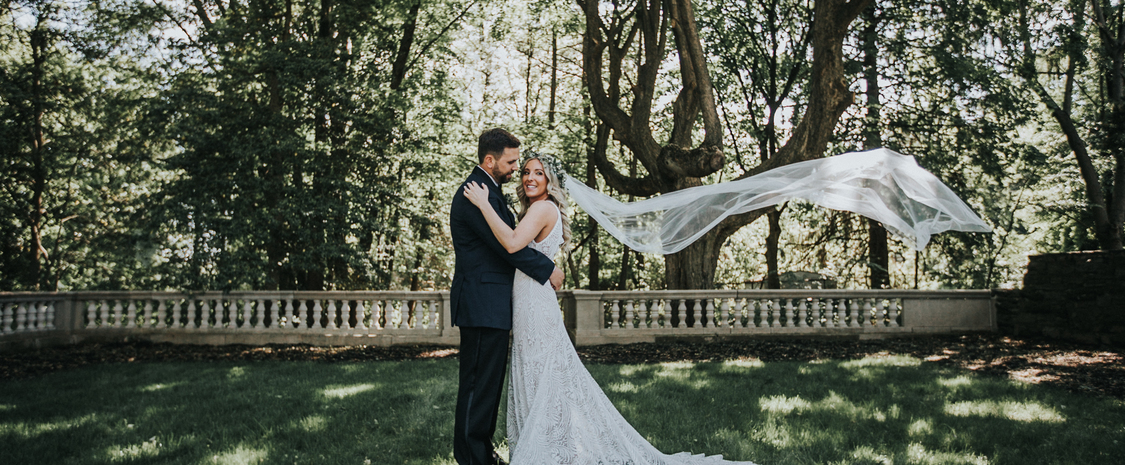 Map | Gallery | Reviews | FAQs
Curtis Arboretum
Wyncote, Pennsylvania
Curtis Arboretum
Credit: Shutter & Sound
Awarded Best Historic Wedding Venue 
About
Curtis Arboretum is a vintage setting of rolling hills, ponds, a pergola and 50 varieties of trees. It includes Curtis Hall, beyond the handsome wrought-iron entrance gates. The 45-acre arboretum surrounds it.
Curtis Arboretum's "hall" is the original ballroom of the 1937 Cyrus Curtis estate. Frederick Law Olmstead, a landscape architect for New York City's Central Park, created it. In addition, Curtis Arboretum is on the National Register of Historic Places.
Capacity
The capacity for dining and dancing is 120. However, it can host more with the adjoining terrace and tent. 
Location
Curtis Arboretum is in Wyncote, Cheltenham Township. It's five miles from Center City Philadelphia.
Contact Laura today for more information about Curtis Arboretum. Or, schedule a tour of the grounds and the historic music hall.
Reviews
My Fiancé and I searched high and low for the perfect venue in the PA/DE/MD area. We really wanted a venue that felt like a total experience for the evening. We certainly found that at Curtis Arboretum with the beautiful shady pergola for our ceremony, impressively manicured grounds for cocktail area, and spacious covered patio for dinner. Our favorite space is the indoor area for dancing-- completely refinished with hand painted murals, herringbone flooring and a gorgeous ceiling. Our wedding will not be for another 4 months but we've had a great experience with the Jeffery A Miller team so far. We are especially excited for the food on our wedding day because JAM places a huge emphasis on sourcing the best and freshest ingredients. They have what seems like unlimited options for food and drink. We are so excited to get married here
Contact Person
Laura Shoup
Address
1250 W Church Road, Wyncote, 19095
Is the facility indoor only, outdoor only, or both?
Indoor and Outdoor
Does your facility have guest rooms
No
Does your facility have air conditioning
Yes
Maximum capacity with dancing
175
Maximum capacity without dancing
175