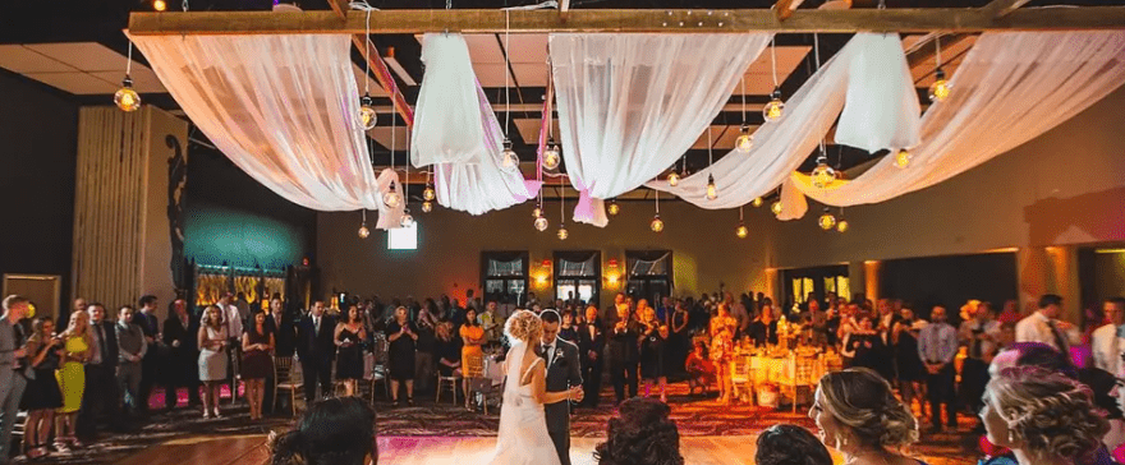 IATSE Ballroom
Philadelphia, Pennsylvania
IATSE Ballroom
The IATSE Ballroom by Anthony's Caterers is a new state-of-the-art ballroom in Philadelphia with modern theatrical flare.

Chef/Owner Anthony Foster has created a selection of set menus sure to satisfy the most discerning palates—and they will gladly customize a menu to suit your tastes from a party of 50 or 500. The modern and elegant ballroom is the perfect location for any company event, black tie affair, birthday party, school reunion, wedding reception, or holiday celebration.

Anthony's Caterers understands that planning a wedding, meeting or special event means much more than just bringing people together. With a strong network of partnering hotels and services in the city, convenient access from major highways, private parking, and a wide range of special accommodations, they'll help make your entire event planning an easy and hassle-free experience. Anthony's banquet facility is complete with a stage, intelligent lighting, multimedia options, and a PA audio system.

Contact us today for more information about this unique Philadelphia wedding venue.
Reviews
I recently had my son's baptism luncheon at Anthony's Caterers at the IATSE Ballroom and had such an amazing experience. First off, this place is a hidden gem in South Philadelphia and the perfect place for an event. I will say that the venue was a bit nicer than I would have planned for a baptism and definitely more in line for an elegant wedding. However they had a wonderfully priced brunch menu that was equal to places half as nice. We had a brunch that included an omelet station and a buffet with french toast, bacon, sausage and potatoes, as well as, chicken piccata and penne a la vodka. I also added on a cheesesteak station as many of my guests were from out of town and would (and did) appreciate the "philly-experience". The food was great and the service was even better. We had young children at the event that were a little on the hyper side and the place was fine with me bringing in some games etc to keep them occupied and the staff even managed to continue smiling as my 3 year old son went around and blew out every candle that was lit in the place. We had an open bar for our guests in which we paid the final bill and the prices on that were reasonable as well (considering many places completely overcharge you for drinks etc). This place was wonderful and my husband and I will continue to tell everyone we know about what a great event they planned and delivered for us. I highly recommend you check them out for your next event.
Contact Person
Event Coordinator
Address
2401 South Swanson St, Philadelphia, 19148
Is your facility handicapped accessible
Yes
Is kosher catering available
No
Is outside kosher catering permitted?
Yes
Is the facility indoor only, outdoor only, or both?
Indoor and Outdoor
Does your facility have guest rooms
No
Does your facility have air conditioning
Yes
Does your facility have air conditioning
Yes
Maximum capacity with dancing
300
Maximum capacity without dancing
340
Facility restrictions
None.
Rental fees
No Room Fee Wedding $78.00 per full package Sit Down Dinner/Buffet Starting at $18.95 per Person