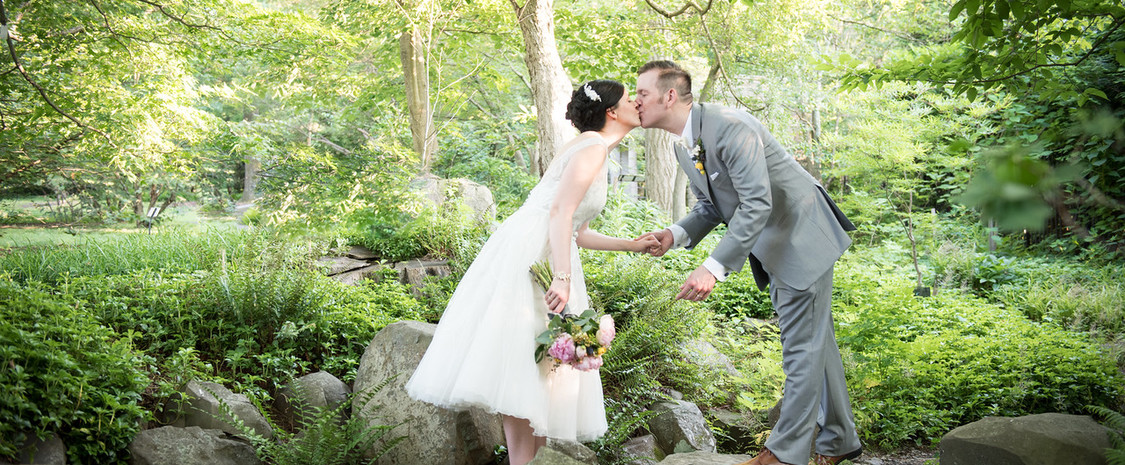 Morris Arboretum
Philadelphia, Pennsylvania
Morris Arboretum
If you love nature and want to incorporate it into your wedding day, let us introduce you to Morris Arboretum in Chestnut Hill, Philadelphia, PA. This arboretum provides a romantic and idyllic backdrop for your nuptials. It features acres of manicured gardens and lush greenery. In fact, Morris Arboretum is the perfect garden setting for a truly memorable wedding in Philadelphia, PA.
About & Capacity
Ninety-two acres of beautiful gardens greet your eyes as you approach this Philadelphia arboretum wedding venue. Imagine saying "I do" among towering trees and charming vistas at Morris Arboretum. Verdure is in abundance and flourishing among whimsical fountains and historic architectural features.
Mother Nature provides the backdrop for a beautiful outdoor ceremony, an open-air cocktail hour and a tented reception at the Carriage House.  It is a nostalgic stone building constructed in 1888. Bordering this structure is the tent area, which seats up to 175 guests.

In addition, the extensive tree and plant collections also ensure that the Morris Arboretum looks spectacular at any time of year. For example, enjoy the flowering magnolia and cherry trees in Spring and breathtaking roses and wildflowers in Summer. However, if you prefer Philadelphia in the fall, you'll love our fall foliage's bright oranges and yellow. The variety of witch-hazels, hollies, and large conifers will make your ceremony look like a winter wonderland in the colder months.
Location

Morris Arboretum is conveniently located in Philadelphia's historic Northwest, just miles from major roadways and a few minutes to Center City, Philadelphia. Morris Arboretum is a proud supporter of marriage equality.

Whether your party is small or large, your dream wedding is waiting for you at Morris Arboretum.
Contact us today for more details or to schedule a visit.
Reviews
We had our wedding reception at the Morris Arboretum, and it was perfect! It is a gorgeous setting for photos and guests to explore. While there are restrictions on time (it is a functional public Arboretum, after all) we found them to be very reasonable. Wedding access for photos and guests begins at 4 PM, and you get the tent area from 6 PM to midnight. We had no problems loading/unloading equipment and our vendors were able to set up without a hitch. Since the Arboretum is in a residential zone, they do have limits on noise level. You can have a live band or DJ, as long as they adhere to some rules on amplification. Our DJ was able to work with these limits and pulled off an awesome night of dancing. Included in the rental are tables, chairs, a beautiful tent with ceiling fans and lights, full use of visitor center facilities (including a large changing room upstairs for the bridal party), space heaters, kitchen area for catering, and access to the entire garden for you and your guests. There's ample free parking and an Arboretum staff member onsite the entire time. We were thrilled with our experience at the Arboretum, and would definitely recommend it for anyone who wants something unique for their wedding. Anyone can rent a hall or ballroom - but your guests won't forget a night out under the stars, eating next to a canopy of trees, surrounded by the sights and smells of living, growing flowers and plants!
I recently got married at the Morris Arboretum in Philadelphia and would highly recommend it to anyone looking for a beautiful, outdoor/garden venue for their wedding. We did most of our pictures there, our ceremony on site on the lawn and the reception in their tent. The photos were stunning and their whole staff was great, very accomodating. Our caterer was Company's Coming and they were fantastic, too. I would do it all over again in a heartbeat. A few things to consider: -We had perfect weather, which is where the MA really shines. If it rains, it dramatically changes the feel of the day, especially if you plan to do the ceremony on site. You have to be okay with this possibility when you book and have a backup plan for photos if you're planning to do them outside. I worked out an agreement with one of the hotels where we had a guest block to do indoor photos if needed. -Our guest count was 153, so we had 16 tables for a seated reception. In my opinion, I would not want to have a higher guest count given the space, feeling comfortable, and being able to have a dance floor outside the tiled classroom space in the carriage house. -The MA is a great venue for a DIY-type bride who is somewhat comfortable with wedding planning. It is not a "wedding factory" type of venue where you sign on the dotted line, pick a menu at a set price per head, and everything is done. You have to figure out things like which caterer to use out of their preferred ones, and who will pick up your leftover booze and any decorations you brought the day after the wedding (something I forgot!). The upside is that you can be creative, and not have a cookie cutter ballroom type wedding, which was so worth it to me.
Contact Person
Rental Team
Address
100 E. Northwestern Avenue, Philadelphia, 19118
Is your facility handicapped accessible
Yes
Is kosher catering available
No
Is outside kosher catering permitted?
No
Is the facility indoor only, outdoor only, or both?
Indoor and Outdoor
Does your facility have guest rooms
No
Does your facility have air conditioning
Yes
Maximum capacity with dancing
160
Maximum capacity without dancing
175
Facility restrictions
N/A
Rental fees
See website for current pricing