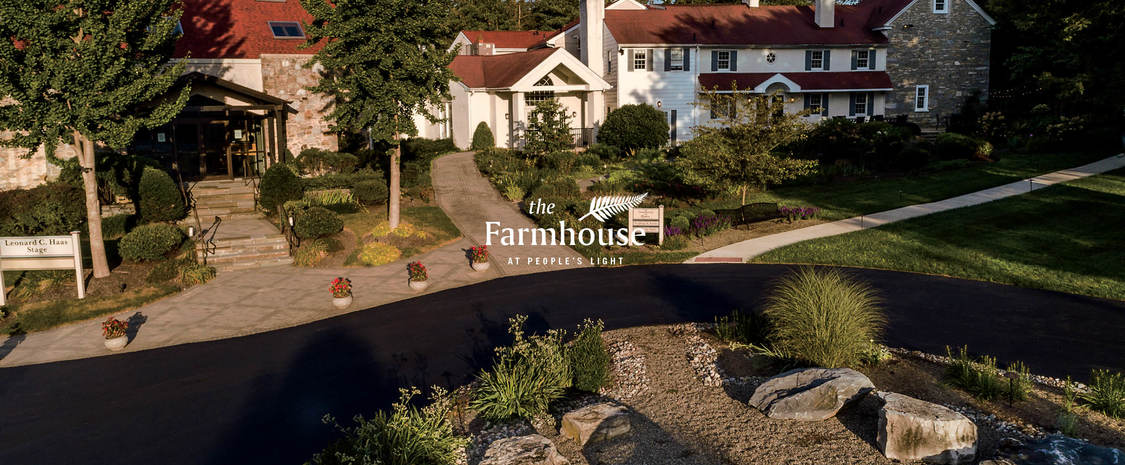 The Farmhouse at People's Light
Malvern, PA, Pennsylvania
The Farmhouse at People's Light
Set among award-winning perennial English gardens of The People's Light & Theatre Company, The Farmhouse is a premier wedding venue in Chester County. The restored 18th-century farmhouse boasts a beautifully appointed ballroom and spacious landscaped surroundings, welcome you, your family and friends.
Smaller, more intimate celebrations are elegantly executed in the adjacent Farmhouse Bistro. With its trademark superior service, the 230-year-old historic landmark facility is selected to host the most beautiful weddings, special events, and corporate celebrations in the area. Our dedicated staff of experienced professionals will assist you in planning and executing an unforgettable event at our Malvern wedding and event venue.
Contact The Farmhouse at People's Light to schedule your own personal tour today!
Reviews
The food, its service, and presentation were perfect! Every guest made a point of praising the entire experience, as well as the beautiful grounds. They rated it higher than any wedding they ever attended.
Just wanted to say thank you very much for everything! The wedding was a huge hit! We keep getting compliments from all the guests. They had a great time, loved the venue, and thought the food was great! Drew and I also had an amazing time. So thank you to you and the staff for all the hard work. It was perfect!
My husband and I were married at The Farmhouse at People's Light. We had been working with a wedding coordinator for a little over a year and were really looking forward to our special day. We were called a week before the wedding and informed that we would have a new wedding coordinator for our big day. We were both extremely nervous and apprehensive! Our new wedding coordinator was Spencer and he assured us that we were in good hands. In typical bride mode I was freaking out and told Spencer that I would need to meet with him to go over everything just in case. He told us any day would work for him and he would work around our schedules. I met him the next day and after just one hour felt immediately at ease about our wedding day itinerary. Spencer had the same vision as us for setting up and had all details in order. He had a folder of all of our wishes and plans and was on point with making sure that we were comfortable with him. When we arrived on Friday to set up before the rehearsal the reception area looked BEAUTIFUL. It was just as I hoped and the rehearsal ran smoothly. He was open to ideas from the wedding party about changes and how things would go the next day. On our wedding day we could have not been more happy! Everything ran so smoothly! The time frame was perfect. Dinner, parent dances, and cake cutting were done by 8:10. We were able to have almost 2 full hours of dancing and spending time with all our loved ones and friends. I was very impressed when I saw Spencer bringing out dinner to our guests!! He was involved in the entire day and even came out on the dance floor for a dance or two! It was refreshing to have someone so lively as well as professional to help us take care of such an important day. Thank you Spencer for taking care of Nick and I on our wedding day. We appreciate everything you did and were impressed that our wedding ran so smoothly since it was your first event at the Farmhouse! We couldn't have asked for a wedding coordinator! Nick & Suzanne Santomieri
Contact Person
Sales and Catering Team
Phone
610.647.1631 ex. 156
Address
39 Conestoga Rd., Malvern, PA, 19355
Is your facility handicapped accessible
Yes
Is kosher catering available
Yes
Is outside kosher catering permitted?
No
Is the facility indoor only, outdoor only, or both?
Indoor and Outdoor
Does your facility have guest rooms
No
Does your facility have air conditioning
Yes
Maximum capacity with dancing
175
Maximum capacity without dancing
225
Facility restrictions
No outside alcohol. Events to end by 11pm. 100 person Minimum adult count on Saturday Night weddings
Rental fees
$1500 Ceremony fee
$2000 Site fee to close the Farmhouse Bistro
$100 per Bartender
$250 for full AV system including screen, projector, and speakers