A castle or mansion wedding venue in South Florida blends history with grandeur, and often nature, making the ideal space to celebrate the big day. Distinctive period architecture offers a unique atmosphere surrounded by English gardens, stone fountains, ponds.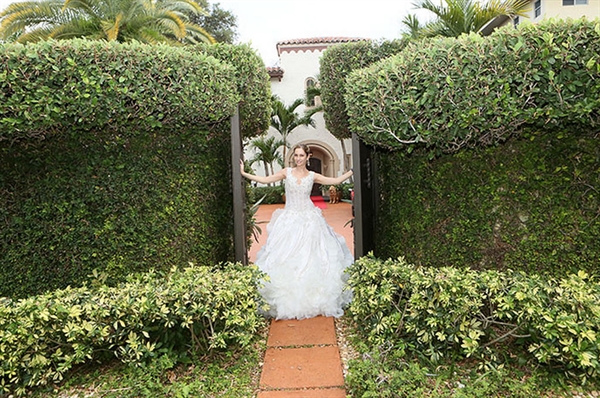 Photo credit: Historic Needham Estate
Many have an elaborate climate controlled tent for those wishing to dine and dance under the stars. Often, there are paintings, antique collections and priceless period pieces on display that serve as great conversation. Those seeking a little fairytale magic may even find a stone or wrought iron balcony fit for royalty! There, couples may offer a champagne toast to guests gathering below.
It sounds like a fairytale but historic castle and mansion wedding venues in South Florida truly exist. Here are some of our favorite fairytale wedding venues in South Florida.
1. Curtiss Mansion: The Curtiss Mansion, built in 1925, was the home of Glenn Hammond Curtiss ("The Father of Aviation") and his beloved wife Lena. It has been recently renovated and restored to its original splendor. Listed on the National Register of Historic Places, the Mansion is a gorgeous venue for weddings, celebrations or mitzvahs as well as corporate meetings and events. With unique architectural details and lots of charm, it is the perfect setting for any engaged couple looking for an alternative to the usual.

Centrally located in beautiful Miami Springs, which was founded by Curtiss, the Mansion is rich in history and very versatile. Multiple spaces are available for indoor and courtyard receptions or outdoor ceremonies, which can be held in the lush shaded grove or under the elegant stone archway.
2. Historic Needham Estate: The Historic Needham Estate is the ideal location to host your wedding or any other special occasion. Steeped in Old World Charm, the Estate offers a variety of magnificent spaces to host your special event. Located on the New River, it's the ideal setting.
3. Thalatta Estate: With its historic significance in South Florida and stunning bayside location, Thalatta Estate is a unique setting for your outdoor wedding ceremony in Palmetto Bay.

This magnificent site offers many unique amenities, including a waterside ceremony site, waterfalls cascading into a romantic reflection pond, manicured gardens, covered terrace, bridal suite, and catering kitchen. With its shoreline views of Biscayne National Park, this 1925 Mediterranean-Revival Estate and Carriage House is the perfect setting for creating timeless memories.