South Florida has some of the most pristine beaches in the country. It's no wonder why waterfront weddings along the beach are so popular among couples planning their South Florida wedding. If you, too, are dreaming of exchanging vows at sunset as the waves crash in the background, here are some essential tips to keep in mind as you're planning your big day.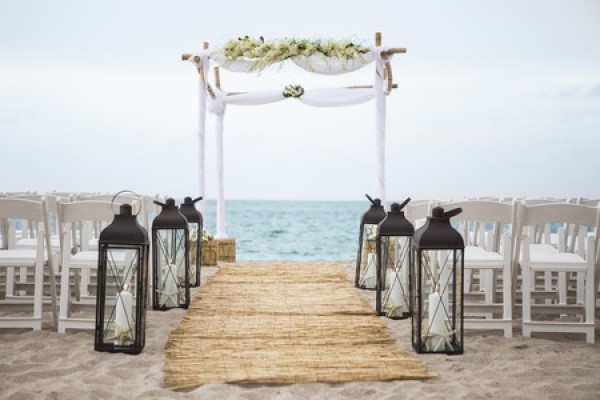 Photo credit: B Ocean Hotel Fort Lauderdale
Insects: The beach is a beautiful place, but like all outdoor destinations, it comes with a special set of challenges when planning a wedding. Mosquitos, flies, and seagulls can all be uninvited guests, and there's always that one beachgoer who ends up red as a lobster because they decided to forgo sunscreen. While you can't force anyone to put on sunscreen, you can help your guests by offering a large basket of necessities--bug spray, sunscreen, and aloe vera or lidocaine for those who do end up with a little extra color at the end of the day.
Unexpected Guest List: When planning your South Florida beach wedding, one of the biggest things you will make decisions on is the guest list. If you're planning a beach wedding, you might unintentionally end up with some uninvited human guests: the general public. Beaches can be private or public, and if you don't want some kids arguing with each other as they dig a pit or build a sand castle just off to the left of your ceremony or an entire crowd of gawking onlookers, you should find out if the prospective beach is private or public.
Wind: We've all been to a beach, spread out a towel, and promptly rushed about putting things down to hold the towel in place: everything from sandals to books, coolers and beach bags. When setting out lightweight things for the ceremony, like programs, be sure to use something to weigh them down; anything light enough to go airborne probably will at some point, and the last thing you want is to watch all those programs you spent so much money on blow away down the beach or into the water.
Attire: When planning the bridal party's wardrobe, make sure to keep the climate in mind. While black suits tend to be the go-to for the groom, groomsmen, and ringbearer, standing on a beach in the hot sun means the men in your bridal party will probably be roasting. Instead, opt for something cooler, such as a light colored linen suit. The same goes for dresses: long dresses are not only hot, they will drag in the sand, and dresses with lace will end up with sand particles stuck in them. Consider instead dresses with shorter skirts made of a fabric that won't attract sand like a magnet.
Plan B: Finally, just like any other outdoor event, it's best to have a Plan B if the weather doesn't cooperate for your big day. While everyone associates the beach with cloudless skies and endless sun to bask in, it's an unfortunate fact that it does rain and even snow at the beach sometimes. If you're concerned about bad weather, consider renting a tent- but be aware of rules for public and private beaches- or holding your event at an oceanfront venue, where you can have a backup plan and beautiful waterfront views.
Beaches are a fabulous place to celebrate your special day. Still looking for the perfect waterfront wedding venue in South Florida? Follow our link for the ideal spot!