There are several reasons why scheduling a site tour early on in your wedding planning is a priority. A simple walk-through will reduce stress related to planning your South Florida wedding. Here are several advantages to consider: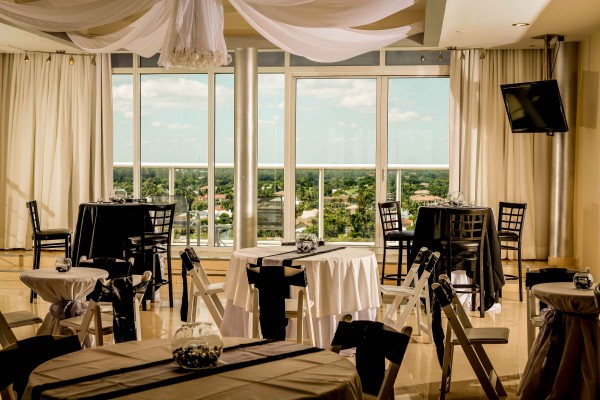 Photo credit: Ocean Manor
Event Coordinator Consultation: An in-person conversation is a great way to begin your relationship with the person who can show you around the property, possibly guide you in menu selections (depending on the venue), coordinate with you and your vendors for a common theme and may oversee your wedding. This meeting is very valuable in the long term.
Envision Your Wedding Space: Visiting the location in person helps you to understand the placement of stations, seating, the band, and the ceremony (if on site). You will get a feel for the size, the atmosphere and if it reflects your wedding vision. Check out the bridal suite and restrooms to see if the space is ample enough to get ready. Are there any windy stairs you may need to maneuver in heels with grace? What is the view like? What are the grounds like? Will it be hard to walk on in high heels? When will the ground maintenance such as trimming the lawn take place? Is it a buggy area that may need repellent for you and your guests?
Parking: See first-hand if there is ample parking for all of your guests. If parking is not on-site, visit the parking garage that the venue has partnered with.
Directions: Will it be challenging for your guests to find your venue. By traveling onsite, you will understand if there are any hiccups in the drive there.
Pictures May Not Truly Convey the Venue: For better or worse, visiting in person provides a reality to the venue's best or "not so best" features.
Visiting in person allows you to determine if that photo was just the venue's "good side" or if it is truly a gem with that incredible architecture and balcony to wave to guests and lush green landscape.
Scope Out Spots for Photo Ops: See in person that stunning tree with the mini lights at night or the combination of brick and wrought iron by the entrance. Find out the best lighting outside with the photographer so you can use that time for your wedding photo session.