Congratulations, you're engaged! Once you've shared your big news with family and friends and insured that sparkly new ring, it's time to starting thinking about setting a date to tie the knot! Not sure where to start? Here are six important factors to consider when deciding which of the year's 365 days to make yours!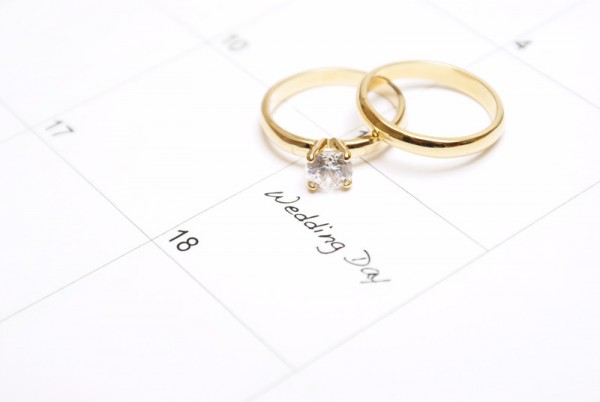 Photo credit: (c) CanStock Photo
1. Season/Weather. This is an important consideration, especially if you're planning an outdoor wedding. You don't want to accidentally schedule your al fresco ceremony for the hottest part of the year or your beach wedding during hurricane season (yikes!). Even for an indoor wedding, the season can often play a part in determining atmosphere of your event. And, of course, if flowers are a big factor for you, certain flowers types are only available (or affordable!) when 'in season.'
2. Budget. If you're looking to save money, planning your wedding for the wedding off-season can make an impact. Off-season can net a significant discount. Similarly, many wedding venues in South Florida are less to rent on Fridays or Sundays, rather than Saturday (the most coveted wedding day).
3. Your Schedule. Depending on your professions, there may be certain times of the year that are impractical. For instance, if you're an accountant, you might want to avoid having your wedding in February or March or if you're a teacher, you might not want to schedule the big day for the beginning of the school year. Before you fall in love with a month or season, it's a good idea to take this into account.
4. Planning time. Planning a wedding can have a lot of moving parts. It's important to be realistic about how long you will need to ensure everything is according to your vision. For instance, if you want a custom wedding dress, that can take a year or more to be ready. You'll be much happier and relaxed if you provide ample time rather than scrambling when it gets to be crunch time.
5. Significance. Many couples choose a wedding date that has some kind of significance for them, such as a birthday or the anniversary of their first date. Others like to choose dates that have cool numeric properties, such as 12/13/14 (remember that?).
6. Venue. If there's a particular South Florida wedding venue that you have your heart set on for your "I dos," then it's a good idea to try picking a range of potential dates rather than settling on just one. Venues, especially popular venues, book quickly, so it pays to be flexible. Partyspace's unique Venue Availability Calendars can help you here—each venue listing features an up-to-date calendar which lets you know what days that venue has available for booking. There's even a "follow" option that allows you to track a particular date and receive alerts if it becomes available.