Relaxation. Fun. Transition. That is the foundation for the wedding cocktail hour. Now that the vows have been exchanged, the butterflies have vanished, it's time to enjoy the company of your guests, new spouse, entertainment, a bite of sustenance and transition into the reception! Here are some of our favorite tips to make cocktail hour fun for your South Florida wedding.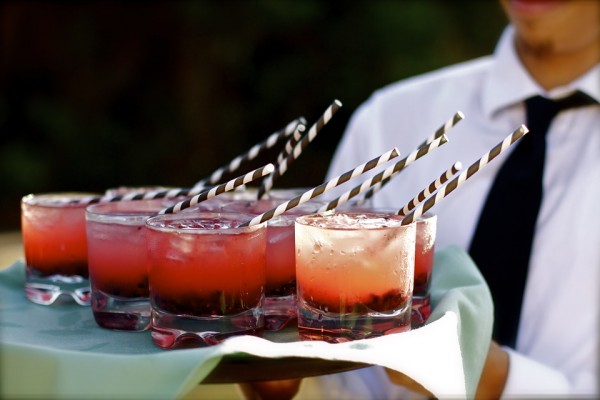 Time and Location: For ultimate enjoyment, host your ceremony and reception at the same venue. Less travel, less stress, more fun and time to mingle. And no one gets lost in the process. Obviously, ceremonies at your place of worship may be a factor. In that case, choosing a reception venue in close proximity to the church or synagogue is always a good plan. Some rabbis, ministers and reverends will be happy to officiate your wedding on site at your own location so it's always a good idea to ask.
Separate Spaces: Host the cocktail hour in a separate room from your dinner reception. Two different environments make it fun to mingle and provide that wow factor when entering the ballroom, barn or unique event space!
Music: Entertainment that allows for conversation is key. Instrumentals that ensembles provide create a wonderful festive atmosphere. Striking up discussion is easier when there is no competition from a loud base or lots of vocals. This ambiance leads right into the next phase perfectly, introductions and dancing.
Beverages: Consider a healthy portion of yummy signature drinks. Displayed beautifully and conspicuously, guests can easily access a beverage, converse and not rush the bar line. Signage lets the guests know the name of the drink and its ingredients. It can also be a conversation starter to break the ice. If you can place these cocktails near the seating chart, guests can obtain their table assignment while enjoying their beverage.
Menu: Stations and butlered hors d'oeuvres are ideal for a fun and successful cocktail hour. Finger foods are easier to manage with a cocktail and still allow for conversation. This also limits interruptions by having these small plates offered on the spot.
Seating: High tops and tables are a super mix for those who want to gather and talk and those who prefer to sit back and take it all in.