One of the most exciting wedding trends is releasing butterflies for an outdoor wedding ceremony.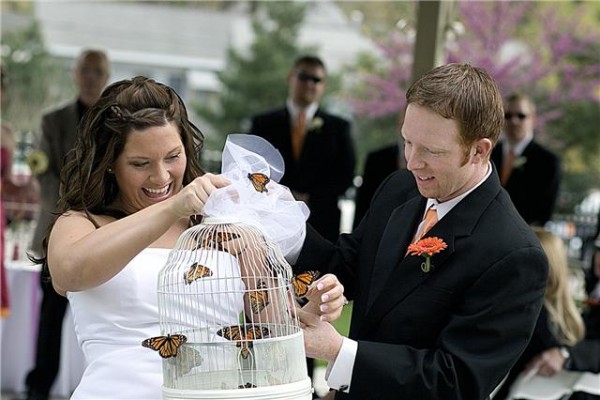 .Butterfly releases at the close of your South Florida wedding ceremony or after vows are exchanged symbolize transformation and good fortune.
Until that moment, the butterflies are typically held in a wire bird cage covered in organza and then set free to fly off into the wide open sky or land on the nearest flower, or guest!
The Monarch Butterfly is the best suited and most popular species for releases in North America because they are hardy yet graceful and beautiful. Often, the butterfly release replaces the traditional rice throwing after the couple departs.
In addition, dove releases are popular for wedding ceremonies in South Florida. Doves are an expression of unity, love and new beginnings, reflecting the meaningful milestone in your lives. Doves exemplify marriage as they take a mate for life.
Whether it's a butterfly or dove release, flower girls and ring bearers are eager to assist in the process and provide priceless memories and photos of your South Florida wedding.