If you love the waterfront, a beach may just be the ideal spot for your South Florida wedding ceremony.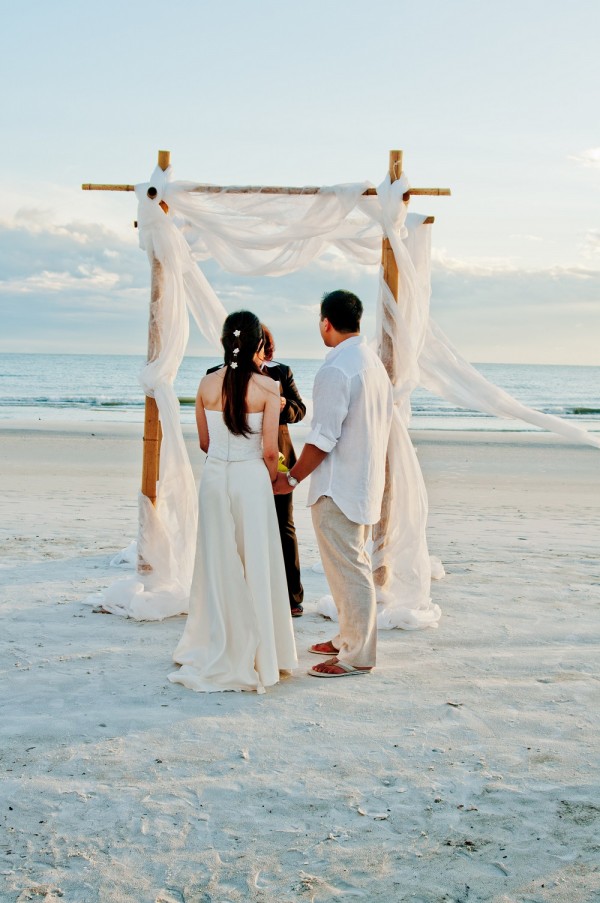 Photo credit: Kim Kinsella Lifestyle Portraits
Imagine your pre-dusk wedding ceremony on the pier with ocean waves roaring under your wedding shoes on the dock. Crystal blue skies, maybe one wispy white cloud in the sky and views of a far reaching ocean all around set the scene. However, before planning your South Florida beach ceremony, here are a few minor pitfalls to consider:
Footwear: Let's be honest--stilettos and sand do not provide good traction. Prepare ahead by bringing some flip flops for your beachy ceremony. Also, be considerate of older guests who may have difficulty balancing soft sand and walking in dress shoes.
Gaps: Boardwalks, piers and docks consisting of wooden planks may have gaps wide enough that your heels could become stuck. Stay vigilant while walking.
Hair Style: The waterfront is breezy so an updo hairstyle is your best option. Brides with natural curls who straightened their hair with a flat iron should remember that humidity may bring the waves back. The same goes for those with pin straight tresses that have spiral curls -- they may become flat without an extra dose of hairspray.
Rings: Hold wedding rings securely during a pier ceremony as they could slip between the slats and off to the Atlantic.
Public Beaches: Be mindful that if your South Florida wedding is held in a public place, strangers such as that surfer looking for a good wave or family with sandcastle building equipment may photobomb some of your photos. And that's ---okay! If it turns out to be your favorite shot, that surfer…wetsuit, board and all…can be Photoshopped right out of your ceremony scene.