Wedding cake is the latest form of artistry where taste meets architecture and creative design.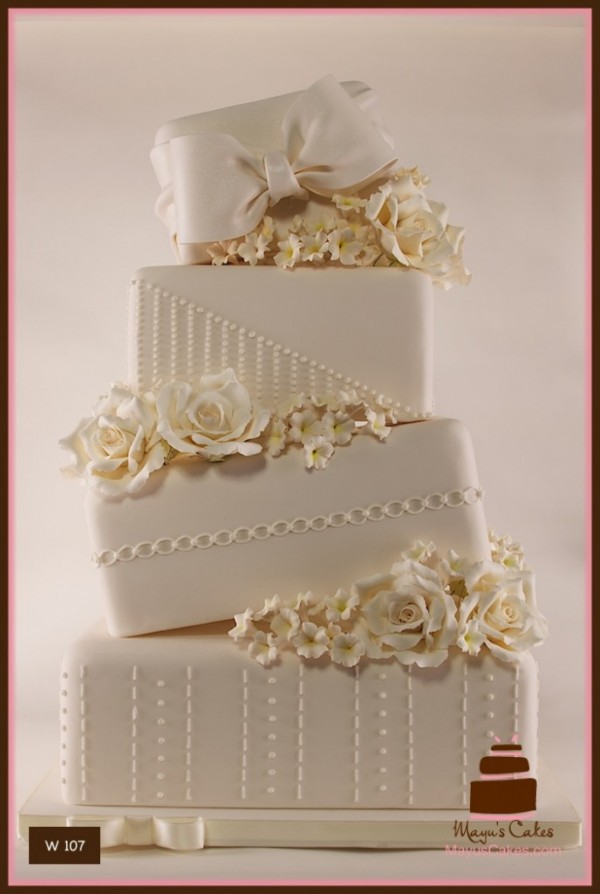 If your fork, like mine, requires a minimum 2-to-1 frosting-to-cake ratio or if a wedding is in your near future, these latest South Florida wedding cake trends are sure to peak your interest and put your palette on pause.
"What we're doing a lot of is replicating the laces on the bride's gown," said Maria Malkun of Mayu's Cakes in Pembroke Pines in South Florida. "It's pretty. It adds a delicate and romantic touch to the wedding cake," she said. Reflecting the bride's dress design with textured cakes using piping, beads or ruffles is one of the biggest trends in South Florida wedding confections. The wedding cake above mimics intricate lace accents and beading in the bride's dress pictured below. "Monograms are a very nice touch to the top tier," she said.
Matching the theme of the reception is another popular South Florida wedding cake request , Malkun said. "The venue will determine the theme," she said. Recent motifs reflected a rustic design, a garden, the beach and even bamboo to incorporate the location of the South Florida wedding venue.
Tilted cake adds a new twist that makes guests look twice. "We combine traditional and romantic classic style with modern crooked tiers to add a different dimension," Malkun said. She also alternates between stacked square and round cake to give the silhouette a different dimension.
In terms of colors, combining a white or beige cake with bold and bright hues like fuchsia and green adds a nice contrast and more modern style, Malkun said.
Despite the varying trends, Mayu's Cakes' reputation of high quality, rich flavor and freshness remains constant. Malkun's homemade signature vanilla rum cake with an aged brandy glaze is the bakery's most popular flavor, especially for weddings in South Florida. The coconut cake with a dulce de leche filling is a close second. Cake flavors range from carrot cake, chocolate and almond to decadent fillings like cheesecake, amaretto truffle and white chocolate ganache. According to Malkun, she inherited the love of baking from her mother. "She taught me the basics and finer points of baking in our family kitchen in Colombia," she said. Now, she creates South Florida wedding cake masterpieces in her own kitchen in the business she built seven years ago.
"Every cake tells a story," said Malkun who partnered with her husband Luis to start her custom-ordered wedding cake venture after earning an international business degree. She said each cake is as unique as each customer which is why personalized service is the company's foundation. "Many of our most amazing customer cake creations started with something as simple as a client's sketch or precious memory," she said. The one-on-one consultation allows Malkun to listen to any concepts, gauge the feeling of the reception or suggest some ideas if the wedding couple is understandably overwhelmed or arrives with a blank slate. From start to finish, each order is tailored to her clients specifications and Malkun personally delivers them.
Malkun's handmade bride and groom cartoon figures made from sugar are a top tier favorite among her clients for the South Florida wedding cakes. They add some humor with the groom climbing to reach his bride on the top tier, she said. Plus, the newlyweds can keep the toppers forever to remember their special day.
Searching for the perfect South Florida wedding and event venue? Click here! Searching for event professionals? Click here!