A post wedding brunch is a wonderful way to cap off a celebratory weekend. However, if you are hosting a summer wedding in South Florida and have out-of-town guests, consider a beach or poolside barbecue the day after instead.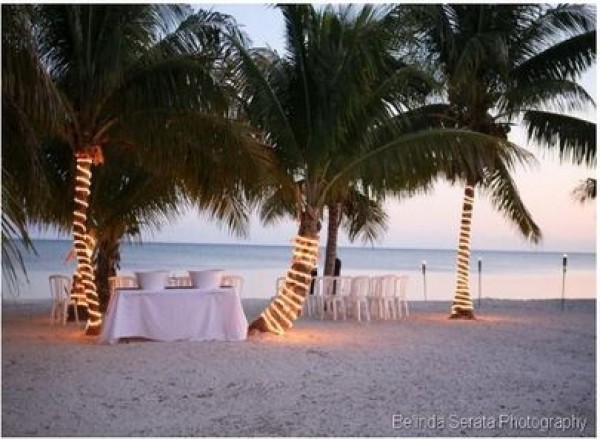 Photo credit: Papillon/Belinda Serata Photography
Nothing says summer like the scent of barbecue and suntan lotion wafting through the air. Here are some ideas to inspire a post wedding beach or poolside barbecue, a great alternative to a more traditional sit-down meal.
A cookout is a natural complement to a pool or beach atmosphere. Naturally, serving traditional barbecue favorites like hot dogs, hamburgers, and chicken comes to mind--or you can add some creative and ease for guests by serving grilled skewers. We're all familiar with shrimp and chicken kabobs, but you can make the get together super fun by serving fruit skewers, tater tot skewers, burger or steak skewers, vegetable skewers, fajita skewers, or paella skewers. Complete the meal with dessert skewers containing fruit, marshmallows, chocolate, or all three. How about grilling fresh peaches and serving them in a mason jar with vanilla bean ice cream on top. The caramelization of the peaches really brings out its flavor and sweetness. Perhaps try a new culinary craze like grilled watermelon. Another idea…a clam bake.
Photo credit: Papillon
Lawn, beach and pool games are entertaining at parties and weddings, so why not incorporate your favorites into the party? They are the perfect activity for this kind of event! Consider setting up horseshoes, croquet, a ring toss, cornhole. If you don't think your guests would be interested or if you want to mix it up a little, consider putting out a pool volleyball net, jump ropes and hula hoops.
If you do decide to host a pool or beach barbecue, seating will be necessary. Gather a few picnic-style tables and chairs—even square hay barrels as well as blankets for guests to sit on; not everyone is going to want to sit on the ground, and some of your guests may be more comfortable sitting at a proper table.