Flowers are an integral part of a wedding. They're in bouquets , in a basket carried by the flower girl, in flower crowns for the bride, bridesmaids, and the flower girl, in boutonnieres for the groom and groomsmen, and parents, accentuating the ceremony space, and in centerpieces during the reception. That's a lot to account for in your South Florida wedding budget!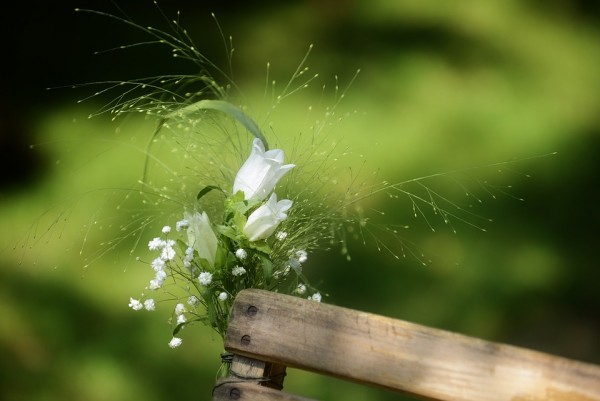 Photo credit: (c) Pixabay
If you're dreaming of a space adorned with floral decorations but feeling anxiety at the cost of all these sweet-smelling beauties, here are some options that could help you lower the cost.
The first of these options is to find non-floral alternatives for some of these flowers. Unless you really are dreaming of a sea of flowers, there are plenty of alternatives for many of the areas where flowers typically go. Consider, for instance, the ceremony space and the centerpieces at the reception. For the aisle, consider a runner or lanterns. For centerpieces, other natural elements like branches, seashells, or greenery would make a nice alternative. By forgoing flowers altogether in some areas, you can consider those more expensive flowers you have your heart set on for your bouquet.
Consider hosting your wedding at a garden or outdoor venue. Since nature has already provided the beautiful backdrop of florals and lush greenery, less is needed to decorate in terms of centerpieces. Smaller vases set on the reception tables would suffice instead of large elaborate displays usually found at an indoor space.
Along the same lines, if you don't mind the décor of the holidays, a December wedding could really be a cost effective choice. Since the venue is already decorated with greenery and florals to celebrate the season, less is needed on your part.
Another choice is to consider using cheaper alternatives to the usual, more classic choices for wedding flowers. Talk to your South Florida florist about what's in season at the time of your wedding and what they might recommend if you're trying to save on flowers. Go in with an open mind- they might talk about flowers you had never even considered carrying down the aisle on your big day!
If you have your heart set on using a specific flower- if you have always loved roses, for instance- consider accenting your bouquet with less expensive options, such as greenery. That way you still can achieve your vision of carrying beautiful bouquets adorned with roses. It will still look beautiful, but won't cost a fortune , having traded out some roses for a less expensive option.
Greenery can make a great option for accents everywhere in your wedding. It's much cheaper than flowers but will look just as lovely adorning the aisle, your bouquet, or the centerpieces at the reception.