Orchids or wildflowers? Pomanders, nosegays or cascading bouquets? The choices are varied when it comes to your South Florida wedding flowers, so finding a floral designer who is in sync with your vision as well as your budget is important. But where to begin?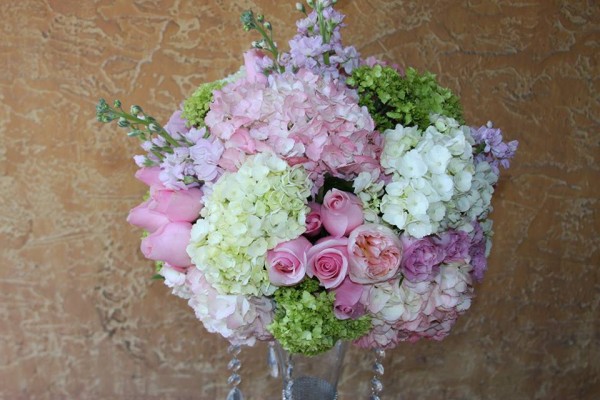 Photo credit: Belle Fleur
We have outlined some good questions when interviewing a potential florist for your South Florida wedding. However, first there are some questions that can be answered with a little research on your part.
Background:
•How long has the florist been in business?
•How many weddings in South Florida have they done? What do recent reviews look like? Is there an online or hardcopy detailing photos of their previous work?
Next, it is always best to meet potential wedding vendors for a consultation in person once you have narrowed down your choices. Consider discussing the below questions to cover your bases.

The Wedding Date:
•Is my wedding date available?
•How many other weddings or events will you schedule on that day?
•Have you done events at my venue before?
•Are you available to do a site walk-through prior to the wedding date and is there a fee?
•Will you be creating my arrangements yourself or delegate to another employee?
•How far in advance of the wedding will the bouquets and arrangement be designed? How are they stored?
•What time will you arrive to deliver the arrangements? Will you be removing them following the reception?
Budget Concerns: Have a budget that is clear prior to your consultation. If it is flexible, have a range.
•Do you require a minimum budget?
•Can you work within my budget?
•What recommendations can you provide to maximize my budget?
•Which flowers would you recommend based on the season, my color palette, and budget?
•Can you suggest alternative flowers to stay within my budget?
Floral Design: Bring photos to your consultation or refer to a Pinterest page to convey your vision accurately to your wedding florist.
•How would you describe your design style?
•Which size bouquet best fits my needs and vision?
•Will my flowers sustain an outside ceremony or reception?
•Do you offer organic, pesticide-free, or sustainably grown local flower varieties and if so, how much are they?
•Which vases best work with my wedding vision?
•What other décor pieces can you provide? Are vases and décor pieces considered rentals or purchased?
•Can you create a sample bouquet before I book? If so, is there an additional charge?
•Will you work with the cake designer for any floral décor on the cake? Are there set up fees for this option?
•Is there a delivery fee or added costs for set up and breakdown?
•Is there a plan in the event of rain? Is there a cost associated with that?
Payment:
•Is there a down payment required to book the date?
•Are there any additional fees I have not addressed?
•How far in advance do I need to book your services?
•Will you provide an itemized quote?
•When should I finalize the order?
•When can I expect to receive the contract?
•When is the final payment due?
•What is your refund policy if for some reason I need to cancel?