If sandcastles, surf, and rays of sunshine are more your wedding style, pack your bags and muddle your mojito for a South Florida wedding in Broward County.
Indulge in the tropical ambiance of a Fort Lauderdale wedding with soft sands at your footsteps and swaying palm trees in the distance. The Ocean Manor Resort caters to small informal beach weddings to grand formal affairs. The resort has many indoor and outdoor facility options such as a banquet room, state-of-the-art penthouse or outside pool deck and cabana area. All of their rooms are oceanfront with seating for up to 200 guests.
Have you always dreamed of a sunrise wedding in South Florida? The team at Ocean Manor can coordinate such a request. On-site event managers will assist you from your initial wedding planning stages through to the special day to insure it runs smoothly. The resort's wedding team also includes award-winning chefs and a personal catering manager who can suggest floral arrangements, and create the perfect menu and setting.
4040 Galt Ocean Drive, Fort Lauderdale, FL. (954) 566-7500.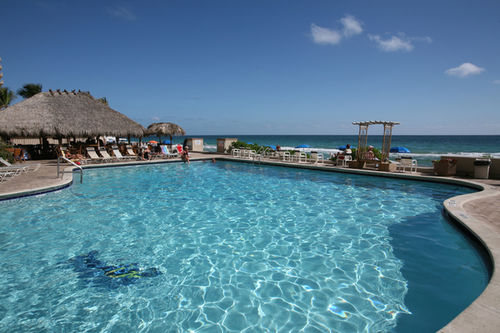 Photo credit: Tots and Travel
John U. Lloyd Beach State Park. The state park is home to Whiskey Creek, a beautiful inland canal that runs to the beach. Lined with mangroves, a unique tropical tree, the mile and a half long creek provides shelter from wind and waves. A picturesque wooden foot bridge extends over Whiskey Creek.
Beach goers can choose from a total of seven picnic pavilions, six of which are located within 200 yards of the beach. Each pavilion includes water, electric, picnic tables and a barbecue area. The seventh pavilion overlooks Port Everglades where visitors may watch cruise ships arrive and depart from the port. The pavilions seat between 100 and 150 people.
Be sure to check the fee schedule although it's very minimal. Special events such as weddings are permitted. However, it is advised to contact the park for special details and arrangements. After the wedding, consider renting sailboats, pontoon boats, kayaks or canoes. It's also an excellent idea for guests on an extended visit.
.6503 N. Ocean Drive, Fort Lauderdale, FL. (954) 924-3859.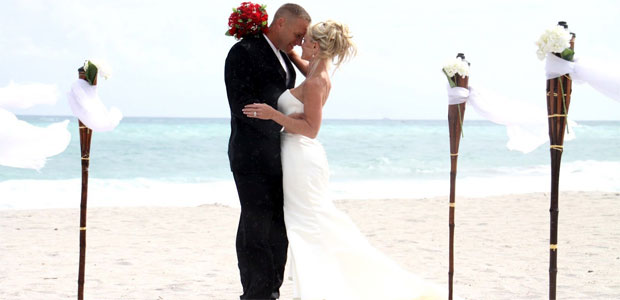 Photo credit: Affordable Beach Weddings
Host your wedding at sea on a wide array of South Florida yacht charters; each catered to your individual needs. The Summer Wind is perfect for intimate to medium-sized celebrations while The Floridian Princess, an extensive luxury vessel, accommodates up to 400 guests. A Charter One yacht promises to be the most unique event venue available for your wedding in South Florida. An ocean excursion is the ideal setting to entertain, take in the sights and create unforgettable memories to start your journey together.
4419 West Tradewinds Avenue, Suite 100, Fort Lauderdale, FL. (954) 771-0102.

Photo credit: Charter One Yachts
Imagine your destination wedding on South Florida's white sand beaches and shimmering blue waters following a sailboat cruise. Tropical Sailing, Inc. can make this idea a reality departing from its port at Bahia Mar Yachting Center in Fort Lauderdale. There is also another port off of Miami Marina at Bayside.
Tropical Sailing offers a variety of tropical South Florida excursions on its large fleet of catamarans, yachts and sailboats. The choices are endless. Celebrate your intimate wedding with wine on a relaxing cruise at sunset or enjoy on a private boat charter to John U. Lloyd State Park. Another option is a narrated sightseeing tour departing from Fort Lauderdale. The trip takes guests to historic sites, upscale ritzy mansions and luxury yachts while dining on hors d'oeuvres.
Jet out to the reef on a boat excursion for instructional snorkeling tours and interaction with tropical fish and marine animals. You may just spot dolphins, manatees and turtles too.
"Caribbean Spirit," the largest catamaran in North America is USCG approved for as many as 125 passengers. Other boats on Tropical Sailing's fleet can accommodate larger groups. the company's vessels provide sturdy, comfortable seating and all of the wonderful amenities nature can provide in South Florida; sun, surf and tropical breezes.
Reserve a full day or half day sailboat trip with a licensed and certified crew. Imagine your bridal party or wedding guests gathering for a relaxing clam bake or barbeque on a private beach like Boca Chita. In addition, small watercraft like jet skis and paddle boards are available to rent.
The Bahia Mar Hotel and Yachting Center, 801 Seabreeze Blvd., Fort Lauderdale, FL. (954) 618-8957.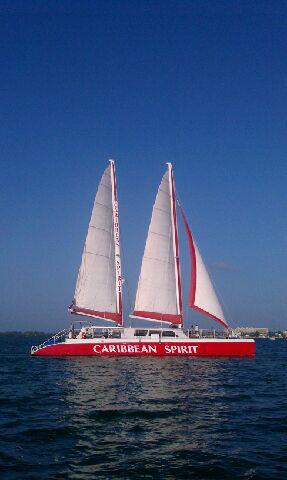 Photo credit: Tropical Sailing
Exchange vows with your toes in the sand. Sea Watch on the Ocean is an established seafood restaurant on three acres of oceanfront property in Lauderdale-by-the-Sea. They just so happen to be experts in weddings.
In addition to a ceremony on the beach, Sea Watch can also arrange a more traditional wedding on the grass lawn. Inside facilities include The Captain's Room and The Loft. The Captain's Room accommodates 60 guests while The Loft is perfect for smaller celebrations up to 30 guests.
6002 North Ocean Blvd., Lauderdale-by-the-Sea, FL. (954) 781-2200.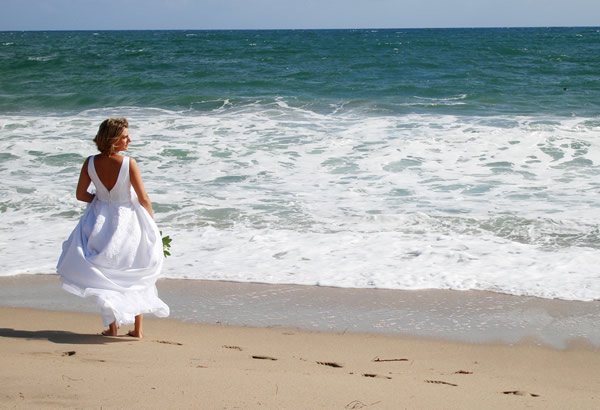 Photo credit: Sea Watch on the Ocean
Luxe Yacht Charters offers sophisticated vessels with a guest capacity anywhere from 2 to 400. Each boat has its own unique and distinctive style -- from a traditional yacht to one with chic Miami glamor, Art Deco style and modern decor, there is a vessel to suit each taste. Another option is a lavish yacht with four decks to suit larger parties up to 400 guests. Each level has its own bar.
As they say, a yacht wedding from Luxe Yacht Charters will certainly take your wedding from ordinary to extraordinary.
4 West Las Olas Blvd., Suite 300, Fort Lauderdale, FL. (305) 926-5027.

Photo credit: Luxe Yacht Charters
Still searching for the perfect South Florida wedding or event venue? Click here! Searching for event professionals? Click here!