Selecting music for your South Florida wedding reception is truly one of the fun tasks of planning your big day. But what are the latest tried and true songs that get guests onto the dance floor and away from the table?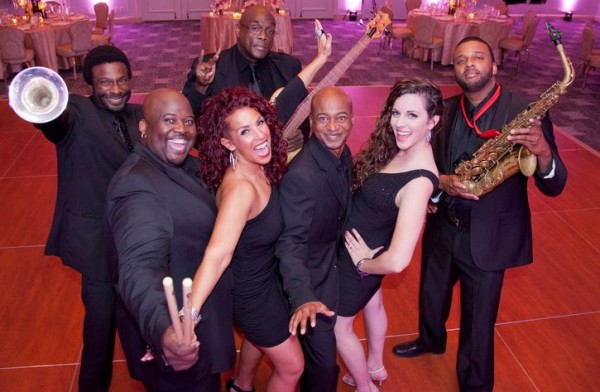 Photo credit: Jerry Wayne's Private Party Band
We turned to the talented Jerry Wayne of Jerry Wayne's Private Party Band to find out. Here is what he had to say:
My idea of what makes most people get on the dance floor all night has to do with what they are familiar with. Even though there are many fabulous newer songs on the charts, many of these newer songs are not known to the masses yet, because they are so new. Over time, that won't be the case.
After watching our audiences over many years and how they decide to dance usually goes something like this. It starts with one half of a couple starting singing along with the song being played. Then if it's the girl, she will usually tell her guy something like "Oh I love this song. Come dance with me", and as they both dance. They are singing every word along with our band. I think that if a song is too new, it might not capture them the same way, but we try our best to work those in to the party also.
Here are just a few new and not-so-new songs that I find always fill every dance floor. The all-time winner this year is "Uptown Funk". Bruno knocks it out of the ballpark again with "Treasure". "No" by Megan is another newer winner. We have been getting a great response when we play "Shut Up And Dance". You can always count on "The Wobble" to get everyone crazy. I think that "Timber" is another sure bet to fill the floor. One of the biggest songs to hit is Pitbull's "Fireball", and whenever we play "Don't Stop The Party", we get everyone up and dancing too. Other songs that really work are some that have been around awhile like, "Shake It Off" or "Your Lips Are Movin'" and also "All About The Bass". "Blurred Lines" still works great too.
For those that like to step back in time, you can always count on anything by Michael Jackson like, "PYT" by MJ, and who doesn't like to dance to "Love Shack" for those that can go way back.
There are so many fabulous dance songs to choose from, it is often hard to choose. Some dancers may like Retro Rock of the 80's & 90's, while others love Country. Fortunately, our band has such a huge song list for our clients to pick from. That way every one gets to hear the hits they like best. We even cover the Latin favorites of today and yesterday. Check out our ever-changing song list when you visit our site.