Invitations and nuances in etiquette can be tricky. However, whether your South Florida wedding is black tie, white tie or casual, whether you or your parents are hosting, there are three words to avoid at all costs on your wedding invitation.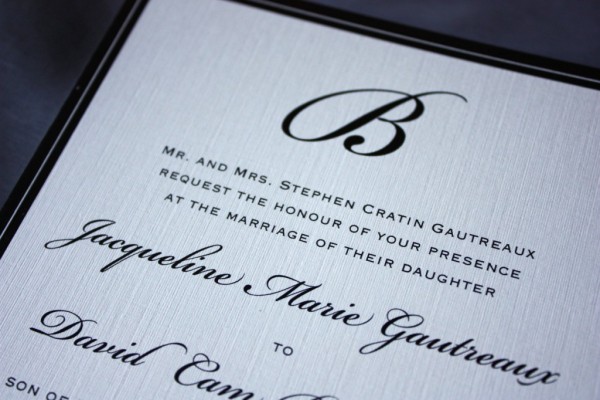 Photo credit: emdotzee.com
Adult-Only: Even if your intention is to invite just adults, not their children, phrasing it that way will give your reception the wrong idea. Of course, it's not that kind of party (cue the Barry White music). Event planners will suggest that first, convey adult only by writing in the response card only the adult guest names you plan to invite.
Next, if by chance the response card comes back with children's names written in by the guest, bring in mom. No one wants a call from mom. Either the bride or groom's mother will do and have them contact the guest by using the Oreo cookie problem-solution method. For example, "We received your R.S.V.P and are thrilled to hear you will be attending the wedding. However, the venue does not permit children under 18 years old for liability purposes. I am happy to help you find a babysitter, if you need assistance." The bride should never have to make this call so delegate to mom, the maid of honor, or even the wedding planner, if you hired one.
Cash Bar: Even if you are on a budget, the jury states it is in poor taste to have a cash bar at your reception. Instead, limit the offerings to just wine or beer, or a limited full bar. Use signature drinks to offset the cost of liquor. Or even, have fewer hours that the bar is open if you are really concerned.
Registry or Gifts: While it is perfectly acceptable to have an insert card with your wedding website in the invitation suite, it is not appropriate to list the registry. Instead, link your registries on your wedding website. After all, it has all of the important information about location, date and time as well as directions to your South Florida wedding. Not only do these links list the stores but with one click, guests are led directly to the very items you requested. As you know, it is always the company of treasured friends and family on this milestone day that is the real gift, of course.