The Florida Keys have a wealth of history from its pineapple plantation and key lime groves, to its designation as one of the wealthiest U.S. cities per capita at one point to a tropical winter destination for the rich. We set out to find wedding venues with unique history to set the scene for your own remarkable milestone.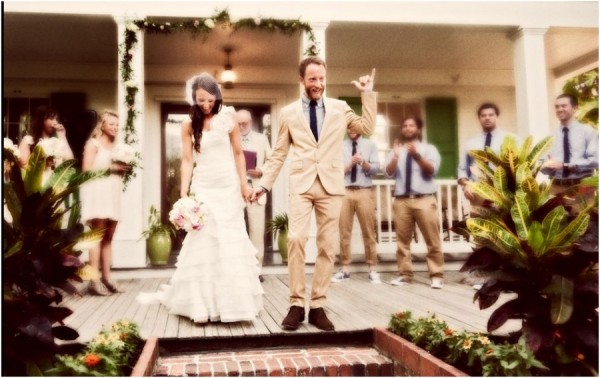 Photo credit: Audubon House and Gardens/J. Hunter Photography
Here are some of our top historic Key West wedding venues:
Audubon House and Gardens is a historic Key West wedding venue complete with winding pathways of aged bricks among beautiful orchid-filled trees. Its spectacular gardens are available for events in the evening and the 1840's home provides a wonderful backdrop, perfect for all kinds of celebrations and events, from the most unpretentious gatherings to the most elegant catered affairs.

Audubon can easily accommodate wedding receptions for up to 130 guests, and corporate cocktail parties for up to 250 guests. Your guests will enjoy a personal tour of the home, and party the night away in the tranquil moonlit gardens.
Enjoy the Custom House Museum's elegance and sophistication of Richardsonian Romanesque architecture. You and your wedding guests will enjoy the airy wrap-around porch with arched columns, overlooking the harbor in the heart of downtown Key West. Inside, you will find vaulted ceilings, a grand staircase and galleries of seasonal exhibits of art and history.
If a historic mansion with ambiance is more your style, you are in luck! This elaborate Georgian Revival mansion, located in Key West, is significant because it was the home of Florida's first millionaire.
Your guests will enjoy the finest amenities, including a pool and hot tub, full deluxe breakfast, afternoon open bar cocktail party and full access to the 22-room luxurious mansion.
The Ernest Hemingway Home and Museum
The Ernest Hemingway Home and Museum is a unique historic wedding venue, nestled in the heart of Old Town Key West. As you may have imagined, this property was home to Hemingway, one of America's most honored and respected authors. Hemingway lived and wrote here for more than 10 years. Perhaps inspiration to write your own vows?
A wedding here will allow you to step back in time and visit the rooms and gardens that witnessed the most prolific period of this Nobel Prize winner's writing career.
Merely 88 steps to the top of Lighthouse & Keepers Quarters and you are afforded a 360° view of the island city of Key West. This historic Florida Keys wedding venue offers a spacious lawn and tranquil tropical setting graced by the great Banyan Tree and the charming Lighthouse Keeper's Quarters. Imagine hosting your ceremony at the top of the Lighthouse overlooking the entire island. Lighthouse and Keepers Quarters may accommodate up to 200 guests.
Practically synonymous with Old Town Key West is Old Town Manor with its historic garden setting. Securing a wedding here assures an intimate experience you and your guests will never forget.
The Schooner Hindu provides the perfect intimate wedding ceremony aboard Key West's oldest wooden schooner. The 90-year-old vessel offers classic beauty, complemented by the gorgeous Key West scenery, affording you a beautiful background to your special day. Schooner Hindu's crew and captain will be on hand to provide a unique sailing experience. Keep in mind, this unique Key West wedding venue sails out of Key West November-June and Provincetown, Mass., from July-September.
Oldest House Museum and Gardens, also in Key West, has an ideal setting for your wedding, whether it is a grand, lavish affair or a perfect private ceremony. This secluded paradise is a private setting in the heart of historic Old Town dating back to 1829, including a large garden and lawn, brick pathways, gazebo, and magnificent mature tropical foliage. The historic home features an antique-furnished family dining room and parlor, and an upstairs bridal suite. Its garden allows for an elegant and extravagant event or a small intimate occasion. The venue can serve up to 120 seated guests or 300 for a cocktail party.
Still searching for the perfect South Florida wedding and event venue? Click here! Searching for incredible vendors? Click here!