Three Fine Cooks Presents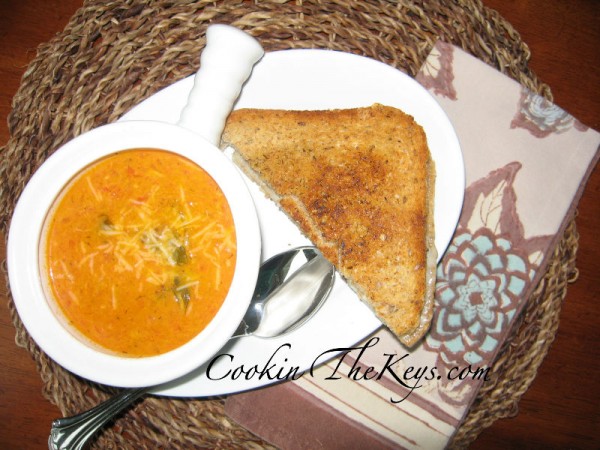 Roasted Tomato-Basil Soup w/ Dill
Modified from "Small Plates" Cookbook
Ingredients
10-12 tomatoes, cut in half
1 -2 T Olive Oil
1 clove of garlic
¾c fresh basil leaves
1 t fresh ground black pepper
Seas salt to taste
1 c vegetable or chicken stock
1T Romano or Parmesan Cheese, (I use Locatelli Romano)
¼ – ½ c Milk or Cream
1t dill
Instructions
Preheat oven to 400 degrees
On a sheet pan place tomato halves, skin side up
Drizzle with olive oil, salt and black pepper
Cut top off of head of garlic and wrap in foil
Drizzle with olive oil, salt and black pepper and wrap in a ball.
Roast both the pan of tomatoes and garlic in the oven for 15-20 minutes, ensuring skins do not burn.
When tomatoes are finished, remove from oven and set aside to cool.
Continue roasting garlic until it begins to caramelize.
Remove and allow to cool until you can safely squeeze out the cooked cloves.
In a saucepan, add tomatoes, ½ of the clove of roasted garlic, basil, dill, salt and pepper and stock.
Simmer for 15-20 minutes allowing all of the flavors to come together.
Add cream and continue to simmer another 5-10 min. Use only the amount of liquid to your liking.
Top off with Romano Cheese and a pinch of dill.
Notes
You can remove the skins of the tomatoes once they are cool enough to handle. I usually leave them on and always pulse the tomatoes and roasted garlic in my Vitamix. It breaks up the bigger pieces, but feel free to puree if that is how you prefer it. To make this dish Vegan or Dairy Free use Vegetable stock and omit the milk and cheese. Roast a Zucchini squash along with the tomatoes, puree and add to thicken or just simply puree the soup. You can also use a nut milk, if you prefer.