We all love our pets. They listen to us when no one else will, cuddle with us when we're feeling down, and grant us unconditional love so long as we keep their bellies full.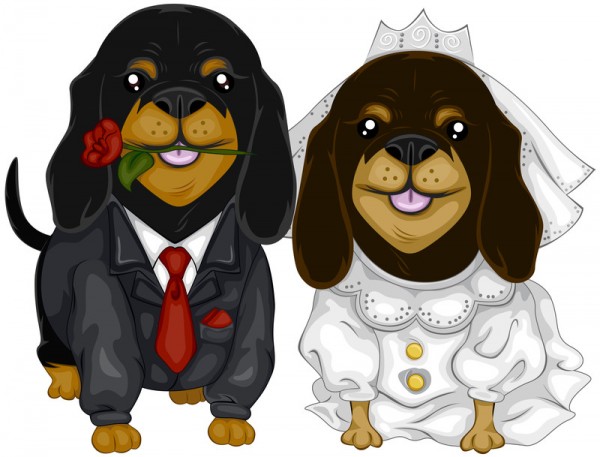 For many people, a beloved pet is as much a part of the family as Aunt Gertrude or Uncle Tony, so it may seem like a natural choice to invite your furry (scaly, or feathery) friend to your wedding! This can be a fun way to celebrate with your whole family, and your animal friend can be a huge hit with guests. Here are a few tips to ensure that everyone, pets included, has the wonderful time they deserve!
Check with your venue. Step one, of course, in planning to bring your pet to your wedding is making sure that it's all right with your venue. It's surprising how easy this step can be to forget amid the excitement of planning for your big day, but you definitely don't want to make the mistake of arriving at your wedding with a four-legged ring-bearer, only to have him banished from the property. Ask your venue way ahead of time about their rules concerning pets and make sure to follow them carefully to avoid any unfortunate hiccups.
Know and respect your pet's personality. Not every pet is cut out to be a wedding guest. If your pet is a timid and nervous fellow who cowers at the thought of strangers, bringing him to your event might simply be inflicting unnecessary trauma. If your pet is an incessant barker or enjoys jumping on people, she may not be appreciated by her fellow guests. If your pet has an aversion to children and you plan on having children attend your wedding, you may be asking for trouble. Be honest with yourself about whether your pet will be comfortable and happy at the event. Your pet depends upon you not to put it in situations which will set it up for failure.
Make sure your guests (and vendors) know your pet will be present. Remember to be considerate of your guests! Let them know, whether through your invitation or wedding website, that your pet will be in attendance at the wedding. Some people may be allergic to your animal pal and will need the heads up to allow them to plan accordingly. Others may have a phobia of certain pets: if multiple people express unease over your plans to bring your 6 ft. long reticulated python, you may want to rethink the decision. In addition, be sure to inform your vendors, including the officiant, that your pet will be attending the event: they may have allergies, too, or have valuable suggestions to offer.
Hire a pet-sitter or appoint a trusted friend or family member to be on pet duty. Believe it or not, you are going to be very busy on your wedding day and won't need the added stress of looking out for Rover! Arrange well beforehand for either a hired pet-sitter or someone you trust to be your pet's guardian for the day. This person will be in charge of getting the pet to and from the venue and keeping it happy and out of trouble while there. It helps to choose someone your pet already knows and trusts rather than handing him or her off to a complete stranger, even if your pet is normally very friendly and outgoing. This will help to provide that extra reassurance in a strange, crowded environment.
Be sure to bring necessary pet-related items. Be prepared with everything your pet needs on your big day! If your pet is a small animal, bring along a carrier or its cage or tank. No one is going to want to hold your pet rabbit throughout the entire ceremony and reception, no matter how cuddly it is. Bring along some toys and chews to keep your pet occupied and content, as well as a few treats. Also, don't forget some baggies so that your pet's handler can clean up any presents left at the venue.
Make sure there is a place for your pet to retreat if it becomes overwhelmed. Keep in mind, your furry friend has absolutely no idea what a wedding is or why it is happening. Even if your golden retriever is the friendliest, most out-going, best-trained dog on the planet, remember that all that excitement can be a bit of an overload. Being in a strange place with a bunch of strange people doing strange things can be stressful even for a laid-back animal—or person! Always make sure to have a location picked out for your pet to be taken if it needs to get away for a bit. You want everyone to have a good time, including your best bud!
Avoid pet safety hazards! If your pet will be wearing a costume or accessory, make sure that you try it out in advance to ensure both that it's comfortable and will be tolerated for the duration of the event. Some pets really don't like being gussied up, so you may have to compromise and trade the tuxedo you were planning on dressing your cat in for a nice ribbon. In addition, make sure that anything going around your pet's neck is safe and doesn't pose a choking hazard if they get too squirmy. You will also want to be aware of the kinds of flowers you are using for your decorations, especially if you are using them to decorate your pet: many plants are toxic to animals if ingested. Steer away from these, there are lots of alternatives! Finally, ensure that your pet will not be getting hold of any potentially dangerous treats from the reception. Chocolate, onions, raisins, grapes, garlic, and avocado are all toxic to dogs and many other animals, and bones from meat dishes can pose a choking hazard or splinter when chewed.
If you plan for your pet to have a role in the ceremony, be sure to practice and have a backup plan. If you'd like your pet to have a more central role in your wedding ceremony, there are plenty of options to choose from! Walk them up the aisle with the wedding party or make them the flower girl or ring-bearer. Some brides have even carried their pint-sized pets in place of a bouquet! However, if you are planning on giving your pet an important part in your ceremony, make sure he or she is up to it. Practice, practice, practice with your pet until it can perform the tasks asked of it even with a crowd of people around (cast your friends in the role of "distractions," to simulate the real deal). And even with all that practice, make sure you have a backup plan in case Fido gets stage-fright at the last minute or Bosco the bunny has a sudden kicking fit on the way down the aisle.
Remember, there are other ways to include your pet, even if they can't be there in person. Having your pet physically present at your wedding is not the only way to acknowledge the important role he or she plays in your life. If you have rented a venue which does not allow pets or if your pet cannot attend for some other reason, there are lots of alternatives to having them as an honorary guest. For example, you can include them in your engagement photos or display their picture in a place of honor at the ceremony or reception. You could include them in your vows or mention them at another place in the ceremony. Include a picture and acknowledgement of them in the wedding program or use them as inspiration for your cake. The possibilities are endless!