Just because your wedding dress is white doesn't mean it can't be green, too! If you're looking for a way to lessen your wedding's impact on the environment, why not start with the dress, itself?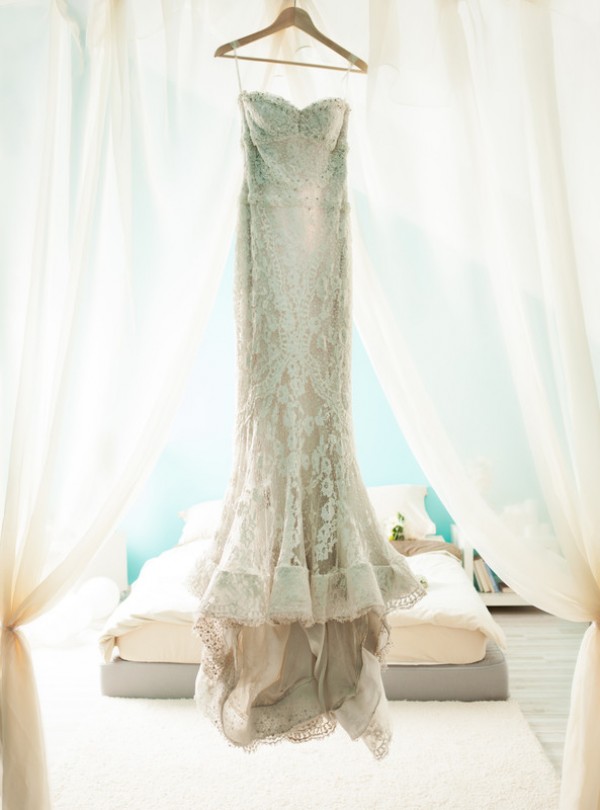 It's easy to forget that most wedding dresses are actually created through processes which are far from green. From the energy and chemicals used to create the materials to the waste of excess fabric to the chemicals used in the bleaching process, these dresses can have a pretty negative effect on the world around us. However, don't worry! There are tons of great options for going green when it comes to your wedding gown which will enable you to feel great about helping the earth while still looking amazing on your big day!
Up-cycled dresses. Up-cycled dresses are a great new trend where an existing dress, which might have an outdated design, is refashioned into something stylish and new! By reusing the materials, the creator ensures that energy and chemicals are not used in the creation of new ones and these dresses can also be very kind to your wallet. There are many creators on Etsy who specialize in up-cycling wedding dresses or, if you are lucky enough to have the necessary skills, you can create your own up-cycled dress at a fraction of the cost of a brand new gown.


Vintage or used dresses. There have been millions of weddings before your own and each one featured its own wedding dress. Take advantage of the amazing range of gently-used dresses out there both online (there are many sites specifically dedicated to selling used wedding dresses) and in your local thrift or consignment shops. If sustainable fabrics aren't your thing, purchasing a used dress is a great way of finding the dress that's perfect while avoiding the cycle of one-use waste which plagues so many wedding dresses. In addition, you can check out what dresses your family has hidden away: It could be that your grandmother's wedding dress is exactly what you've been looking for. If the dress you find isn't perfect, remember that alterations are always an option. Just keep in mind that it's easier to take in a dress that's too big than to increase the size of a dress that's too small!


Eco-friendly designers. The recent surge in eco-awareness has given rise to a number of dress designers dedicated to creating eco-friendly wedding gowns using sustainable materials and fair-trade practices. These designers make it possible to find gorgeous green wedding dresses in nearly any style imaginable! For some wonderful examples of designers who create earth-friendly wedding attire, Eco-Chick and Peaceful Dumpling have each put together a list of their favorites.


Sustainable fabrics. One great way to ensure that your dress is both earth-friendly and one-of-a-kind is to have it made from sustainable materials! Organic cotton, peace silk, or hemp are great materials to look for and tend to be more breathable and comfortable than synthetics. Find a local dressmaker or seamstress to make the dress for you or check out the multitude of artisans on sites like Etsy.


Reusable dresses. One green option when it comes to wedding gowns is selecting a more versatile dress which you will be able to wear more than once. This works especially if you are planning on having a less formal wedding. Just think, every time you wear the dress it will bring back memories of your special day and it will be far less wasteful than wearing a dress once and banishing it forever to storage!


Donate your dress. If the dress you've already bought is less than eco-friendly, don't worry: you still have a chance to do your part for the environment! There are wonderful organizations such as the I Do Foundation and Brides Against Breast Cancer which will put donated dresses towards wonderful causes. Brides Against Breast Cancer sells once-worn dresses and uses the proceeds to help grant the wishes of breast cancer patients nationwide while the I Do Foundation donates 20% of the money earned through selling your dress towards the charity of your choice. These are great and easy ways to make a difference!