Wedding and engagement rings are an enduring symbol of a couple's love and commitment to one another. These are rings that will last you and your spouse all your lives, and with so many choices, finding those perfect bands can be tough. Yet, as you browse through the various possibilities, you might want to consider choosing a ring that's not only perfect for your finger, but for the world, too!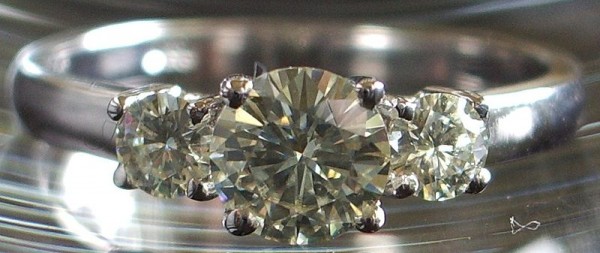 Most of the diamonds on the market today come from huge industrial mines, which have serious negative impacts on the environment. Many diamond mines are open-pit mines, which basically involves digging a giant hole in the ground (many of them can be seen from space). This method causes pollution to ground water, disturbs ecosystems surrounding the mines, and the mines are rarely filled in once the industry has finished with them. Open-pit gold mines, when you consider the metal which might be going into your rings, pump nasty chemicals, like cyanide, into the environment which can poison local animals and even people if it gets into water sources.
On the other side of the coin, there is an ethical concern when it comes to purchasing diamonds without doing careful research. Many diamonds available today are what are termed "blood diamonds," meaning they have been mined in warzones and sold to finance insurgencies or war efforts for invading armies. Although the reality of "blood diamonds" has become more widely known in recent years, and many jewelers have begun to adopt higher standards, it's still important to be aware of exactly where your diamond is coming from. Nothing is less romantic than declaring your love with a ring fashioned from the suffering of entire nations!
So, what's a couple to do? Don't worry! We've got you covered! Below is a list of environmentally-friendly and ethical options for finding your perfect engagement and wedding rings!
Lab-grown diamonds. With modern technology, it's now possible to purchase diamonds completely free of negative ethical and environmental impacts. These diamonds have no links to either conflict zones or harmful mining practices because they are cultured in a laboratory. While sometimes called "synthetic diamonds," these gems are not simply "fake" diamonds which look a lot like the real thing. Instead, they have the exact same structure, density and chemical composition as a diamond created in nature. These lab-created diamonds are readily available these days from companies like green Karat and, as an added bonus, they tend to be much, much less expensive than their naturally-occurring counterparts!


Diamond substitutes. Believe it or not, there are other gems with the sparkle and beauty of diamonds! Moissanite is a gem which closely resembles diamonds, but which has even more brilliance! This gem was originally discovered in fragments of a meteorite and is incredibly rare in nature, however can be grown in labs, making them entirely eco-friendly and conflict-free. Like lab-grown diamonds, moissanite is also a great deal less expensive than diamonds from a mine.


Use heirlooms. If you're fortunate enough to have inherited an old family ring, don't let it go to waste! Even if the ring is not your style, you can always recycle the gem and metals to create a new ring that's more to your taste. We promise, your great-great-grandmother would much rather you make her ring your own than have it pawned off or left to gather dust! Recycling your heirloom not only makes your engagement or wedding ring that much more meaningful, but it also helps the environment. If, on the other hand, you have any other kinds of jewelry that has been handed down to you, this can also be melted down to be used in your wedding band!


Antique jewelry. If your family doesn't possess some fabulous heirloom, never fear! There are so many wonderful pieces out there just waiting to be found in antique stores or online! Some rings may even come with their own interesting histories. Ebay is a great place to go if you choose this route: they are always getting new listings.


Rings made from recycled gems and metals. There are many companies today that sell rings crafted from recycled gems and metals rather than using new materials harvested from war-torn countries and damaging mining practices. Green Karat estimates that there is "enough gold above ground (already mined) to satisfy all the demands of the jewelry industry for the next 50 years." Buying these rings is a wonderful green way to use these already-available resources while still getting to have that style you've always dreamed of!