Over the past few years, many Baltimore couples have opted to abandon more traditional wedding décor and settings in favor of a more casual, down-home celebration. With endless possibilities and a great deal of charm, these rustic weddings are a fun and engaging way for a couple to celebrate their marriage with family and friends.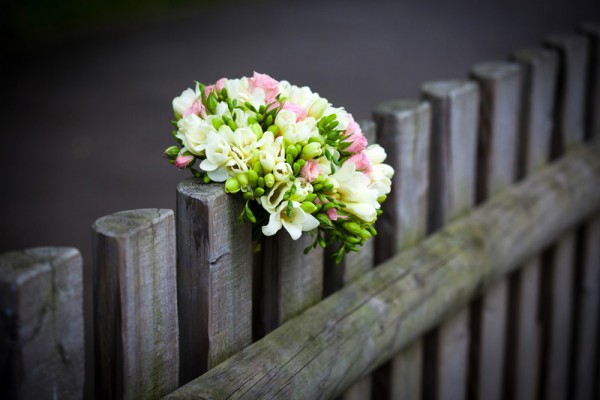 This week we asked local wedding venue and nursery, Shade Trees and Evergreens, to provide some quick tips and advice on how to plan a rustic-themed wedding which will keep your guests talking for months to come!
The appeal of a rustic wedding isn't hard to pin down: the atmosphere they create is casual and warm, allowing guests to relax and enjoy themselves on your special day. It encourages them to mingle more freely with one another and helps them to feel more a part of the proceedings. If you're looking for a way to make your Baltimore wedding fun, intimate, and low-stress, a rustic wedding is a great way to go.
Perhaps the most popular decorating motif found at rustic-themed weddings is "rustic chic," the blending of elegance with age and wear, all with a countrified flair. There are countless ideas for how to incorporate this into your wedding and reception: using mason jars to hold flowers or as glasses for drinks, hanging paper lanterns and sheer drapes around the venue, employing thin tree slices as chargers for your table, and using shutters or window panes for place card holders, for example. Burlap is very popular and can be used for anything from napkin rings to tablecloths to chair decorations to a pillow for you rings. Use chalkboards for a seating chart or menu, or to provide other information to your guests. Another fun idea is the inclusion of lawn games, which can add to playful and relaxed tone of the wedding! Give your guests the opportunity to bond over croquet, badminton, lawn bowling, or horseshoes. For an evening reception, hand out sparklers to add a little magic to the scene. For inspiration, try turning to Pinterest, which is home to hundreds of boards dedicated to rustic wedding ideas!
One of the main features of a rustic wedding is its natural setting, immersing guests and the wedding party in an uncomplicated pastoral world. However, as nature is not always as accommodating as we would like, it is important to take into consideration the elements and weather when making plans. Always make sure that your décor is weighted and prepared for the outdoor elements so that it doesn't blow away or become damaged. Even more important, make sure your guests know that the wedding will be happening outdoors so that they can dress accordingly and come prepared. You really don't want anyone to freeze as you say your 'I do's! To further provide comfort for your guests, add little things such as stations for drinks, blankets, insect repellent, or whatever else you think the setting might require. Finally, since you've chosen a rural/country wedding location, make sure you provide clear directions to the venue and provide signage at the location so that the guests know that they have arrived! Make it as easy as possible for them to get there so that everyone can make it to your big event!