Season can play a huge role in planning a wedding, not only in terms of deciding what flowers are available and how your guests will dress for your outdoor ceremony, but also in providing inspiration for décor, menu items, and tone.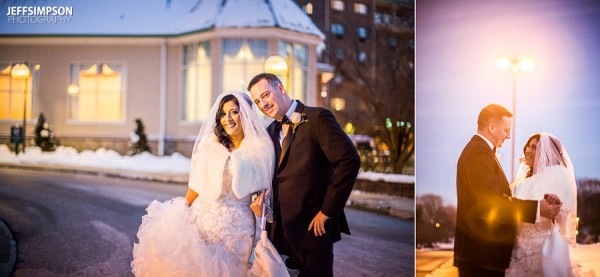 This week, we asked Jenny Beteljewski, Catering Director at the luxury resort hotel, Turf Valley, for her favorite tips and ideas for planning an unforgettable winter wedding. Here's what she had to say!
---
Winter may not be the most popular wedding season, but for those who dream of tying the knot during the snowy months, there are certain advantages. While December can be busy on the weekends for venues filled with holiday parties, January and February are generally times of year when incentives are offered by all vendors. Savvy couples can use the money they saved with their vendors on a tropical honeymoon—it will be all the more wonderful to get out of town for a climate change in winter.
So, if you've decided to schedule your nuptials between December and March, where do you start? The first step to planning a successful winter wedding is to embrace the season! Each season brings many different opportunities to enhance the décor, food and ambience of your big day. Think about the things you find enjoyable about winter and incorporate them into your event. Set the tone for an elegant evening by spraying branches a glittery platinum and dangling faceted jewels from them over a reflective mirror base. To enhance the effect, place lots of votive candles around these displays. For a terrific centerpiece that won't take a big bite out of your budget, fill a bubble bowl with sparkly ornaments purchased during post-holiday sales. If you have room in your budget, wow your guests with ice sculptures—the play of the candle light on the ice will create a truly magical effect.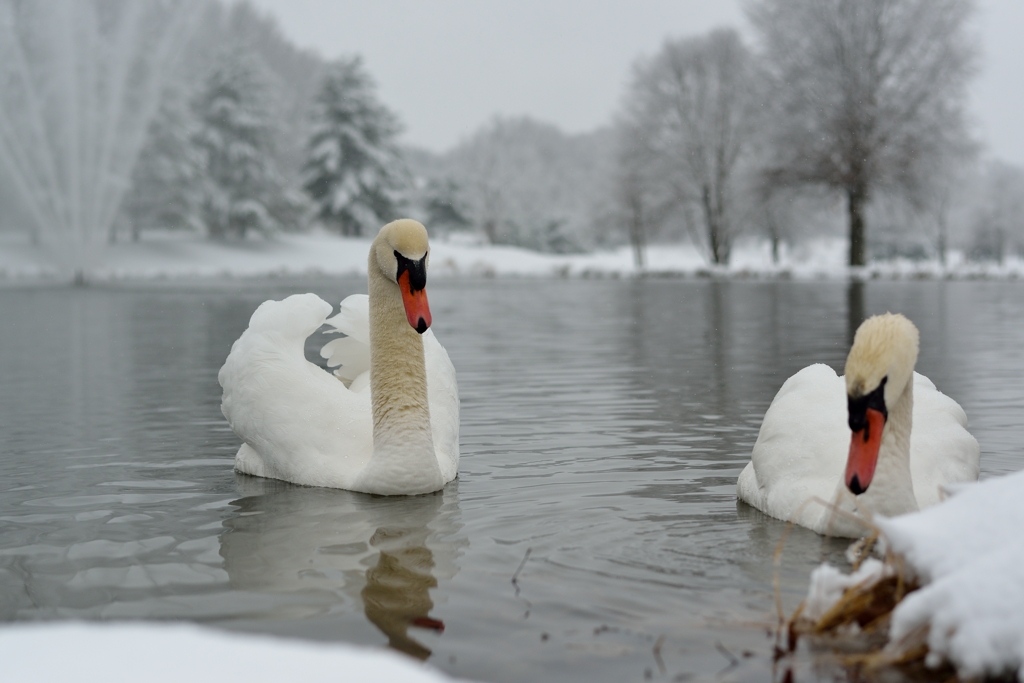 For those who favor a more natural look, you can use fresh pine, waxflower, pinecones and holly to decorate your venue space; with velvet or plaid ribbon for accents (this will also smell amazing!). Tuck this greenery around votive candles on hi-tops, at your guestbook, and around chafing dishes to set the mood. You can also hang mistletoe and kissing balls from the ceiling as an added touch (don't forget to put one over the sweetheart table!). If you're planning a December event, you can even choose to play off of holiday décor.
Definitely don't dismiss the opportunity for outdoor photos. Most brides and grooms have adrenalin flowing to keep them warm, and pictures of the two of you set in a winter landscape can be especially beautiful and memorable (not to mention the perfect opportunity to have a fun fur muff or shrug). Besides, just think of the rosy cheeks you'll have in your photos!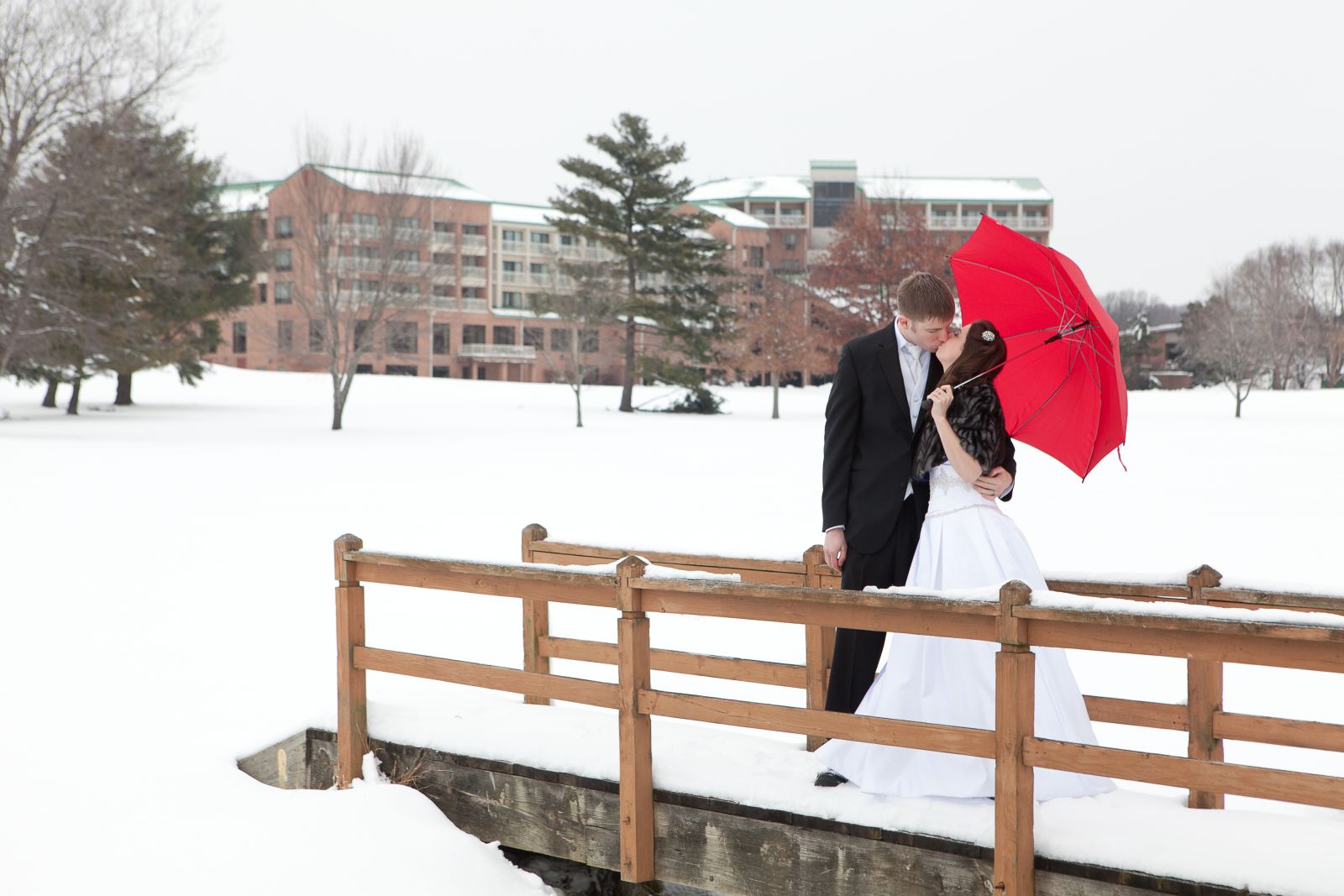 You can tie the season into your beverages by creating easy-to make ice holders for your vodka bottles. Simply place the vodka bottle in a milk carton filled with water and sprinkle some flowers, sliced fruit, or cranberries in before placing it all in the freezer. Once the water has frozen, peel the carton away and use the enhanced bottles at the bar during the reception. And, of course, hot cider is a terrific cold weather drink, whether or not you choose to spike it. The smell of the spices used within it permeates the air as it warms you up, brightening the atmosphere.
Finally, a winter menu doesn't have to be dark and dreary: there is an abundance of color and sparkle in the season that can be incorporated into the meal! Stations set up around the space enable guests to eat what and when they want. Some delicious concepts for celebrating the season include Smoked Salmon with Crème Fraiche on a Potato Latke or Roasted Beets and Goat Cheese on Crostini—both dishes with brilliant hues. Add in a warm soup station with mugs for easy hand-holding filled with warm Italian Wedding Soup or Butternut Squash Soup garnished with Crispy Prosciutto. An Artisanal Cheese Display with Marcona Almonds, Honeycomb, Dried Apricots, Dates, and a variety of smoked meats also provides hearty fare.
For a terrific and vibrant First Course Salad, consider Butter Lettuce, Radicchio and Curly Endive with Mandarin Oranges and Pomegranate. The best winter entrees are upscale comfort foods which counteract the season's chill—for instance, Osso Buco garnished with Gremolata and served with Roasted Root Vegetables and Polenta or Pork Tenderloin with Dijon Mustard and Herbes de Provence with Boursin Mashed Potatoes and Roasted Brussel Sprouts, Fennel, Shallots, Mushrooms, and Pancetta. For dessert, think coconut, with a coconut cake as the wedding cake, cupcakes that resemble snowballs, and coconut ice cream topped with Kahlua. You can even incorporate the season into the Groom's Cake by making it in the form of a Yule Log, complete with Snow-capped Meringue Mushrooms!
Happy holidays and happy planning!