Imagine paying $3 for a single room or up to $17 for a suite at centrally-located Lord Baltimore Hotel in Baltimore.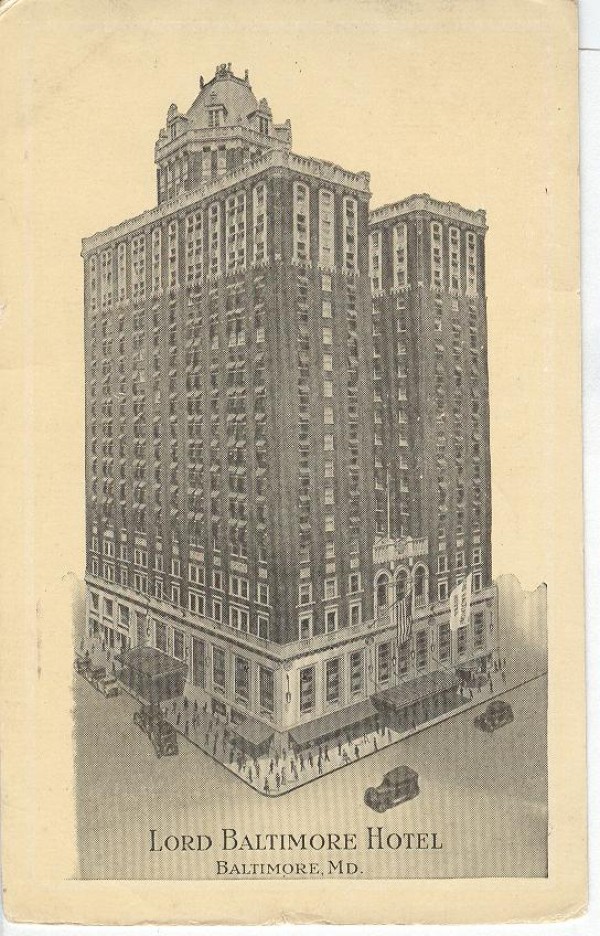 Photo credit: Rare Postcard
The 22 story hotel with amenities like a radio in every room and circulating ice water certainly make these rates for luxury accommodations in Baltimore worth every penny--back in 1928. Guests had the choice of two stations.
Lord Baltimore Hotel is storied in history. It was named after Baron George Calvert knighted Lord Baltimore by King James I. The hotel was built to reflect Baltimore's charm and appreciation for the finer things in life, with 700 rooms and the ability to serve 5,000 guests daily in the main and private dining rooms, parlors, fountain room, cafeteria and coffee shoppe. Cuisine was prepared under the supervision of a nationally renowned chef. A garage attendant facilitated parking guests' cars.
Today, Lord Baltimore Hotel is one of Baltimore's most established wedding and event venues and a National Historic Hotel. Radios in every room are replaced with high definition flat screen TVs and high speed wireless Internet access. The hotel continues to offer its valet parking service as well as modern self parking options.
The decadent Calvert Ballroom showcases three Baccarat Crystal chandeliers, a lofty ceiling with soaring windows, and a gorgeous wrap-around balcony ideal for cocktail hours and wedding bouquet tosses. Outdoor ceremonies can be held in the adjacent Center Park, followed by a stunning cocktail hour on the Baron's Rooftop Garden Terrace.
Lord Baltimore Hotel features the Classic Catering People as its exclusive wedding and event caterer. Their wedding couples receive Baltimore's finest and most well-established cuisine and service with Classic Catering as well as the catering company's commitment to the environment through composting, recycling and continually seeking greener options. Classic Catering will transform your vision into a memorable Baltimore wedding day with that same history, charm, and class introduced back in 1928.