On Thursday, September 13th, Chef's Expressions managed to keep yet another Secret Supper under wraps until the big unveiling. The secret venue was finally revealed… it was The Meyerhoff!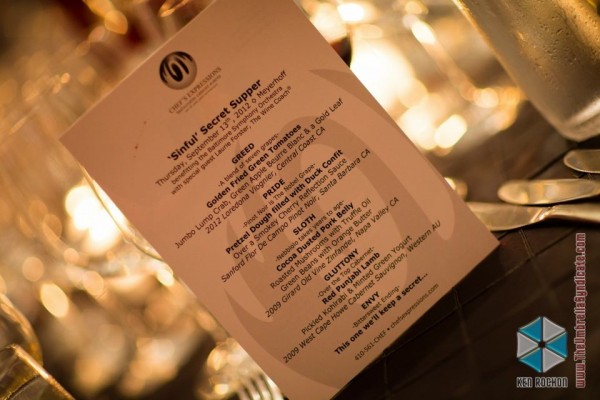 The Joseph Meyerhoff Symphony Hall is not only a world-class performance space used for the Baltimore Symphony Orchestra, but also known as one of the city's premier cultural venues. The building has a unique combination of glass, brick, and wood materials to create a modern yet elegant ambiance. We can't wait to cater more amazing Weddings and Corporate events here… we are already planning a Social Expressions event here for January 2013!
The Secret Supper menu followed a "Seven Deadly Sins" theme, and was to die for (no pun intended)! We even had a special guest, Laurie Foster, the Wine Coach to lead us through the wines and provide us with some edu-tainment.
Each dish represented a deadly sin, and was absolutely delicious. The night progressed with dishes of greed, pride, sloth, gluttony, and ended with a secret bittersweet dessert of envy that would leave anyone envious.
LUST – Rich and Supple Viognier
Baked Brie Tart with Finger Lime Caviar
GREED – a blend seven grapes
Golden Fried Green Tomatoes
Topped with Jumbo Lump Crab, Green Apple Beurre Blanc and a Gold Leaf
2011 Anne Amie Cuvee Amerita, Carlton Oregon
Chef Lisa and Luis, affectionately known as Junior
PRIDE – Pinot Noir is The Noble Grape
Pretzel Dough filled with Duck Confit
Topped with a Smokey Cherry Reflection Sauce
Sanford Flor de Campo Pinot Noir, Santa Barbara California
On behalf of Chef's Expressions, many thanks to our wonderful partners: The Umbrella Syndicate, Absolute Entertainment, the Meyerhoff, and Laurie Foster!