Not in favor of a winter wedding? You just might be after reading its advantages.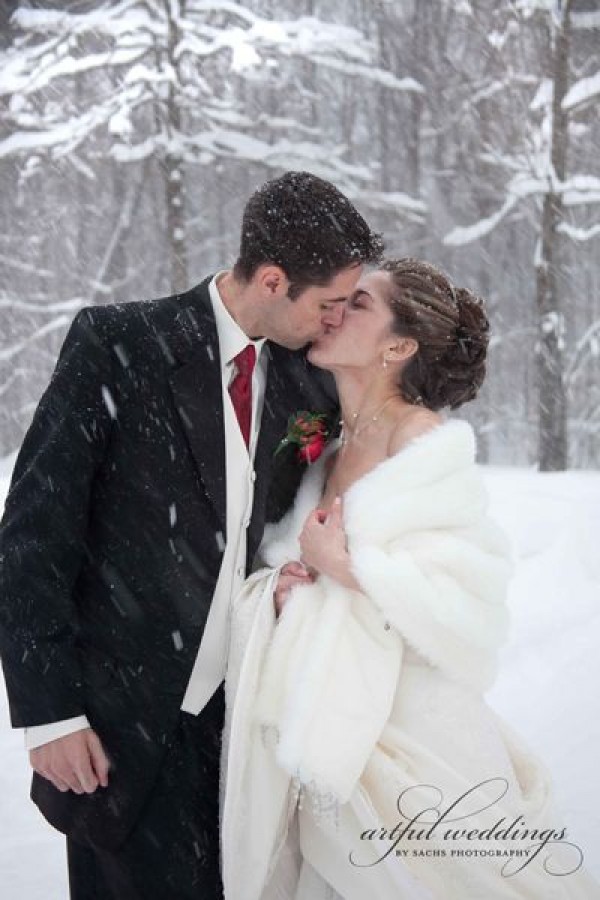 Photo credit: Artful Weddings by Sachs Photography
Cost: The cost of a winter wedding is enough to warm your heart. In high season such as summer and now fall, the same wedding venue's prices are dictated by its high demand. Winter rental rates may bring that Baltimore dream wedding venue a reality in terms of falling within your budget. In the summer, venue managers often advertise special discounted rates for winter weddings.
Availability: Lower demand works in our favor. More dates are available to choose from like those coveted Saturday evening weddings, and more vendors will be available too.
Décor: Less décor is needed since most venues are adorned with small white lights, candles and holly for the season. A roaring fire is always an appealing amenity.
Snow is the ultimate décor, setting the scene for a beautiful landscape and background for wedding photos.
Menu: Since the season plays a starring role in your wedding, foods associated with winter follow suit. Hot chocolate, hot apple cider, hearty soups and comfort foods present a menu twist most guests are not used to at the typical wedding. However, your caterer will embrace creating a seasonal wedding menu.
R.S.V.P.s: Since it's not traditional family vacation time like the summer months, expect a few more RSVPs in the affirmative.
Photography: Snow is playful, serene and ice on tree limbs--sometimes surreal, creating the most incredible backdrops for winter wedding photos. Your Baltimore wedding photographer will enjoy the creativity that comes with a winter wedding.
Unique: Finally, a winter wedding soiree will be memorable, making yours stand out from the rest.