A wedding cake is much more than a dessert; it's a delicious opportunity for a couple to express itself! This week we spoke to the folks at Baltimore's fabulous Charm City Cakes to get a look behind the scenes at how they work with engaged couples to design unique wedding cakes that capture their vision and style. Here are their answers in their own words: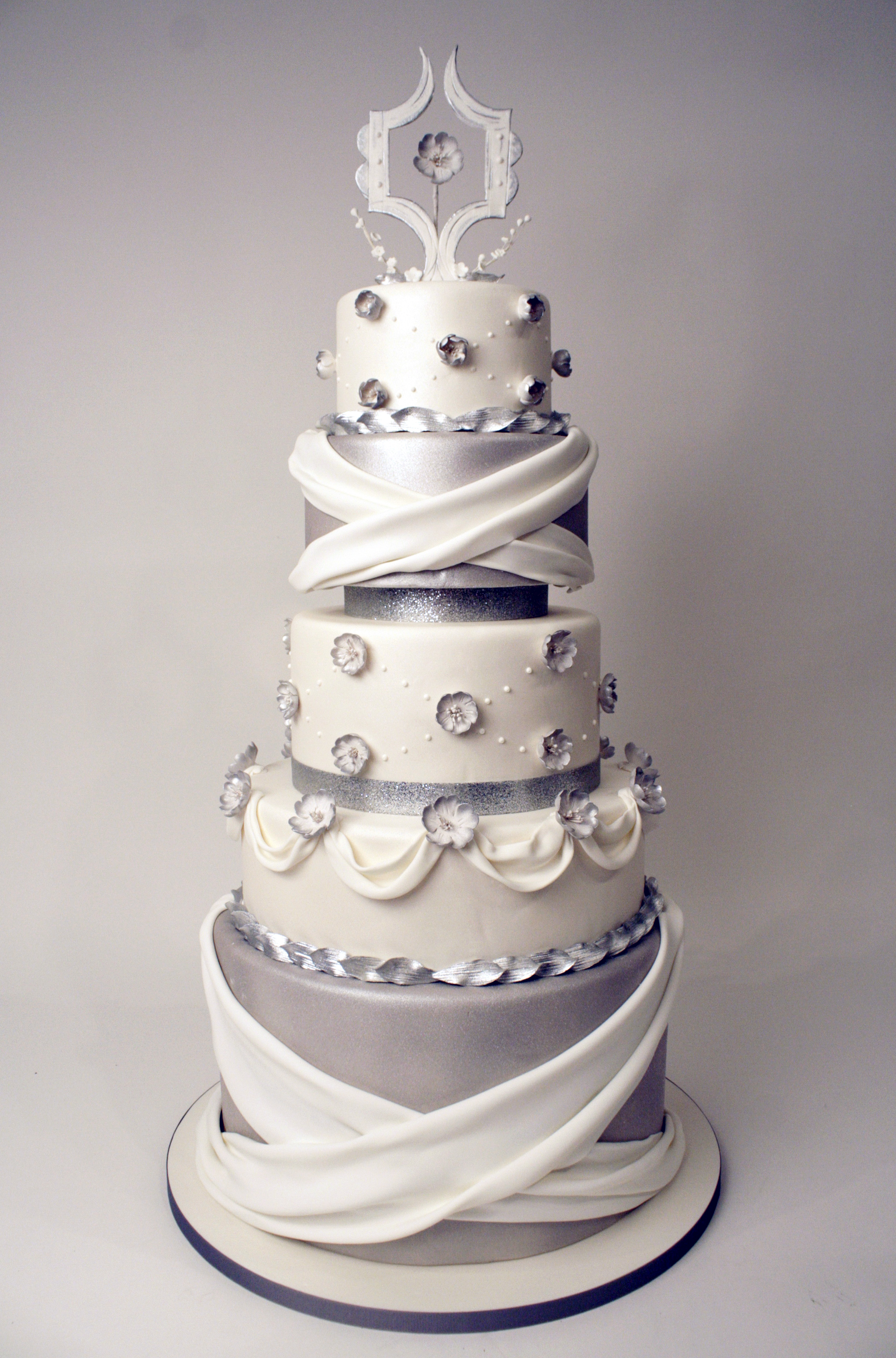 Photo Credit: Charm City Cakes
"We begin [the design process] by sending a questionnaire to our clients, which they can use as a tool to envision their dream cake prior to their design appointment. The questionnaire includes prompts such as: 'How would you like your guests to complete this sentence: "Wow! Their cake is so ___________!'" The questionnaire also covers details such as the general tone of the event, the color palette, and whether they prefer a tiered or sculpted cake; it helps us get a sense of the clients' design aesthetic. According to the clients' responses, we then pair them with a cake artist for their meeting. When the couple comes into the bakery, the artist works with the couple for about 45 minutes, designing their custom cake collaboratively. The artist brings the couple's vision to life by creating a full-color sketch of their cake design.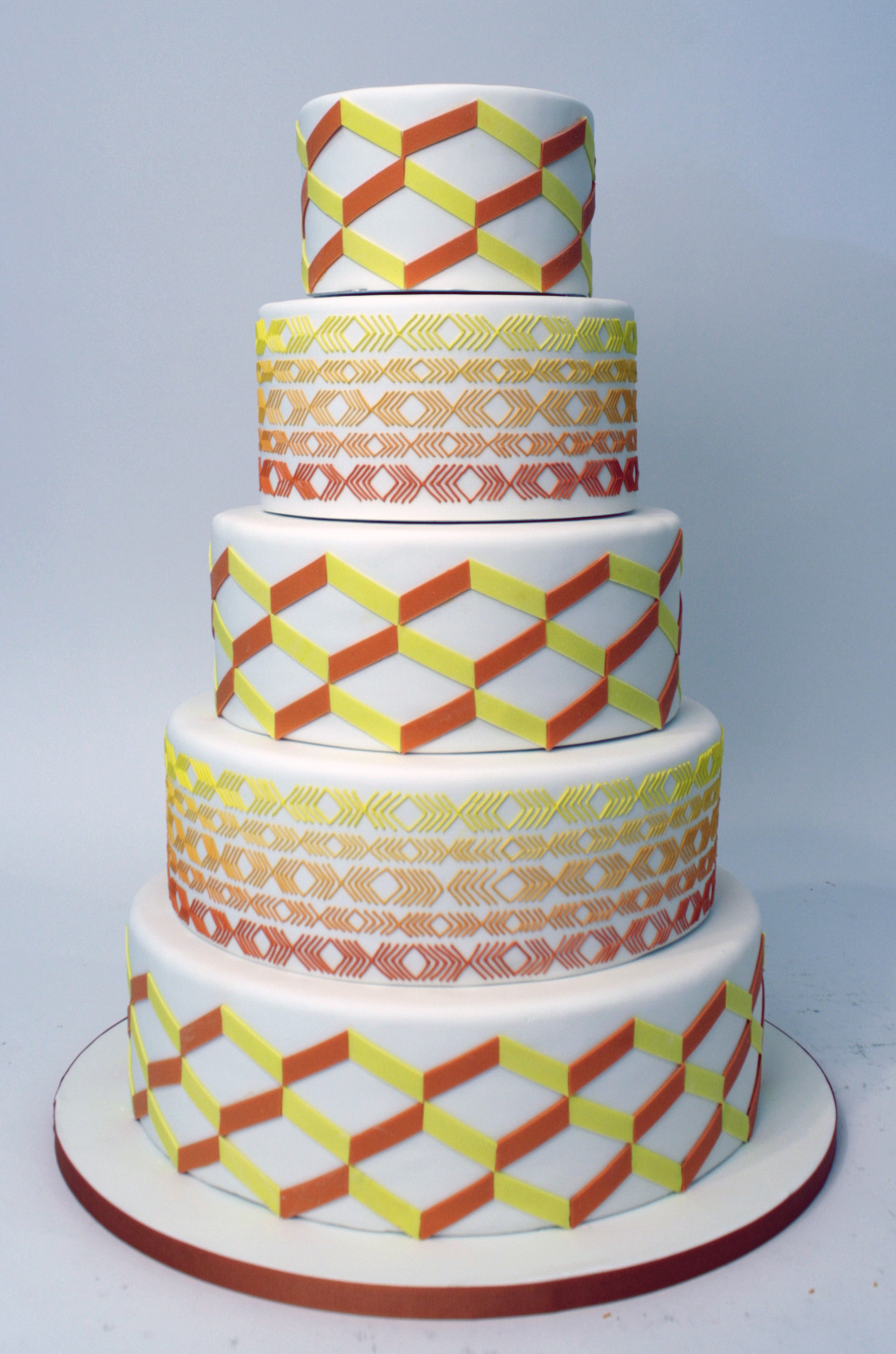 Photo Credit: Charm City Cakes
"We encourage clients to explore our online gallery and portfolio prior to their design appointment so they can get an idea of designs they are attracted to. Taking the time to browse a wide range of designs, along with contemplating the prompts in our questionnaire, can help couples envision the beautiful creation that will be the centerpiece for their big day. When our clients are just not sure what they're looking for, or are completely overwhelmed by the number of options available, the artist they work with can guide them through the process by asking certain questions and making simple sketches so they can try out different ideas.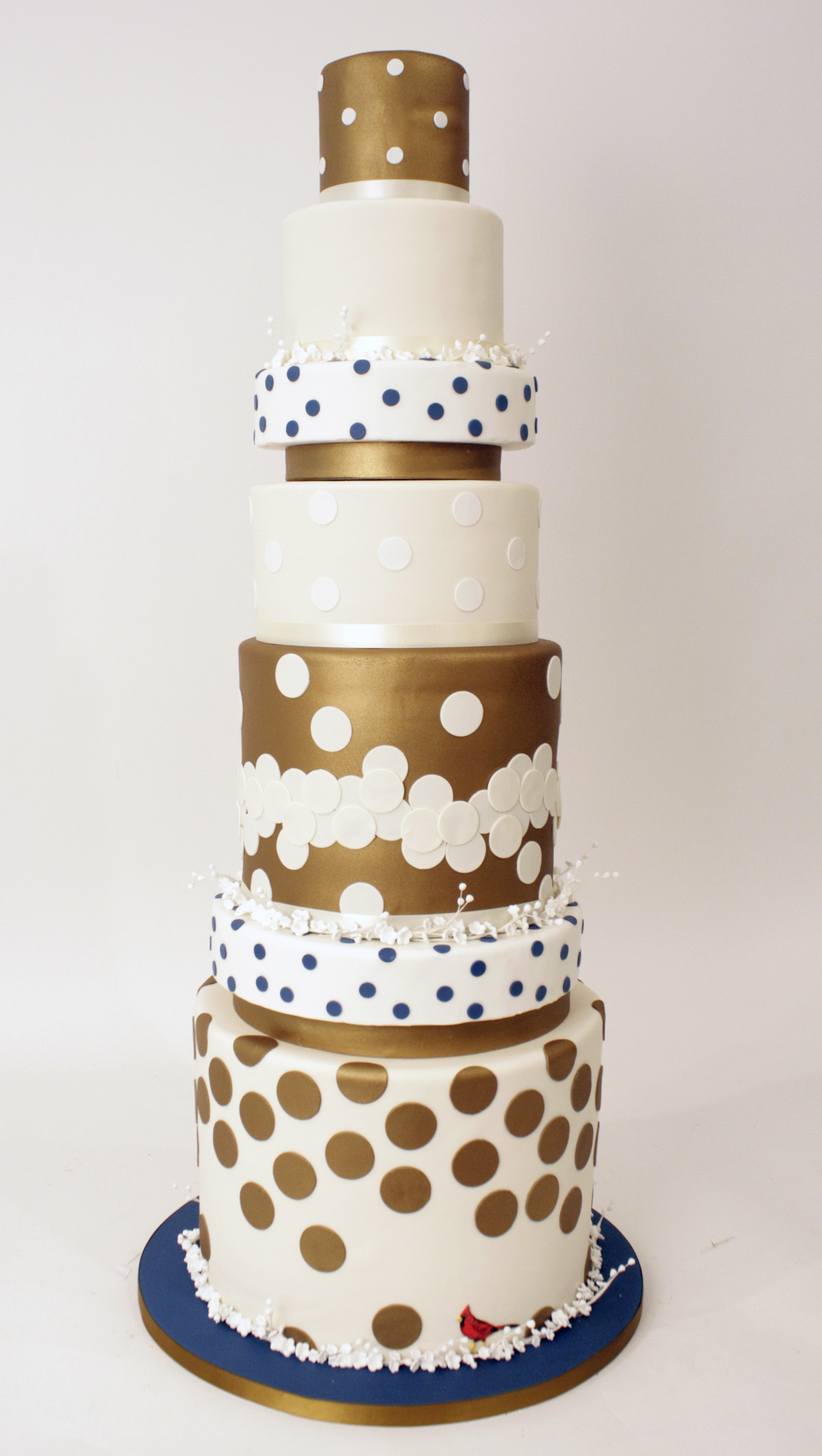 Photo Credit: Charm City Cakes
"For a customized and poignant wedding cake design, our artists first simply talk to the couple and listen to their story. Inspiration is sure to be found within each couple's account of what brought them together and what defines them as a couple. Our artists love to find new ways to tell personal stories, whether through use of images and figurative sculptures, or abstractedly through use of design principles. For further inspiration, we look to a wide range of sources, which depending on the client could include fashion and textiles, nature, architecture, minimalism, Art Deco, vintage furniture, pop culture, and more!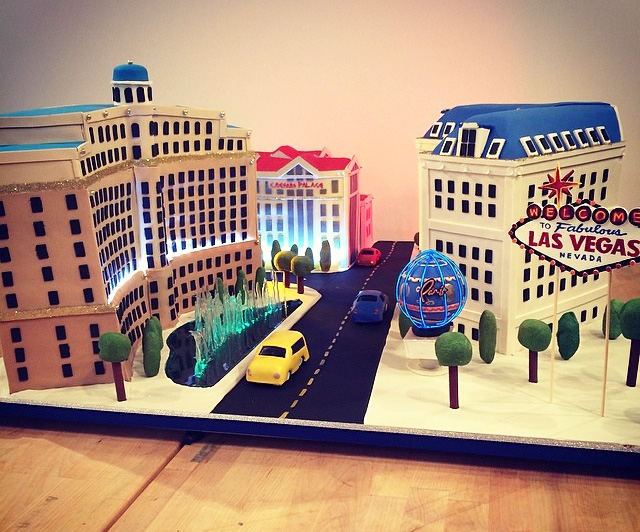 Photo Credit: Charm City Cakes
"We have worked with so many wonderful couples over the years, it's hard to choose the most memorable! Just a few examples would include: a replica of the Las Vegas strip with working neon lights; an elegant and dazzling design inspired by a bride's lace wedding dress; a four-tiered Rockabilly cake featuring an elevated stack of records and leopard print; and a surprise groom's cake that was a sculpted life-size replica of the couple's Boston Terrier."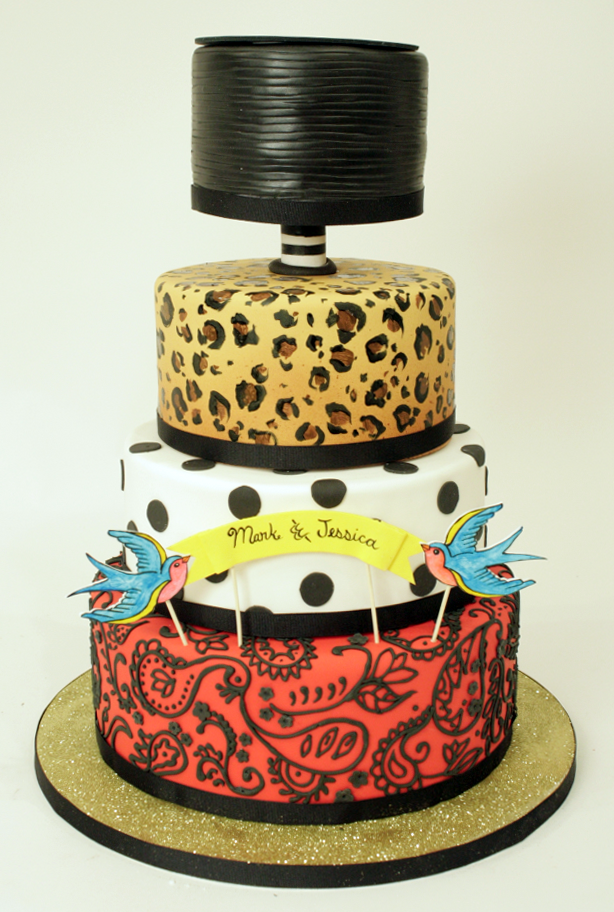 Photo Credit: Charm City Cakes
Once the design has been finalized, it's time to bring it to life! "The most universal material that we work with is fondant. We cover almost all of our cakes in this pliable, sugar-based material (after icing them in a thick layer of home-made Swiss-style buttercream), because we find it to be the most effective way to paint, sculpt and decorate our world-famous cakes. Working with fondant allows us to have much more flexibility in our designs. For three-dimensional decorative elements, such as figures, we use a sturdier sugar-based material called gumpaste, which does not crack as easily. Other materials and methods we utilize include airbrushing with edible pigment powders, hand-painting using color gels, piping, dragées, and creating structural supports for larger, gravity-defying projects."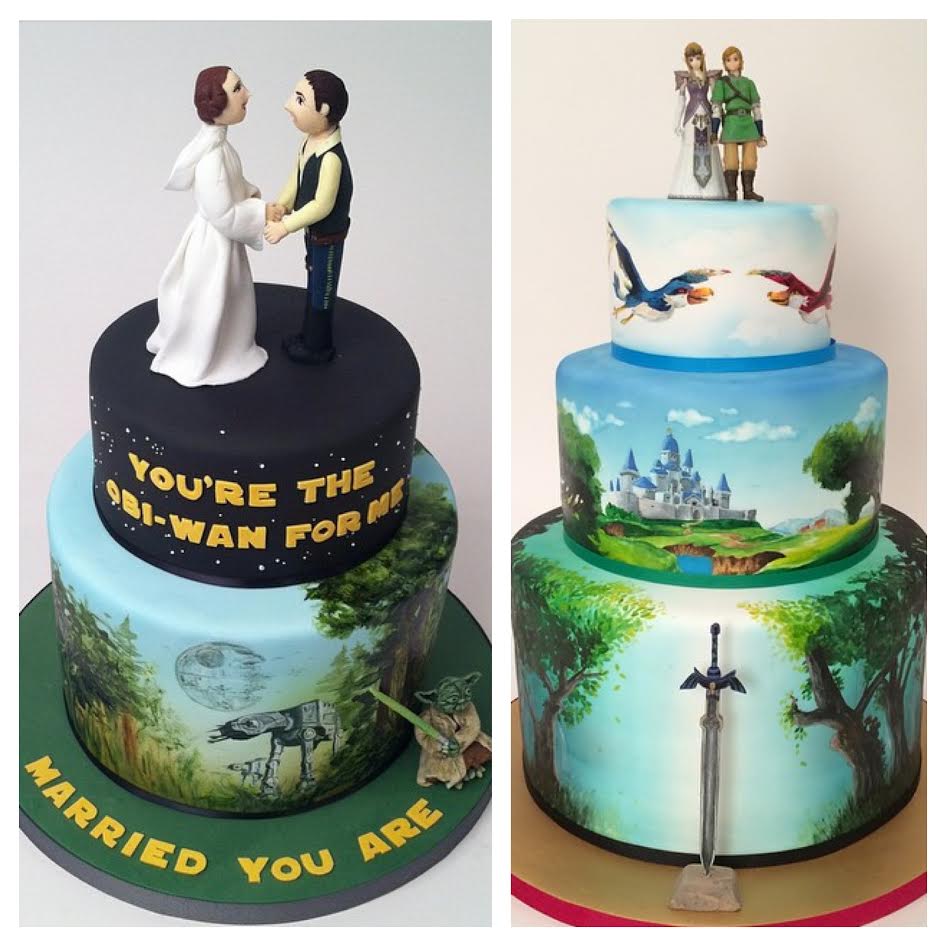 Photo Credit: Charm City Cakes