When people think of weddings, they typically imagine a late afternoon ceremony followed by dinner and a night of dancing. In fact, many couples don't realize that there are any other options!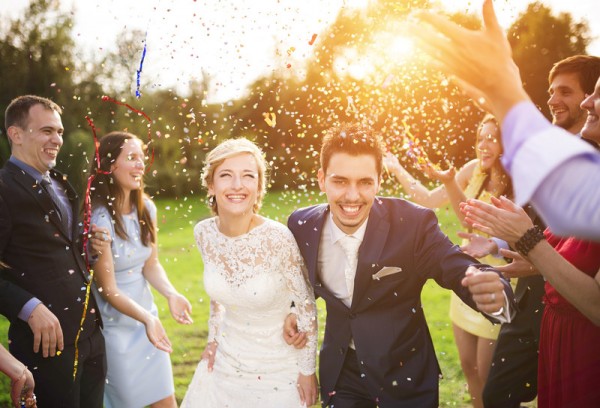 In reality, when in the day you plan to have your wedding can make a big difference in the mood, style, and even price of your big day. Here's a short breakdown of all the fabulous possibilities, along with their benefits and potential hangups:
Morning: A morning wedding usually begins anywhere between 10:00 and 11:00am, followed by a brunch reception. Back in the 19th century, these weddings were actually the norm, due to a tradition that marriages could only take place between 8:00 and 12:00am.
Pros:
Who doesn't love brunch? Have an omelette bar and a waffle station where guests can indulge in delicious toppings.

You'll almost certainly save on catering. The type of food served at a brunch is much less expensive than dinner food and the portions will be smaller.

You'll also save on the bar, as your guests aren't likely to drink as much early in the day.

You and your new spouse will be able to enjoy the rest of the day together at your leisure, rather than ending the night exhausted.

If there are small children you plan on inviting, they will be at their best early in the day when they are well-rested. They and their parents will be able to stay for the whole reception, as well, rather than having to leave early for bedtime.
Cons:
Some family and friends may be cranky over having to wake up so early.

The wedding party will have to begin getting ready extremely early to make sure everyone's hair and makeup is done in time for the wedding.

If you have guests that live a few hours away, they will have to get up very early for the wedding, as well.

If you're looking to have a very formal wedding, this option is probably not for you. Morning weddings tend to be fairly informal, with men wearing suits instead of tuxes (which are evening wear) and women wearing shorter dresses.
Afternoon: Afternoon weddings typically begin around 1:00 or 2:00pm and end before dinner time, at around 6:00. These weddings are for those who want to take advantage of the sunshine without getting up before the crack of dawn!
Pros:
This is the perfect solution to a small budget, as the timing makes a full meal unnecessary. Instead of having to compromise on food quality in order to feed your guests a full brunch or dinner, you'll be able to give them high quality hors d'oeuvres and cocktail fare. Or, you could have a tea reception with sandwiches and tea cakes.

This option is friendlier to night owl guests than a morning wedding, but still allows for time to relax in the evening.

Like a morning wedding, this option is also kind to child guests, who might not be able to handle an evening affair. Older guests will also be able to mingle and chat more than they'd be able to at a loud party with lots of dancing.

Your Baltimore wedding venue may offer you a discount for booking a daytime time slot, as those are harder to fill up.
Cons:
While this option does give you more time to get ready than a morning wedding, you may still find yourself a little rushed, especially if you have a large wedding party.

Your dance floor may not be as full as you'd like it, as people are less likely to get their groove on earlier in the day. Although, it really depends on the crowd.
Evening: An evening wedding typically begins between 4:30 and 5:00pm with a reception following the ceremony. This is the most common type of wedding, with a dinner and a full dance floor.
Pros:
This option will definitely afford you the most time for getting ready for your walk down the aisle and for taking pictures with your bridal party. It's a good choice for those with lots of bridesmaids who will all need their hair and makeup done.

This is also the best option if you have a hankering for a live band, as people will be more than ready to dance the night away.

If you are looking to have a formal wedding, this is the way to go. Tuxes and long evening gowns are the perfect attire for an evening affair.

If you have an eye on a venue that is public during the day, such as a museum or park, an evening reception may allow you to have it all to yourself for your big celebration.
Cons:
This is definitely the most expensive option when it comes to catering, as dinner food tends to be pricier than the food served at daytime receptions.

You can also expect to spend more on the bar, as the evening is when people really start drinking.

Evening slots at venues could cost you a little more than earlier slots, as this is the time of day that people are most likely to book.

Children may not be a good fit for an evening wedding reception--they are likely to get cranky as the evening wears on and their parents will leave early to get them home to bed.