To some couples, writing their own vows is very intimidating, but to others, they wouldn't have it any other way! So where do you start? Hint: It is not A E I O U, which are vowels, not vows.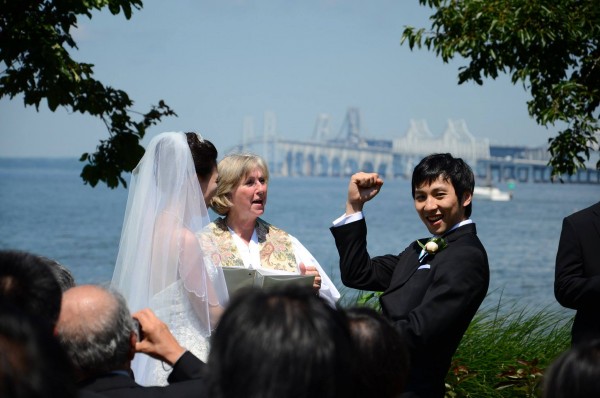 Photo credit: Rev. Alberta Eaton
Webster defines a vow as a solemn promise; a pledge of faithfulness; a solemn and emphatic affirmation. That being said, remember to include some promises, pledges or affirmations in your personally written vow.
Many couples get caught up in telling each other how much they love them, or how they knew when they met that this was the one. That is fine, and there's nothing wrong with including that in your vow, but remember to make promises to one another. The vows are what make the event a wedding. To marry is to promise another your heartfelt support and encouragement throughout the rest of your lives no matter the difficulties you may encounter.
There are loads of books and websites overflowing with advice on writing your wedding vows. Reading through a couple of these will help you gather your thoughts and get started. Also, your Maryland minister/officiant should be able to help with this. After years of officiating weddings in Maryland, most officiants have compiled booklets offering suggestions and wording for the crux of the wedding – the vows. And remember, that even though wedding vows are solemn promises to another person, it does not rule out the inclusion of a little humor. So if you think you might help with the laundry once in a while, say so!