Unique details drive the latest trends in South Florida wedding gowns. These dresses have a special style that just about every bride will love.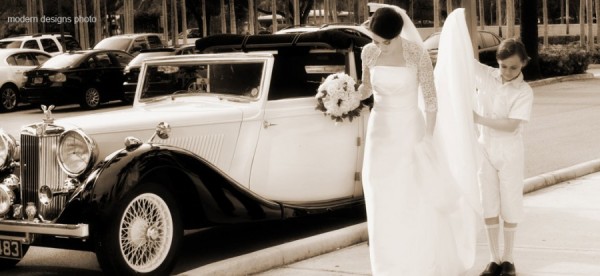 Photo credit: Coral Gables Bridals
Backless or Deep Back: Backless gowns are simply dramatic. It brings that wow factor to a classic piece. Make sure to discuss unique bra options or alternatives with your bridal gown consultant since this design is somewhat tricky.
One shoulder: This fun option offers an alternative to strapless dresses and combines oomph with elegance. So, if you want to flirt with a little bit of edginess, but in a classic look, a one shoulder wedding gown just may be for you.
Cut Outs: Side cut outs and two-piece gowns are the latest among dress styles this year.
Boleros: These little numbers have a way of completely transforming your look. There are so many choices from wispy delicate sheer boleros that mirror royalty to faux fur for a special exit on a chilly evening wedding reception in South Florida.
Jeweled Belts: Crystal or rhinestone belts add the perfect embellishment to gowns looking for an extra pop of elegance or flare. For brides looking for a burst of color, a belt is an ideal accessory.
Trims and Texture: Texture brings more intrigue to your appearance. Ruffles, rosettes, pleats, beading and even fringe or feather trim are popular in today's designs.
Check out 3 Fairytale South Florida Venues!
Still searching for the perfect South Florida venue? Click here! Searching for amazing vendors? Click here!