!Hiring a wedding sitter for your South Florida wedding is a convenient and thoughtful way for guests of all ages to enjoy your wedding celebration. The option allows parents to enjoy the moment without entertaining a child who may be bored, sleepy or both, in a crowd of adults past bedtime.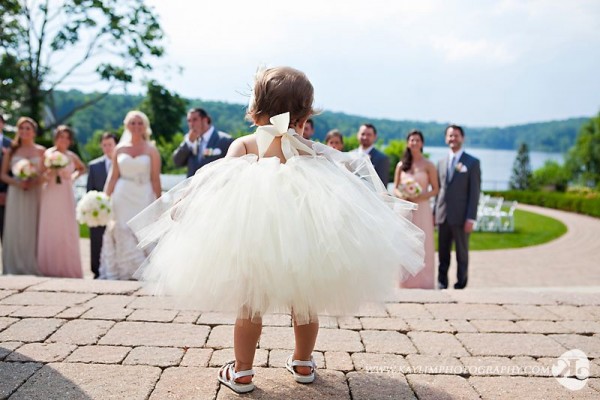 Traditionally, if the reception is held at a resort, a room is reserved for care. "Parents, at their convenience bring their child to the childcare room, sign them in where kids find exciting things to do," said Cheryl Matchett of Sunshine Babysitting. The company provides in-room CPR and first-aid trained sitters in the Florida Keys, Tampa, Clearwater, St. Petersburg, Daytona and New Smyrna beaches, Ft. Walton Beach, Jacksonville and Ponte Vedra Beach.
Photo credit: Jeff Reeder Photography
Wedding sitters also bring peace of mind for parents since their child will be enjoying activities geared toward them in a safe environment. "They can't wait to have fun when they see everything there is to do," she said. "We bring age appropriate activities for the kids, music and movies which make it entertaining for them," Matchett said. They provide crafts, coloring, floor games and in some cases, a bounce house, Wii consoles and snacks, she said.
Christine Wiita recently found in-room childcare to be an indispensable resource for her daughter's wedding reception last year. "When planning our daughter's black-tie evening wedding to be held in a downtown hotel, we knew that many guests from out-of-town liked the idea of bringing their children and enjoying a weekend in the city, but faced the problem of what to do with the children during the ceremony and reception," Wiita said. "We recognized that identifying safe, reliable babysitters in advance would ease the guests' minds and enable them to come and enjoy the wedding weekend knowing that their children we well-taken care of during the wedding and reception," she said. In addition, a quick check on the children is as close as a hallway or elevator trip away, if needed.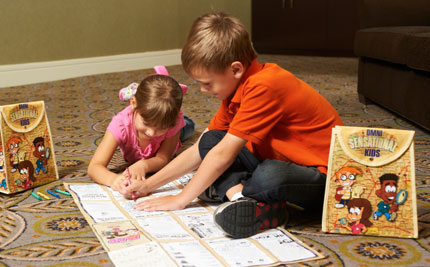 Photo credit: Omni Hotels and Resorts
Etiquette experts agree that it is not improper to simply indicate on your invitation that childcare will be provided. In addition, many wedding planners suggest scheduling sitters such as Sunshine Babysitting three months prior to the wedding date. Do any research ahead of time such as looking up references and checking on rates or related fees that may apply if the reception runs late.
Check out Bird is the Word for South Florida Flamingo Wedding Themes!
Searching for the perfect South Florida backdrop for your special day? Click here! Searching for vendors? Click here!