The Wedding Cake. Along with the engagement ring and wedding dress, the image of a white wedding cake is an icon. Say the word 'wedding' and immediately, what comes to mind--yes, the image of a wedding cake is one of the first visions to pop up.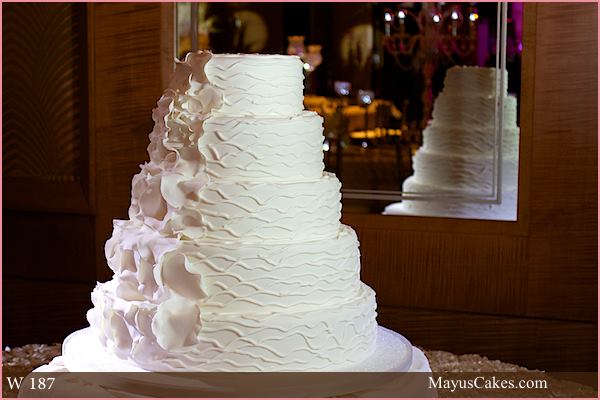 Photo credit: Mayu's Cakes
While the almighty wedding cake deserves respect, it does not need to cost a small fortune.
Here are some easy ways to reduce the cost of your South Florida wedding cake.
Simple Design: Less is more in terms of design. Keep your wedding cake simple since time is money and a detailed lace underlay reflecting the detailed pattern on your wedding dress will come at a higher price tag. However, if intricate swirls and pearls are a must, consider alternating a plain tier with a fancy tier for each layer.
Avoid Fondant: Opt for buttercream, not fondant for cake at your South Florida wedding reception. The cost of fondant and the labor involved is expensive in comparison to buttercream.
Use Fresh Floral Toppers: Fresh flowers rather than sugar flowers will cost much less.
Go Petite: Ordering a one or two tiers instead of dramatic cake tower will bring costs down exponentially. A simple small 2-tiered cake is a good amount to serve (and with a sheet cake in the kitchen and no one will be the wiser! Wink, wink)
Check out The Latest Trends in Wedding Cakes and Desserts!
Searching for the perfect South Florida wedding or event venue? Click here! Searching for event professionals? Click here!