Garden parties are a time to celebrate gorgeous weather and the beauty of Mother Nature! If you're planning a garden party this spring or summer and looking for decoration ideas, here are a few of our favorites to inspire you.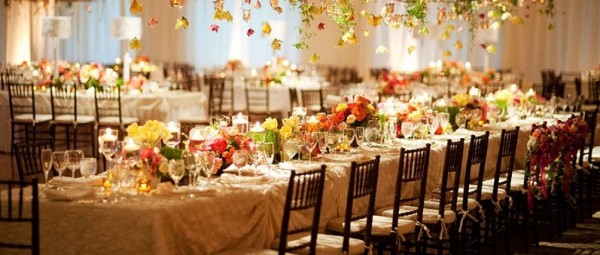 Photo Credit: Turf Valley
Decorate your desserts in flowers! Cake, tiered or not, can be decorated with real flowers or in floral designs; the same goes for cupcakes and other desserts. They will be on display, so why not incorporate them into your decorating plan?
Light up the event space, especially if the party will be held in the evening or last into the evening, with pretty lights like lanterns and tea lights suspended in hanging jars. Luminaries lighting pathways are a beautiful idea, and there's always classic candles, too.
If you're planning on putting out multiple cocktail tables for your guests to gather around, consider making these tables multi-purpose: by putting a lantern underneath the tablecloth it creates a cool effect of a lighted table, and all it takes is a small light!
Using colorful streamers is a fun way to decorate any event space- they can be hung from trees, doorways, chairs, or suspended from ceilings for pretty effects.
If you want to decorate one long table and are looking for an option that's a little different from the traditional centerpiece, consider decorating your table with a garland. It's different, beautiful, and the perfect option for a garden party!
If you're searching for venues to host your garden party, click here. If you've found the perfect venue and are still looking for vendors, click here.