Now that Memorial Day weekend has come and gone, we're highlighting some of our favorite Baltimore wedding and event venues that are perfect for summer events!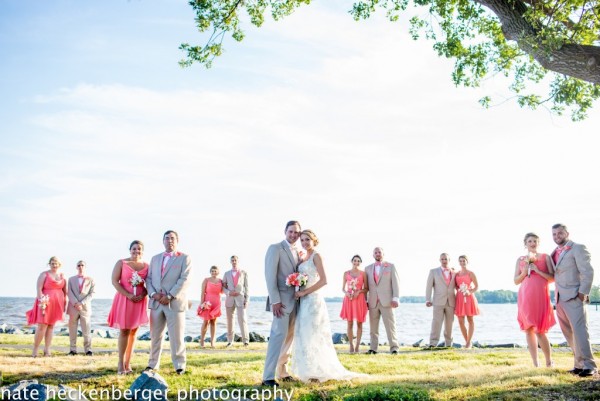 Photo Credit: The Wellwood/Nate Heckenberger Photography
The Wellwood: A Charlestown, Maryland wedding and event venue on the North East River, The Wellwood is a waterfront venue "tucked quietly away from the hustle and bustle of everyday life" featuring perfect summer celebration spaces like a "spacious climate controlled banquet pavilion is the perfect venue to host your wedding, comfortably accommodating guest lists from 100-300" and a "waterfront ceremony setting" that "provides a gorgeous backdrop for your ceremony as well as your photographs."
Brittland Estates: A Chestertown wedding and event venue on Maryland's Eastern Shore, Brittland Estates is part of a collection of heritage properties and is described as a "secluded mansion with gardens, pool, and 530 riverside acres, is old world luxury personified. The hilltop setting commands magnificent views of the Chester River. The spacious lawns and surrounding fieldscapes are made for grand receptions and hunting retreats. The furnished interior has many rooms and offers a grand hallway and staircase for weddings and corporate events."
Manor Tavern: Manor Tavern is a Maryland restaurant and wedding and event venue in the town of Monkton. The restaurant venue is "one of the area's most revered country inns" located on a picturesque Baltimore County estate called My Lady's Manor and features "elegant banquet facilities with a variety of room sizes to accommodate private or corporate needs from 20 to 240 guests for a seated dinner to 380 guests for a cocktail reception."
The Tidewater Inn: An Easton, Maryland wedding and event venue that is located in "a premiere downtown location and stunning wedding venues," The Tidewater Inn features "an intimate garden courtyard" and a ballroom for receptions which "will create a unique celebration that will be remembered for a lifetime."
Evergreen Museum & Library: This Baltimore City wedding and event venue that is part of Johns Hopkins University. Evergreen Museum and Library is a historic wedding and event venue features a number of summer-ready spaces, including "a diverse and customizable array of outdoor and indoor settings for your wedding day. The estate features a magnificent 19th Century Gilded Age Mansion surrounded by elegant and manicured gardens and a sprawling terrace, perfect for a wedding ceremony and/or cocktail hour. The grounds also include a charming and rustic Carriage House with exposed brick and original woodwork, a unique indoor location for dinner and dancing."
Maryland Yacht Club: Maryland Yacht Club is a Pasadena, Maryland wedding and event venue on Rock Creek. This waterfront venue features "8-acres of spacious waterfront views from all angles… water views, a spacious clubhouse and beautiful locations for all pictures, you and your guests will have a wonderful, memorable time."
Silver Swan Bayside: Silver Swan Bayside is a Chesapeake Bay wedding and event venue in Stevensville. This waterfront venue features "some of the most amazing views and spectacular sunsets anywhere on the Eastern Shore" and "a spacious dining room with panoramic views of the Chesapeake Bay. French doors open up from the dining room to our oversized, tented patios… Our grassy lawn and boardwalk overlook the beach and are perfect for a scenic and memorable ceremony and reception."
Wye River Estate: Wye River Estate is a historic venue in the Eastern Shore, "just over the Bay Bridge in Queenstown, Maryland." This Maryland wedding and event venue is a perfect event for your summer celebration because of its location and "the relaxing ambiance of the outdoors as well as the scenic view of the Wye River, flowing just feet away" from this historic English-style manor house which is "steeped in beauty, rich in tradition, and brimming with Chesapeake Bay charm, this secluded venue offers an experience like no other."
Turf Valley: A historic garden and outdoor venue in Ellicott City, Turf Valley is a Howard County wedding and event venue. It features "an array of scenic locations," including a "gorgeous pillar pergola surrounded by 1,000 acres of picture-perfect garden scenery" and "seven elegant indoor venues that thrill with unique features like sparkling crystal chandeliers and sweeping golf course views."
Yacht Charters on the Bay: A company that features "the largest, meticulously maintained and most diverse private fleet of yachts on the Chesapeake Bay" and charters that include both Baltimore and Annapolis, Watermark, or Yacht Charters on the Bay, includes yachts that are "available for… events year-round… everything from themed cocktail parties to Annapolis weddings to destination cruises over to St. Michaels, Maryland. From event conception to day of coordination, we make planning easy and events run flawlessly."
Check out our last blog spotlighting our newly listed Baltimore wedding and event venues!
Still searching for the perfect venue? Click here! Searching for amazing vendors? Click here!