A drive-thru transaction lead toward a rustic-inspired wedding at PineCrest Country Club. Something neither one had banked on.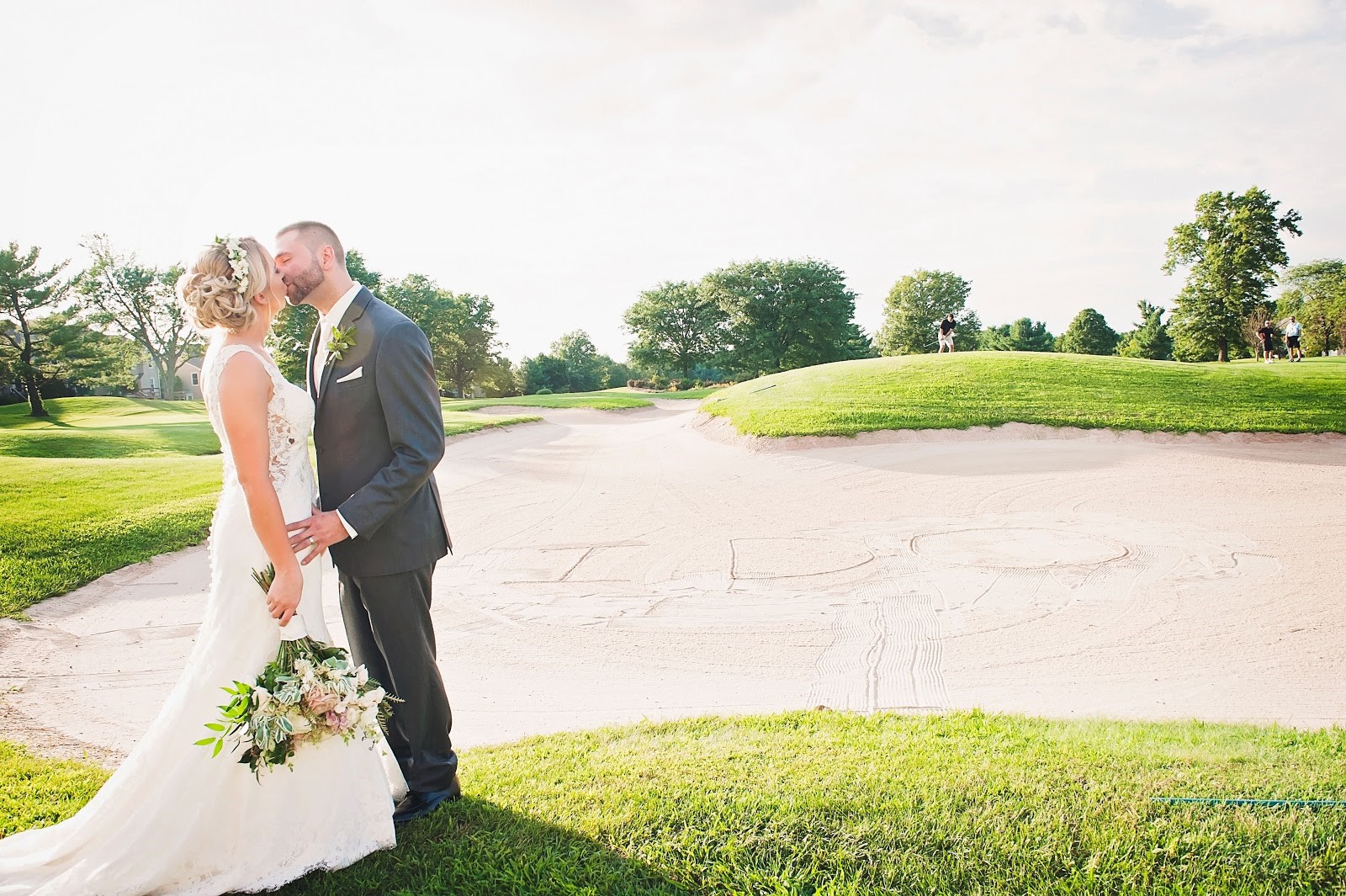 All images by Brittany Tran Photography
How They Met
Kate Aldefer was working as a bank teller when John Conchado pulled into the drive thru on his motorcycle. After John left, Kate looked him up on Facebook and sent him a friend request.
"This is actually where we got our wedding hashtag from," shares Kate. "It was #DriveThruToIDo."
After exchanging Facebook messages, the pair agreed to go on a date.
"We both thought we were very outgoing," she said. "We talked like we had known each other forever!"
"I think John jokes more than he is serious sometimes! John is very laid back and go with the flow."
The First Date
"On our first date we found out we knew each other," said Kate. "Had more connections than we knew! He had been to my mountain house before, which I had no idea. He was also at my parents' house, delivering a bed when he used to work at Ed's Beds in high school. It's crazy to think about!"
For their first date, John surprised Kate by taking her to Dave & Buster's.
"It took the pressure off a first date," shared Kate. "We just had fun! Now every year on our dating anniversary we go to Dave & Busters to celebrate."
During the summer, John revealed to his friends on a guy's trip to the mountains that Kate was "The One."
"I think after our first summer together we both knew this was something special," said Kate. "We both just were willing to do so much for one another and the connection was there from the beginning. We both have big hearts and would do anything for the other but also like to fool around and have a good time. We balance each other out in the best ways."
"I loved getting ready for the day at my parents' house. My mom helped me into my dress in the childhood bedroom that I grew up in. It felt really special to me."

"We balance each other out in the best ways."
The Proposal
The couple didn't get engaged until they hit the 5-year mark. While Kate was looking forward to advancing their future together and starting to save up money for a ring, John had made it clear that he had set his focus on purchasing a brand-new truck.
"As you could imagine I was annoyed!," she laughs.
"Everyone kept reminding me how much it cost and that he wouldn't have the money to spend on a ring right now. It just wasn't the right time. The day came where we had to go sign papers and pick up his truck, I tried to be happy, but he could tell I was moody. Now looking back, I feel bad, but I didn't know what was coming!"
Kate then had the surprise of her life at the car dealership, after signing the papers for the truck.
"John's friend had come to take pictures, which wasn't anything unusual. John and his friends do truck photoshoots all the time."
John then got got on one knee and asked Kate to marry him.
"It was honestly the best day, and he did it in such a John kind of way that it was perfect."
Wedding Planning
John and Kate were spent the next 16 months planning their nuptials.
"I can honestly say I enjoyed every minute of it," said Kate. "I think because our engagement was as long as it was it gave me enough time where I didn't feel rushed and could enjoy each part of the process. That was very important to me. Booking out as far in advance is key. I've learned no time is too far ahead when planning a wedding!"
The couple selected PineCrest Country Club as their venue for their August 25th date.
"The setting was beautiful! We loved the fact that we could have our ceremony outside on their covered deck. It was almost reassuring if we had bad weather we would be ok! It gave us the perfect place to have both our ceremony and reception."
"We really lucked out."
The Big Day
John and Kate wed on August 25th, 2018, with 164 friends and family members present.
"The weather was perfect. I had so much anxiety about the weather because honestly, it was the ONLY weekend in August that it wasn't raining," shares Kate. "We really lucked out."
While the bride and her 5 bridesmaids got ready at her parent's house, the groom and his 5 groomsmen prepped at the home John and Kate bought that winter.
The couple exchanged their First Look at Peace Valley Park, which they considered to be one of the biggest highlights of their day.
"I think we were both nervous/excited,' said the bride. "I think doing a first look really calmed our nerves for the ceremony so that was nice."
'We both wrote our own vows, so I couldn't wait to hear what he had come up with. I think it was so much more special that we did that, it made it more personal."
After the ceremony, friends and family celebrated into the night. The newlyweds first dance was Florida Georgia Line's "Grow Old," and then the family conquered the dance floor.
"Having my brother's kids there was everything to me," said Kate. "They were so excited, and you could literally see the joy in their eyes being a part of this whole process, it was special knowing this was the first wedding they were in and they would remember this for a lifetime."
Wedding Planning Advice
"Take your time! Enjoy the process. Our engagement was 16 months long, but it literally flew by. This will be the most amazing but quickest time in your life. Make sure to slow down and enjoy every bit of it."
The Details
Ceremony venue: PineCrest Country Club
Reception venue: PineCrest Country Club
Wedding Planner: Sherry Muir of PineCrest Country Club
Caterer: PineCrest Country Club
Cake/Bakery: Night Kitchen Bakery
Photographer: Brittany Tran Photography
Floral/Décor: PineCrest Country Club
Bouquets/flower crowns: Belovely Florist
Stationery: Zazzle.com
Dress Shop/Dress Designer: Country Bride & Gent / Allure
Bridal Accessories: Shoes- Toms
Flower Crown- Belovely Florist
Rings/Earrings - Marks Jewelers
Tuxedo Shop/Tuxedo Designer: Country Bride and Gent / Michael Kors
Hair/Makeup Artist: Hair- Liliana Alderfer
Makeup- Ashley Gallo, owner of AMG Beauty Bar
DJ/Band: Evans Entertainment
Photo Booth: Evans Entertainment
If you are interested in having PartySpace feature your wedding or event in an article like this one, please share your story here!