New Philadelphia wedding venues opened recently like April buds on cherry blossoms, bringing new life into the events scene.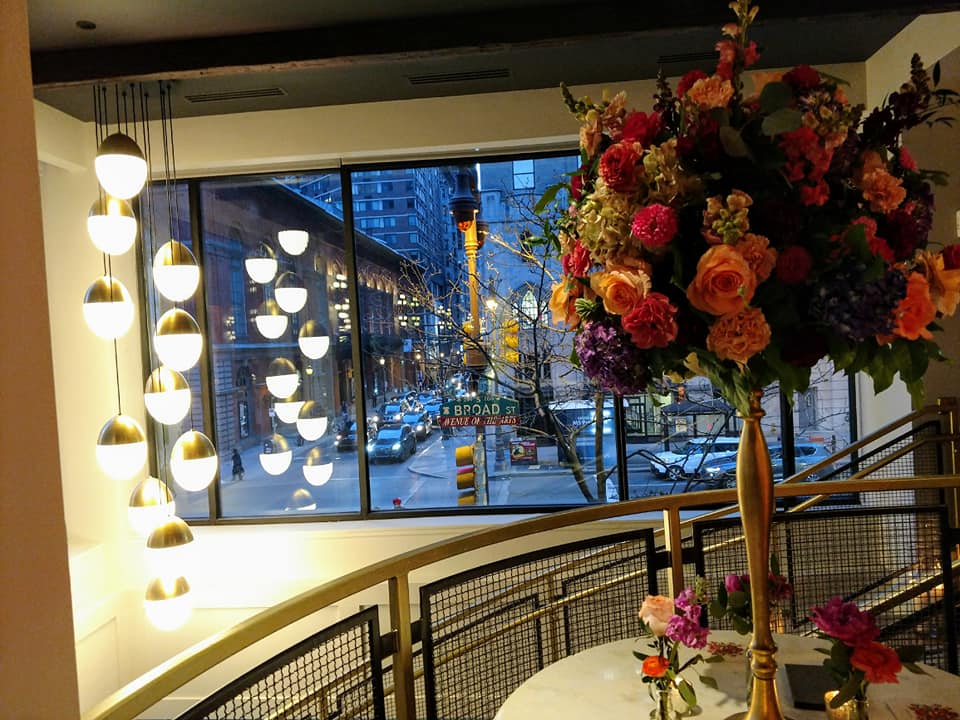 Photo credit: The Lucy/Dawn Mitchell
From boutique hotels and blank canvas spaces to premier city venues and private clubs, let's welcome the newest Philadelphia wedding venues:
Located in the Graduate Hospital section of Philadelphia, The Deacon is a boutique hotel and unique event space allowing for a full guest experience such as wedding weekends.
Situated close to the Avenue of the Arts and South Philadelphia activities, The Deacon is an opportunity to give new life to the limestone Gothic Revival-style church that dates back to 1906.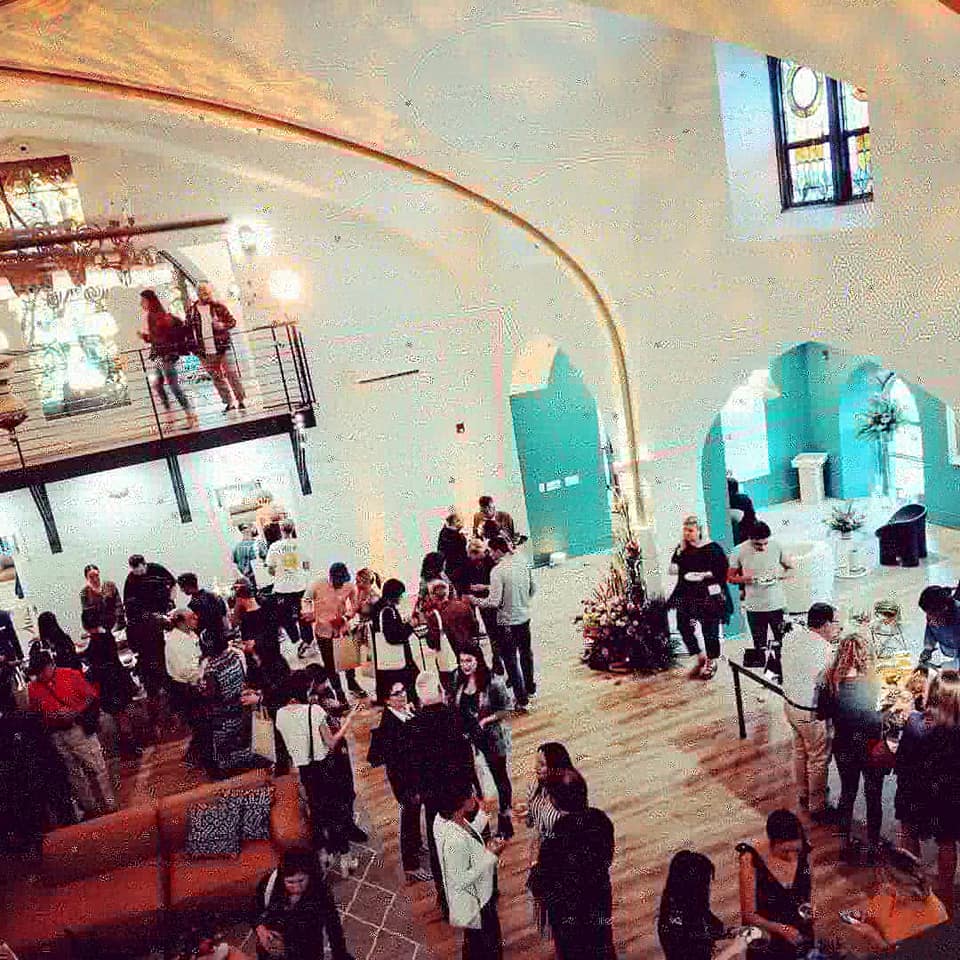 Photo credit: The Deacon/Dawn Mitchell
Inside, you will find minimalist design and Bauhaus-inspired features which compliments its captivating stained-glass windows—and cathedral ceilings, of course!
Eight modern luxury bedrooms flank this unique Philadelphia wedding venue, making event planning and relaxation easy. With flexibility to host a wide variety of events, receptions can accommodate up to 125 guests.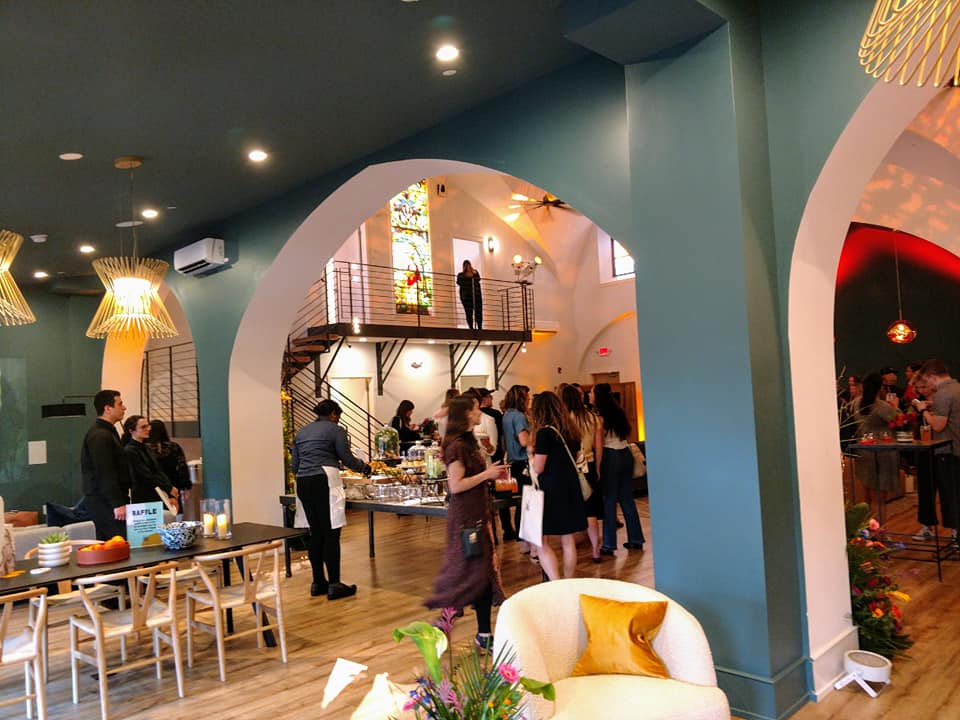 Photo credit: The Deacon/Dawn Mitchell
The Deacon's preferred catering list includes Constellation Culinary Group, 12th Street Catering, and Brûlée Catering. The Deacon opened officially April 18, 2019.
Situated in Philadelphia's Central Business District, Vue on 50 is a premier event space with a fresh renovation, innovated design and unsurpassed aerial views.
Some of the most remarkable views of the city from 50 floors up include Benjamin Franklin Parkway on the one side leading to a meandering Schuylkill River and scenic Fairmount Park.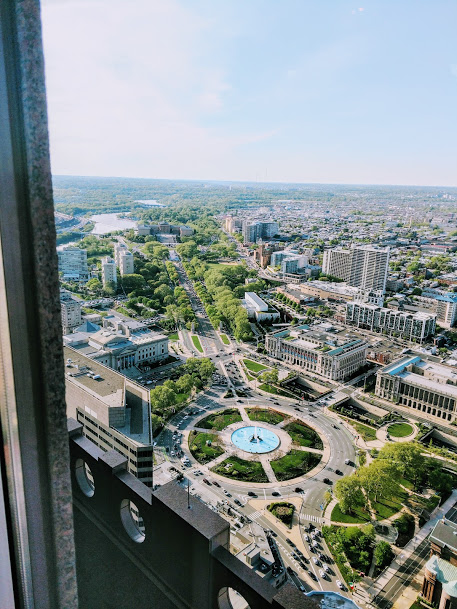 Photo credit: Vue on 50/Dawn Mitchell
On the other side, Benjamin Franklin Bridge and distant boaters dotted along the water. Sunset skylines take your breath away. That's right Vue on 50 has two ballrooms exceeding 10,000 square feet. There is even a luxury loft lounge just up the stairs.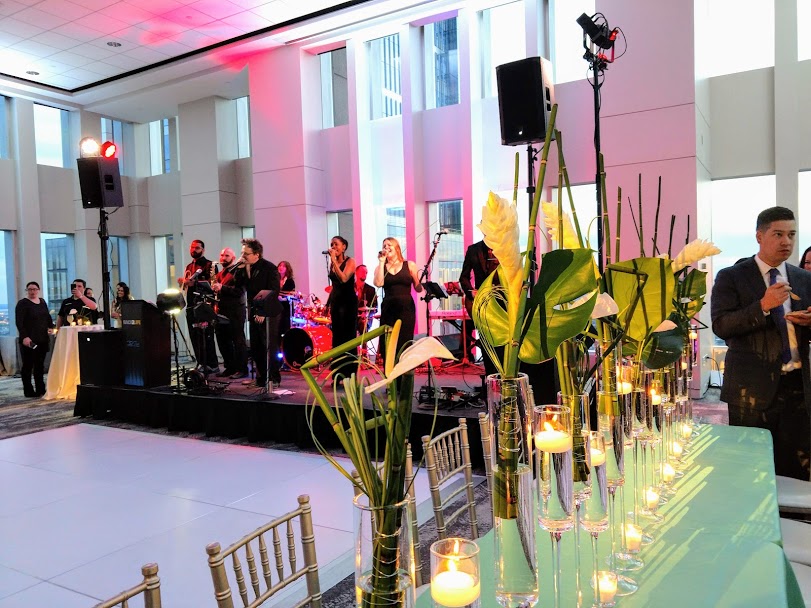 Photo credit: Vue on 50/Dawn Mitchell
Vue on 50 has five exclusive caterers: 12th Street Catering, Perfect Setting Catering, Brûlée Catering, Garces Events and Sage Catering. The official Unveiling Party was held April 24, 2019.
Located in the Spring Arts District, Location 215's colorful artistic steps lead to a fun-filled event. Boasting enormous industrial windows, 15' ceilings and a built-in wrap-around bar, Location 215 is a stylish customizable 10,000 square foot space that is bright, modern and spacious with two distinct venues in one.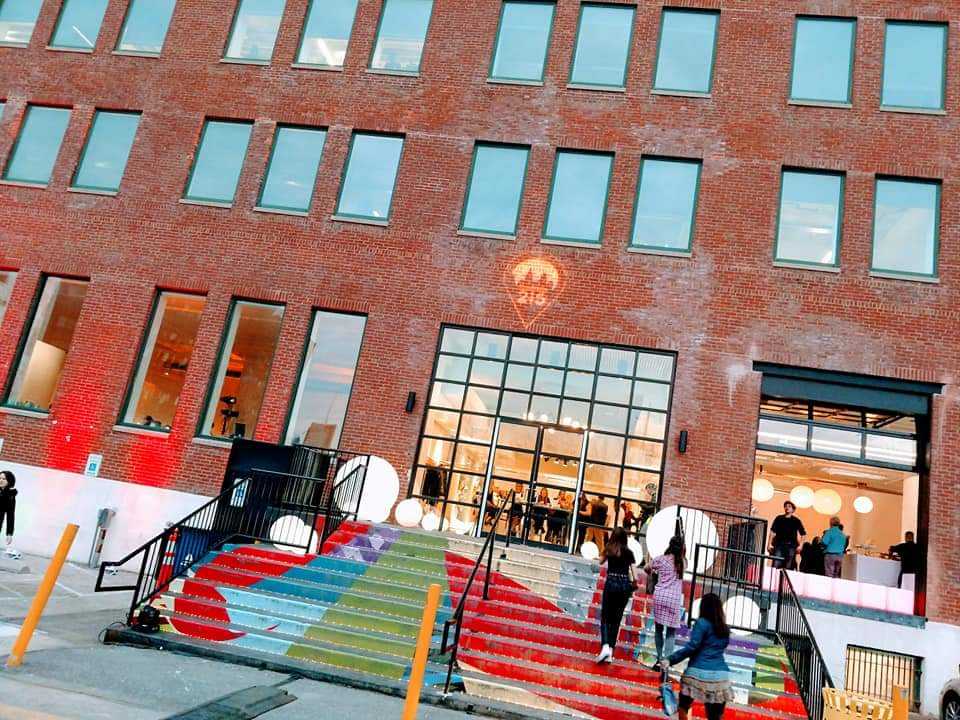 Photo credit: Location 215/Dawn Mitchell
It allows for the perfect transition from ceremony and cocktail hour to the reception with ease. Location 215 comfortably accommodates up to 200 guests.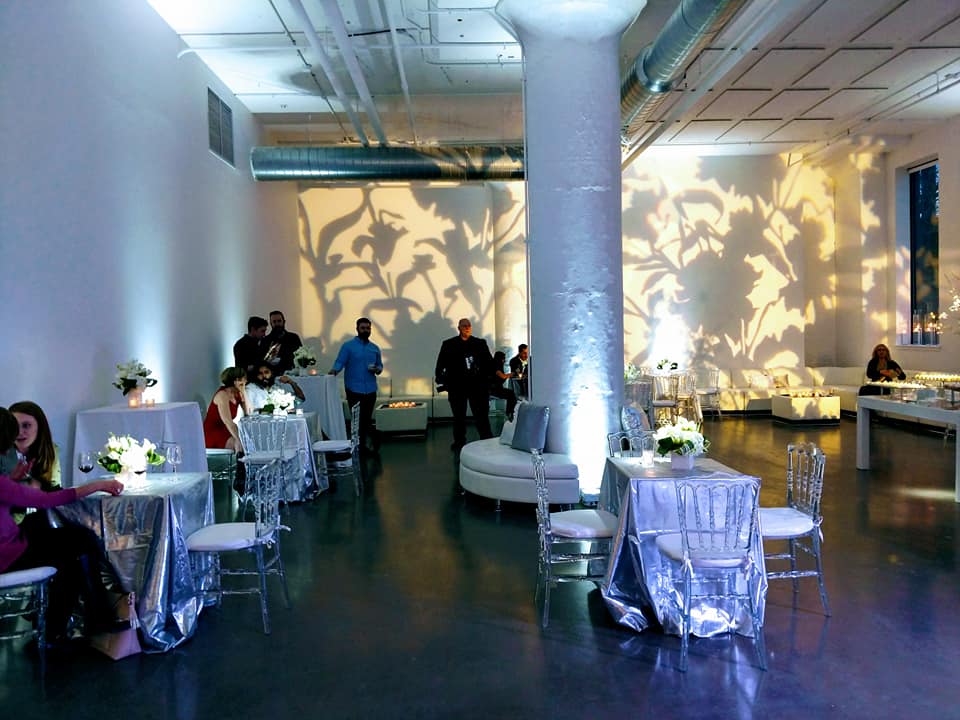 Photo credit: Location 215/Dawn Mitchell
Preferred catering partners include Constellation Culinary Group, DiBruno Bros, 12th Street Catering, and Birchtree Catering. There is limited onsite parking after 5 p.m.
Location 215's grand opening was held March 29, 2019.
A cursive neon "The Lucy" sign set against whitewashed brick welcomes guests, reflecting the venue's modern spin. Located on the Avenue of the Arts on Broad and Locust streets, Cescaphe's latest venture, The Lucy evokes a timeless and modern atmosphere within its two spacious floors. The 17,000 square foot event venue merges 19th century detailing with modern textures complete with European inspired brass chandeliers and marble accents. The luxury venue offers ample space with a capacity from 150-325 guests. Enjoy your reception in the Grand Ballroom with chevron wood flooring and custom carpet accents, leading to the stage.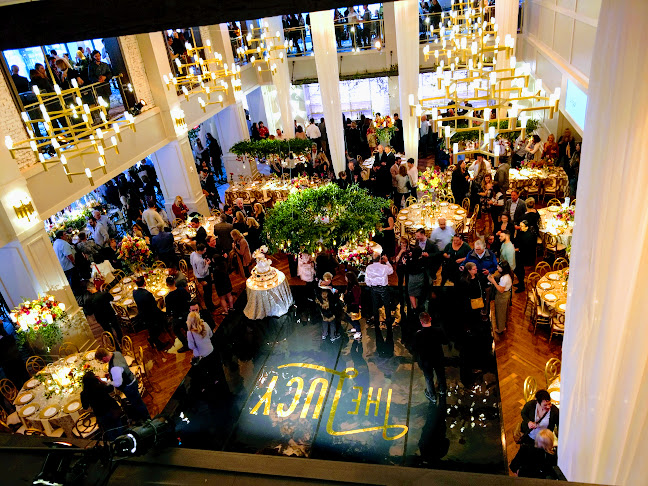 Photo credit: The Lucy/Dawn Mitchell
Up the stairs to the second floor Mezzanine offers an unparalleled vantage point overlooking the ballroom.
And yet another set of candlelit stairs lead to a romantic ceremony space.
Whether traveling by the iconic white Cescaphe trolley or driving in yourself, there is a parking garage within the block and hotel accommodations conveniently across the street. The Lucy Unveiling was held on April 3, 2019.
Fitler Club is private lifestyle club in the heart of Center City offering more than 10,000 flexible square feet of high-tech event space. The garden is ideal for a cocktail hour prelude for indoor receptions or for intimate al fresco celebrations.
The 4,600 square foot modern ballroom allows for up to 500 guests and opened with catering led by restauranteur Chef and Culinary Director Kevin Sbraga. Now Marc Vetri, "one of the country's top chefs and Philadelphia's most beloved restauranteurs will be leading Fitler Club's food and beverage programming," according to a statement May 8 from Fitler Club. The customizable blank space provides an opportunity to create the vision of your dreams.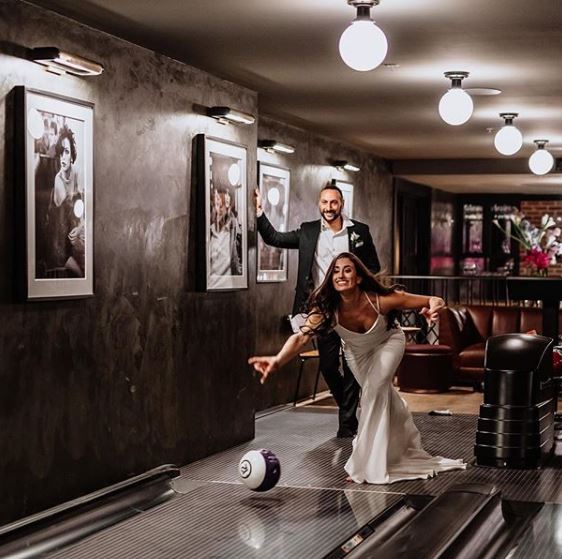 Photo credit: Fitler Club
As if that wasn't intriguing enough, a boutique hotel, premier restaurant and yes, a bowling alley and 50-seat movie theater round out just some of the many amenities that facilitate a memorable wedding weekend. Oh, and did we mention karaoke?
Fitler Club opened March 2019.