Finding the perfect wedding dress can be a confusing and nerve-wracking task for any bride: the choices are endless, the pressure is high, and nearly everyone, from your grandmother to the groom's second cousin, has their own conflicting opinion.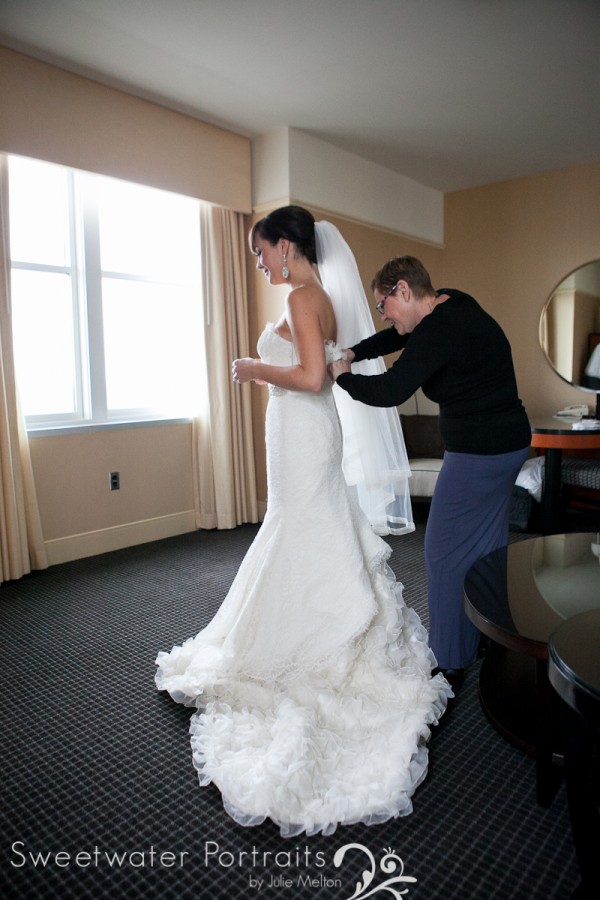 As if this weren't enough to daunt even the pluckiest bride-to-be, there are many potential hazards in the shopping process, just waiting to ambush the unsuspecting. Here Philadelphia's own Angel of Hearts Weddings brings you advice for how to shop savvy and avoid classic wedding dress pitfalls so that you can look and feel amazing on your wedding day.
Make an appointment and dress for the occasion. Bridal salons are busy places and employees are assigned to each bride to assist them personally. To simply walk into a salon unannounced is a bad idea: you will most likely end up waiting to be served and the staff may not be as friendly and helpful to you as they would be otherwise and will likely rush you to avoid cutting into the time of other brides who did make appointments. Making an appointment ahead of time will save both you and the salon from a lot of frustration and stress. In addition, shopping for your wedding dress is not a sweatshirt and torn jeans occasion! This is a hugely important purchase for you and you want to look your best! Take the time to do your hair and makeup before you go and wear appropriate underwear. Also, bring a pair of good shoes. Shoes make a big difference in how a dress looks when you are wearing it!
Don't bring an army. As much as you may feel you need reinforcements, keep your shopping entourage to a minimum. The more people you involve in the process of choosing a dress, the more confused and frustrated you will be. Bring your mom or your best friend or any person whose opinion you trust. Don't feel guilty for turning down all twelve of your bridesmaids who are dying to come along. This is a decision you need to make with a clear head and in a calm, happy state of mind, not surrounded by a crowd of people.
Never wait until the last minute to buy your dress. A wedding dress is an item tailored to you, which is why all those measurements are taken. Your dress will be made to fit you individually, and for that reason, it can take a very long time to be delivered; 6-9 months, exactly. Always be sure to ask your salon for an estimate of how long the dress will take to get to you. Remember, you can always ask for a rush order (some salons don't offer them), but keep in mind that this will incur an extra charge. If your dress happens to have a great deal of detail work you can expect the delivery to take longer than a simpler gown. In some cases a dress is manufactured in a foreign country and has to go through customs before it reaches you, which can also cause a delay. And never forget that once you've received your dress, if any alterations are needed, those also take time. The bottom line is never, ever wait until the last minute to buy your dress. Give yourself plenty of time before the wedding and spare yourself the panic of realizing your dress will not be ready in time for the big day!
Bridal has its own sizing. As mentioned above, buying a wedding dress is not like buying a pair of jeans because bridal is not "ready to wear." If you normally wear a size 8, chances are your wedding dress will not be a size 8, because bridal sizes don't work the same way. Generally your gown will be one to two sizes up from your normal dress size, but this number also depends on the style of gown and your unique body type. Don't panic because your wedding dress size is larger than the one you normally wear. It's a completely different system. Just focus on how you look in the dress, not on its tag. Don't forget to advocate for yourself, though! If you are a tall girl, consider asking for extra length to your dress. If you are buying a dress with intricate beading or lace in the skirt, insist on a "hollow to hem" measurement, which is usually expensive but costs less than having to get such a complex dress hemmed.
Avoid giant, warehouse –style vendors, such as David's Bridal. David's Bridal may seem like a great idea at first: the dresses are cheap, the process is easy, and the store is well-known. However, there are many downsides to purchasing a dress here as opposed to from actual bridal salons. The dresses sold at David's Bridal are mass-manufactured, which is what allows them to be sold so cheaply. The fabric is not of high quality and the dresses are not made by hand. In addition, alterations at these stores can be very expensive, so that you may get a great deal on a dress at the beginning, but end up paying much more in the long run.
Don't be distracted by pictures in magazines: keep your own body type in mind! As you browse through magazines to get dress ideas, don't forget that the images you are seeing are the dresses on models rather than on realistic bodies. Keep your own body type and shape in mind and choose a style that works for that shape. Don't fall in love with a sheath dress if you have a full, curvy figure or a low-cut, revealing gown if you are busty. You will only be setting yourself up for disappointment!
If the salon does not carry the line or designer you want, find another salon. If you have your heart set on a specific line or designer, find a Philadelphia bridal salon which specifically carries them. Do not allow a salon to convince you that they can get you a dress when they do not carry its line. Some salons will make this claim in order to get a sale, but do not believe them. For one, it is illegal for a salon to sell a dress when they are not authorized by its designer. For another, once you receive the dress, you won't be able to send it back if there is a flaw or if something else goes wrong. Don't cheat yourself by taking part in these shady kinds of transactions. Only ever purchase from a store which is authorized by the designer to sell you the dress you want!
Avoid buying your dress online. These days we buy everything online and there is nothing wrong with that. However, reconsider adding your wedding dress to your list of internet purchases. These days the web is flooded with discount sites which claim to offer "designer gowns" at a fraction of the retail price. The risks involved in using these sites are very high. Many of these sites are not legit in any way and will send you cheap, non-refundable knockoffs of the real thing—if they send you anything at all. These fake designer dresses are poorly made and often fabricated by children in third world sweatshops. This is not to say that everyone selling dresses online is a scammer: if you are looking for something off the beaten path, there are many vendors on Etsy who provide wonderful dresses. Just be sure you know what you are getting into and be very cautious about whom you do business with. Get references and ask questions!
Above all, relax, breathe, and have fun! This is your chance to find a dress which reflects who you are and lets your personality shine. Make the most of it!
Happy shopping!