Alteration Season is in full bloom at The Wedding Shoppe and in all of bridal this time of year.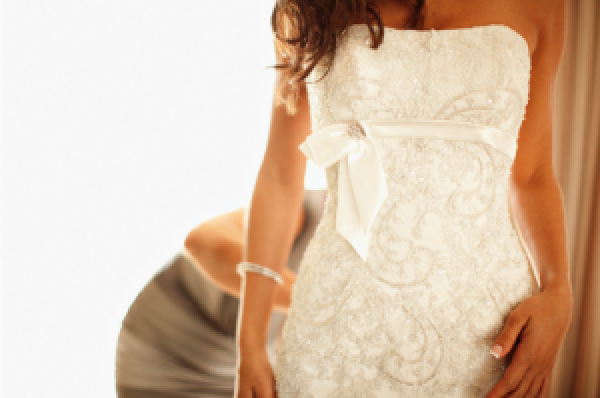 Photo credit: The Wedding Shoppe
Wedding professionals order bridal gowns to the closest measurements of the specific designer's chart; therefore, most brides will need some alterations. These fittings should be done by an expert seamstress that works on bridal and couture attire. Here at The Wedding Shoppe, we have several seamstresses that are assigned to specific designers allowing them to become familiar with the construction within the design of their gowns.
Alterations are an additional fee, so plan to add it to your bridal gown budget. Some Philadelphia area bridal salons have a set fee, others like The Wedding Shoppe, charge depending on the work needed. Feel free to get a price quote upfront. Custom alterations such as extra beading or a neckline change come at an additional cost.
Brides should start their fittings about 8-10 weeks out from their wedding date. Remember to keep your fitting appointments to fit your life schedule and make it a fun part of the bridal experience. Usually, 3-4 fittings are required. The first is the pin fit, the second confirms the fit but the work at this time is basted so it can be easily adjusted and the bustle is completed.
We recommend that your hemline should be an inch from the floor with your shoes on for walking ease which also shows the beauty of the finished hemline of the gown. The third (and most times, the final fit) is for you the bride to say "It's perfect," then pressing and packing arrangements can be set. This is usually the week of the Philadelphia area wedding. We do not recommend pick-ups the day of or prior to the Wedding Day.
Photo credit: The Wedding Shoppe
The first fitting is the longest and usually the most intense, so plan at least an hour for this appointment. Also, bring your wedding day shoes and undergarments. Our brides work with the same seamstress all the way to pick-up time and they usually create a personal bond with their seamstress during the alteration process. At The Wedding Shoppe, your sales consultant is also always available to you during your fittings. This is the benefit of making your purchase at a full service bridal salon like The Wedding Shoppe.
I always recommend that a needle, thread and a small scissor should be brought the day of the wedding, mishaps can happen and it is best to be prepared.
Enjoy your Big Day!