Looking back on New York National Bridal Week Oct. 11-13, here are some of the highlights I experienced.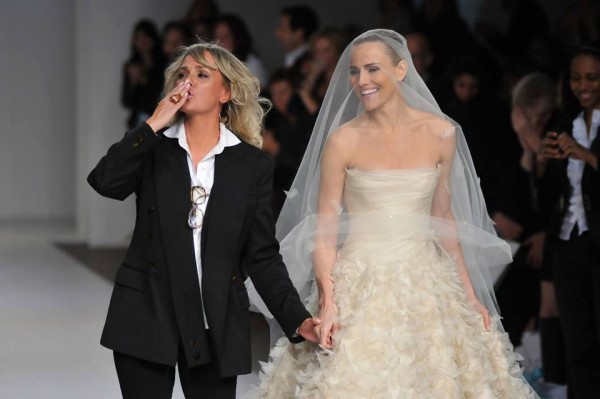 Photo credit: Legends by Romona Keveza
It was amazing to see New York Bridal Market become such an International Event. Buyers from countries around the world looking for beautiful couture designers from the USA to take abroad for their customers while store owners and buyers from the states are searching for the sought after International designers to add to their in house collections.
Wedding gown styles from long sleeve traditional looks to the plunging neckline and slinky silhouettes were all over the collections as was the subtle touch of color. The fifties up-dos were a favorite as was the return of long lace romantic veils. Bedazzled minis for the after party dress were seen in most collections too.
Weddings have become big business and everyone wants a piece of the pie. Ready to wear designers are now showing collections for the brides and the bridal designers are jumping into the Mothers of …or as we call it in the business MOB's. Chiffons, prints and low backs were seen in many of these collections. Hot fashion trendy items seem to be more in the accessories of jewelry, hair combs and belts.
It is so invigorating to see the excitement of buyers at bridal market getting just as excited as the new brides-to-be when seeing the newest trends and collections. The buyers are all like kids in a candy store and the designers are hopeful for big orders to make it a successful market for the 2015 wedding season.
-- Pattie Lamantia, Owner, The Wedding Shoppe