Hanging in a plank position may not be an ideal form of relaxation for some. However, for many brides and grooms, core strength building, toning and running, for example, provide relief from the tension of planning a wedding while taking inches off the alterations measuring tape.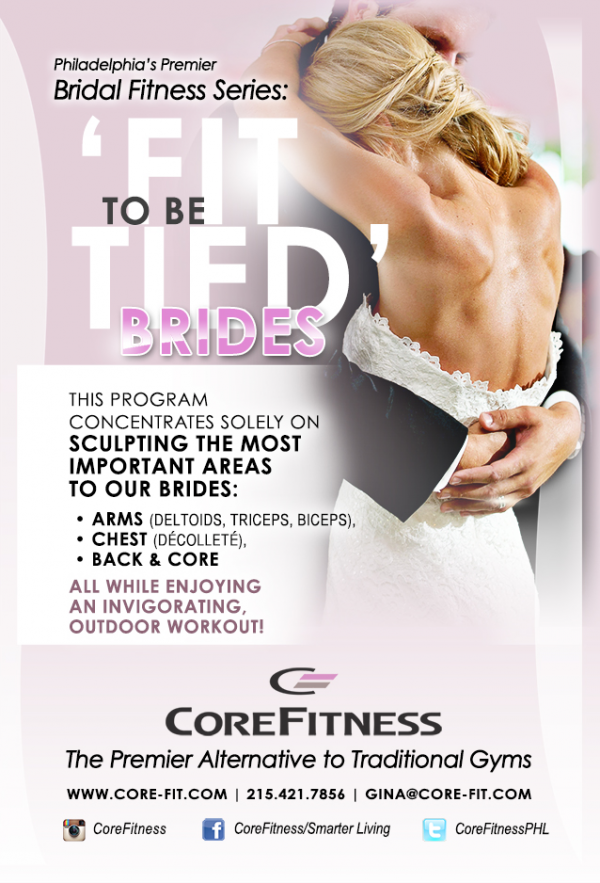 CoreFitness offers a Boot Camp, Personal Training and Fit to Be Tied Bridal Series just in time for brides, grooms and their entourage to shape up before the wedding. The location is centrally located at the steps of the Philadelphia Art Museum and perfect for individuals looking for invigorating exercise outdoors.
The Fit to Be Tied Series focuses on areas such as upper arms, chest, back and core--those pesky areas of concern in wedding photos. Not to worry with this series because targeted exercises sculpt the most important areas for brides, leaving them worry-free for their Philadelphia wedding.
The Fit to Be Tied Series begins in August, enabling Fall brides in Philadelphia the time they need to work toward their ideal image.
The class runs at 8 a.m. for five consecutive Saturday mornings beginning Aug. 2-Sept. 6, 2014.
CoreFitness has extended an exclusive special for Partyspace brides and grooms interested in Fit to Be Tied for $15 off using code FTBT (bringing the $79 series down to $64). Visit CoreFitness to register.