Instead of the latest trends, Cake It Up cake stands are more about the bride's style or wedding theme.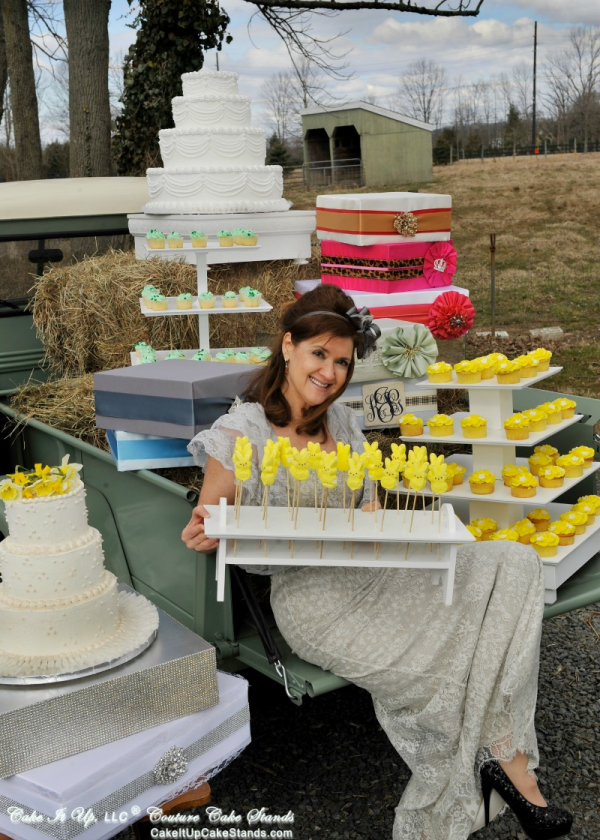 That was my philosophy behind the cake stands. I wanted to make something couture that could reflect the bride's style not just on her wedding day but her every day life interests or passion.
Our couture cake stands are never "standard." Our design and accents elevate your cake's look for your New Jersey wedding. Whether you want to incorporate an heirloom, one of our exclusive monograms personalized just for you, a vintage, nostalgic, or a modern vibe, we can create the perfect unique couture cake stand that will make your next occasion unforgettable. After all, your business is the "Icing On Our Cake Stand!"
For colors and themes, brides send us color swatches or pictures. Sometimes it's a wedding invite, other times it is colored ribbon. I love to interview them to find out their passion. I love our brooches and incorporating that. A rhinestone starfish brooch and blue and ivory to match the bride's wedding theme, colors, and overall venue of destination beach wedding. In fact, our new website has a launched the first ever "Virtual Couture Cake Stand Mock-up Tool."
This wonderful new resource is for brides, wedding planners, bakers, and clients who want the presentation of their New Jersey wedding cake to be as unique as the bride herself, and completely customized to the bride's style, setting, and theme of the wedding ceremony, reception, even matching her wedding gown.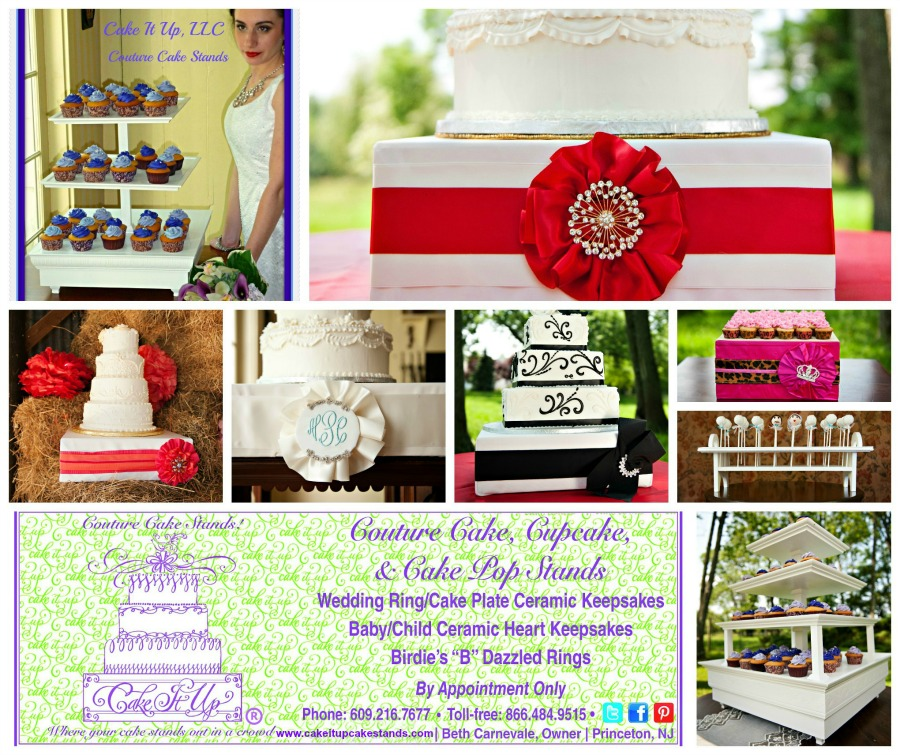 This interactive tool premiers through the vision of Owner, Beth "Birdie" Carnevale and her quest to make every cake no matter the size stand out in a crowd. This unique tool allows the user to create and glimpse a beautiful customized couture cake stand mock-up while choosing from more than 500 choices of fabric, personalized monograms, ribbons, trims, brooches, and "Bespoke by Birdie" for even more made to order designs. The possibilities are almost endless allowing brides nationally to be able to further put their own signature on the wedding day.
I was inspired when planning my daughter and (Cake It Up, Muse) Nicolina's wedding and creating the first official couture cake stand when after careful research could not find a cake stand to accommodate the 5-tiered wedding cake by Chez Alice, in Princeton, NJ. The cake was going to be put in the back corner and wouldn't be seen. For an Italian family, the cake is one of the most important parts of the wedding and she wanted it showcased. After finishing the Couture Cake Stand, I stood back hands on hips, and said, "Wow, that really Cakes It Up!" When returning to the baker to thank him for the magnificent job he did on the wedding cake, he responded with picture in hand that he had a bride that wanted the same thing. So I went home to and brought my idea to my husband and he encouraged me to take the leap out of the nest and thus embracing the catalyst that launched Cake It Up, LLC ® "Where Your Cake Stands Out In A Crowd!"
Our creations are never "standard" and always reflect and complement the client's personal style while enhancing the overall ambiance that makes you and your cake stand out in a crowd! Our stands have been used for treats, cookies, candies, food, hors d'oeuvres, products at shows, breads, and even a cake made of cheese!